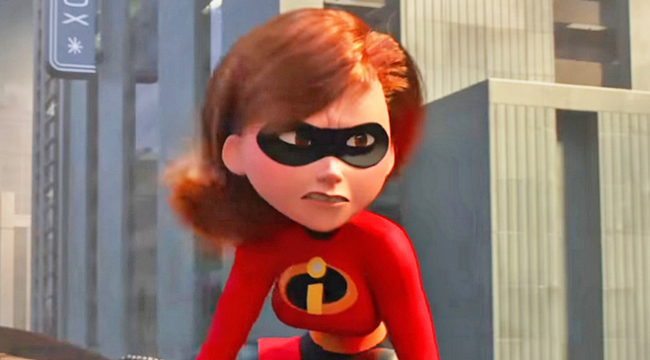 After a long wait — from 2004 to 2018, to be precise — fans of The Incredibles are turning out in droves for the sequel. This isn't entirely surprising, for analysts noted that Incredibles 2 was crushing the advance ticket-sale record for an animated movie, which was previously set by Finding Dory in 2016. And as it turns out, the Disney/Pixar superhero family did in fact catch up to those fishes and soared past the Thursday night preview record as well.
Actually, Incredibles 2 has doubled the previous animated record, scoring $18.5 million on Thursday night as opposed to $9.2 million from Finding Dory. Of course, this particular battle was taking place under the Disney/Pixar umbrella, so there's no true contention to be found, only celebration. Yet one must also note that in addition to breaking this animated record, Incredibles 2 also beat these animated and live-action preview nights from other studios:
But that's not all: Incredibles 2 also beat the preview nights of Disney's live-action Beauty and the Beast ($16.3M), Marvel's Spider-Man: Homecoming ($15.4M) and Thor: Ragnarok ($14.5M), and Warner Bros/DC's Justice League ($13M). Indeed, a Thursday night of superhero proportions.
Indeed, Incredibles 2 is expected to fully enjoy (sorry in advance) an incredible opening weekend, landing probably somewhere between $130 and $150 million. Given that Solo underperformed, Disney can only be thrilled while adjusting plans accordingly. As it turns out, asking an audience to wait several years for a followup, rather than dropping franchise updates multiple times per year, may pay off as a strategy. Hey, moviegoers enjoy missing their favorite characters, which only builds nostalgia and enthusiasm — who'd have thought?
(Via Box Office Mojo & Deadline)