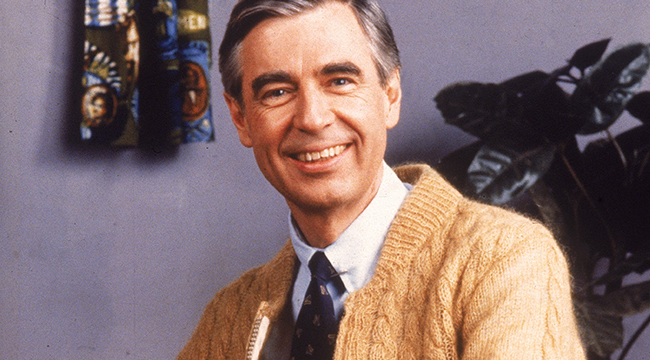 Was there anybody better than Mister Rogers? In addition to being one of the most beloved children's show hosts, Rogers spent his life encouraging everyone to be a decent person and following his own advice. So he's not only famous, he's the Platonic idea of a nice person in a lot of minds, which means reports that Tom Hanks will be taking him on makes a certain kind of sense.
Hanks, who earns a lot of love himself, will tackle the role in the biopic You Are My Friend, which focuses on Rogers' friendship with journalist Tom Junod, according to The Hollywood Reporter:
The feature is inspired by a real-life friendship between Fred Rogers and award-winning journalist Junod. In the heart-warming story, a cynical journalist begrudgingly accepts an assignment to write a profile piece on the beloved icon and finds his perspective on life transformed.
That would be, specifically, this profile, from 1998, which explores the many, many in-person visits Rogers made to people, from Koko the Gorilla to an abused boy with cerebral palsy, and what he means to others. You probably should wait to read it until you're someplace you can cry: It's a fascinating read that digs deep into Rogers and how his religious beliefs and personal sense of duty informed his every action, details some of the people he visited, and even eases Junod into laying bare a few things about himself. It's worth a read on its own, and with Hanks in the lead, should make for a new angle on a man who only wanted to be a helper.
(via The Hollywood Reporter)