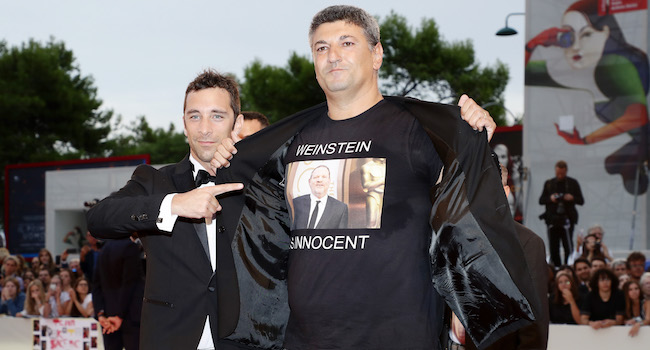 Movies and politics have always been happy bedfellows, with actors and filmmakers regularly using platforms at public events to sound off about politicians and injustices. But rarely do you see the kind of political opinion aired by one Luciano Silighini Garagnani, an Italian filmmaker seen proudly parading about the Venice Film Festival wearing a homemade tee-shirt that boasts the words "Weinstein is Innocent."
As per The Hollywood Reporter, Garagnani was seen at the world premiere of Suspiria, Luca Guadagnino's remake of the Dario Argento 1977 classic. With a big grin, the filmmaker opened his jacket to show off his T-shirt, which was emblazoned with a photo of disgraced producer Harvey Weinstein, who has been accused of multiple cases of sexual harassment and assault.
Garagnani is a relative unknown among the American press, but his Internet Movie Database page includes such "trivia" pointers as "is a staunch supporter of the Republican party in Usa [sic] and Silvio Berlusconi in Italy," and "Has financed the presidential election of Donald Trump."
No one has spoken with Garagnani to suss out the real intent behind his shirt — whether it's sincere or a sick joke, and if so on whom. His shocking act — and the failure of guards to remove him from the red carpet — comes during a year when the higher-ups at the Venice Film Festival, like many film festivals, are asking themselves tough questions about diversity and even the safety of women. According to THR, the festival's jury president Guillermo del Toro has called on all fests to hit 50-50 gender disparity.