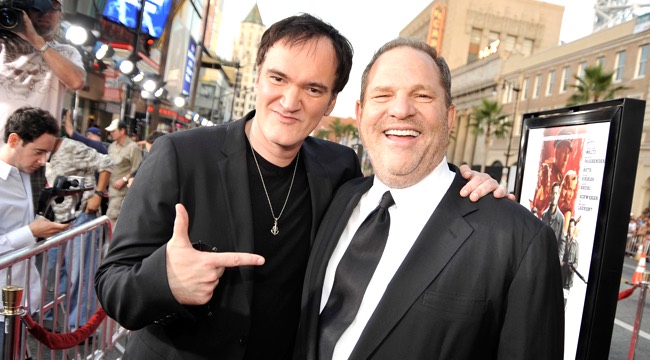 On October 24, Quentin Tarantino surfaced in New York City to participate in a police brutality protest. The event sought to "bring justice" for citizens who are killed by officers. Some noted the unfortunate timing of the event, which was organized in advance by RiseUpOctober, but held only four days after officer Randolph Holder was killed in pursuit of a bicycle thief.
Tarantino drew the ire of police as he paid tribute to victims and said, "I have to call a murder a murder, and I have to call the murderers the murderers." The New York police union immediately called for a boycott of the "depraved" Tarantino. The union's leader and spokesperson, Patrick Lynch, accused the director of slanderous "Cop Fiction" and making "a living glorifying crime and violence." The organization called upon its members to refrain from buying a ticket to The Hateful Eight on Christmas Day.
The controversy did not blow over. By the end of the week, other police unions nationwide joined the boycott. The National Association of Police Organizations (which boasts 1,000 departments on the roster) recruited several departments of large cities. NAPO called Tarantino "utterly irresponsible" with his "harmful" rhetoric. The mega organization not only asked its members to steer clear of Tarantino's work, but they also requested that no police units provide protection for his future film sets and premieres.
Camp Tarantino has yet to respond to the nationwide police boycott, but producer Harvey Weinstein is reportedly "furious" as heck with Tarantino. Granted, this news comes from a Page Six story, but the world knows how much Weinstein loves an Oscar campaign. If this report is true, Weinstein believes Tarantino jeopardized his Oscar chances by calling cops "murderers." The mogul wants Tarantino to apologize:

"The last thing Harvey needs is a boycott that will scare off Oscar voters and hurt the box office," said one insider. […] Weinstein was said to be considering conciliatory moves, such as special screenings of The Hateful Eight for police officers and their families.

"Harvey is desperate to find a solution. […] He's angry that Tarantino needlessly created a controversy that has nothing to do with the movie. It's so pointless and unnecessary." And bad for business.
Weinstein is well aware of Quentin's impassioned nature and knowing how to "speak for himself." It remains to be seen whether a boycott would be effective. How many police officers and their families planned on seeing The Hateful Eight on Christmas? The more significant move would be the refusal to provide protection to film sets, but that can't last too long.
(Via Page Six)