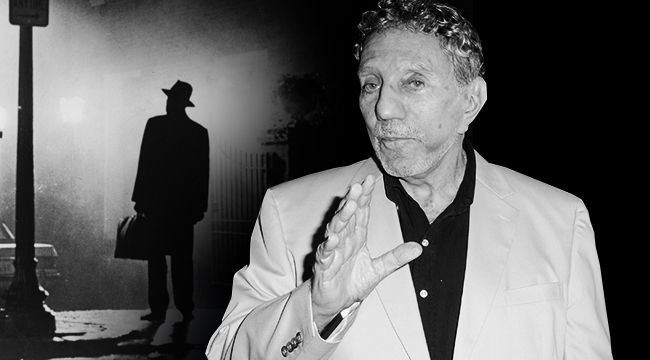 William Peter Blatty died last night, at 89, his passing announced on Twitter by his friend and famous collaborator William Friedkin. Inevitably, the first project Blatty's name to mind is The Exorcist, Blatty's 1971 novel which he later adapted into the screenplay for Friedkin's classic 1973 film. And The Exorcist is one of the great horror films, thanks in no small part to Blatty. But he had a long, and frankly often underappreciated, career as a novelist and screenwriter that deserves to be remembered as well.
Before The Exorcist, Blatty worked in Hollywood for more than a decade, but not as a creator of horror. Instead, he was a comic writer known for his literary gags and his wit. His book John Goldfarb, Please Come Home, a farce about an Arabian fiefdom forcing an American pilot to teach them football and his fantasy novel I, Billy Shakespeare, where the Bard is pulled out of time and dropped into Havana and forced to write about the Bay of Pigs as if it were Henry V were hits, with the former turned into a movie with limited success. It was director Blake Edwards, though, that brought out some of Blatty's best humor.
Between 1964 and 1970, Blatty and Edwards went on a creative streak, starting with Blatty's work on the classic A Shot In The Dark, the second entry in the Pink Panther series. They followed it up with What Did You Do In The War, Daddy?, a farce in which an American GI unit "captures" Italian troops celebrating a festival and goes on a bender… only to wake up the next day and learn they're trapped between a unit of Germans and a humorless American tank corps. After an odd but entertaining diversion turning the TV series Peter Gunn into a movie, Blake and Blatty put out Darling Lili, a musical starring Julie Andrews that, sadly, was mishandled by the studio, leaving Blake and Blatty to take the blame for it.
After that, Blatty shifted gears. He'd been struggling with his Catholic faith for years and remembered a story he'd heard about a Maryland boy and the horrifying exorcism he underwent while attending Georgetown. Blatty was well aware that many "demons" were simply the manifestations of mental illness, but wondered what would happen if a modern priest confronted a true possession. Blatty's approach was more that of a journalist than novelist: The Exorcist follows a strict timeline, and details what happens to Regan in clean, sometimes even blunt, terms step by step, slowly ruling out the rational explanations until only the irrational is left.

Friedkin's filmmaking emulates Blatty's straightforward approach, stripping away the trappings of other horror movies at the time. The movie was a huge hit, and Blatty found himself with a career about which he was ambivalent. Nobody wanted his comedy anymore; they wanted more Exorcist movies.
Despite the success, he only wrote three movies after The Exorcist, and directed two of them. Although little seen, both are fascinating in their own right. The first was the cult movie based off his novel The Ninth Configuration, which arrived in 1980 and features a strange blend of bloody psychological thriller and Catch-22-esque farce.
The second and better known is an adaptation of his novel Legion, which was billed by the studio as The Exorcist III and which had an exorcism forced onto the ending. Only recently has Blatty's preferred cut been available to fans, but even the original, for all its studio meddling, is an underrated horror film and widely considered a "true" sequel to The Exorcist by fans of the franchise. The movie focuses as much on the friendship between Detective Kinderman (George C. Scott, playing a major character in the book largely written out of the movie) and Father Dyer. Kinderman is also hunting a serial killer imitating the notorious Gemini Killer, and his path takes him to a mental asylum where he finds a surprising inmate: Father Damien Karras, who supposedly died in the original movie. Once again, Blatty's structure carefully rules out the logical explanations until our rational heroes confront the terrifying irrationality in front of them.
After its release and cool reception in 1990, Blatty left Hollywood behind and focused on his writing, putting out several well-received thrillers and works of autobiography, including the 2010 novel Crazy, a mix of memoir and comedy about an elderly former screenwriter remembering what made him fall in love, both with a woman named Jane and with the movies. And that book's ending is, perhaps, what Blatty would like us to remember most: The moral of the story, it turns out, is not that we should remember the past with nostalgia, but use it to do better things for the world with the time we have left.