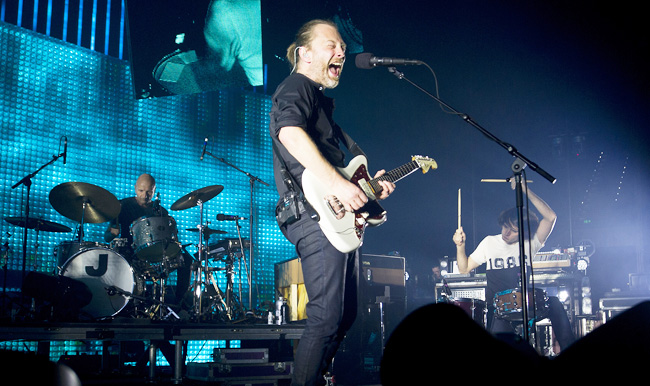 We have come to that time of the year again, when the Rock And Roll Hall of Fame announces the names in the running to enter its hallowed halls in 2018 and likely infuriating music fans all over. While the list isn't officially announced until Thursday morning on Sirius XM, Rolling Stone and other outlets have the list early to share with fans and get the debate started early. The standouts include two bands making their appearance on the list in their first year of eligibility: Radiohead and Rage Against The Machine.
The reported offerings for 2018 featured plenty of familiar faces from last year's initial offering, others back for a second, third, and fourth shot, and a few new names looking for glory on the ballot:
Radiohead, Rage Against The Machine, Bon Jovi, Depeche Mode, Judas Priest, Kate Bush, the Cars, Dire Straits, Eurythmics, J. Geils Band, LL Cool J, MC5, the Meters, the Moody Blues, Rufus featuring Chaka Khan, Nina Simone, Sister Rosetta Tharpe, Link Wray and the Zombies
The Zombies, The Cars, J. Geils Band, Chaka Khan all appeared on last year's ballot — with J. Geils Band making their fifth appearance this time around. LL Cool J makes his fourth appearance as the sole hip hop act on this year's list, joining the Meters with their fourth appearance. MC5 have appeared twice before, marking this the third for them alongside The Cars and The Zombies, and it is the second for Khan, Link Wray, Bon Jovi, and Link Wray.
First timers, apart from Rage and Radiohead, include Judas Priest, Dire Straits, Eurythmics, Nina Simone, Sister Rosetta Tharpe, and longtime snubs The Moody Blues — a prog rock staple that has been eligible for over 27 years.
Missing from last year are D.C. hardcore punk legends Bad Brains, Janet Jackson, Steppenwolf, Joe Tex, Kraftwerk, and Jane's Addiction. They'll surely make a return in the future, but there are still plenty of bands out in the open looking for their place — like, hey, Iron Maiden and Motorhead are just sitting out there.
Rolling Stone adds that the Hall will keep with their new trend last year, announcing the individual members of the nominated bands that would be honored if they earn enough votes. It would also be the site of some notable reunions, with Rage catching plenty of attention since their last performance was in 2011 and front man Zach de la Rocha is the wildcard:
"It'll be interesting to see who shows up," Rage bassist Tim Commerford told Rolling Stone in 2015. "I think it's pretty obvious. I think there's somebody who's going to show up and somebody who's not going to show up and maybe somebody who's going to show up with an enema filled with food coloring and shit all over the red carpet."
Perhaps Commerford will reenact his famous protest from the 2000 VMAs, climbing up on some part of the stage and "tossing a wrench" into another show. Luckily Fred Durst will be nowhere near the event if Rage makes the cut.
(Via Rolling Stone / WTAM)