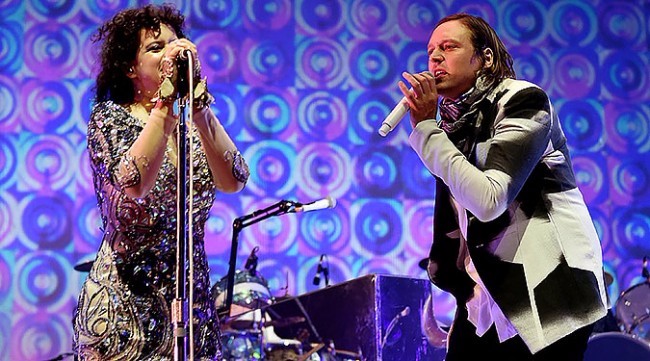 Arcade Fire have been on the road, touring relentless for the past year or so on the back of their latest album Everything Now. But for one night at the Greek Theater in Los Angeles last night, the indie rock legends decided to turn back the clock and perform their debut album in full for the first time ever. "We're not sentimental," frontman Win Butler but it's just been 14 years since Funeral so we felt like playing it."
Sure enough, the band launched straight into "Neighborhood #1 (Tunnels)" before winding its way through 10 tracks from their era-defining debut, culminating in "In The Backseat." After they finished, the performed an entire second set of music, packed with 13 additional cuts from all of their subsequent albums.
Arcade Fire's decision to open their show with an earlier project seems to be part of a growing trend among touring rock bands at the moment. Just last week, Nine Inch Nails kicked off their own live run in Phoenix, Arizona by playing their 1992 EP Broken in its entirety, including the song "Happiness In Slavery" which had gone unplayed for over two decades?
All that's to say, Arcade Fire have two shows left to play on their tour, both in Berkley, California, and who knows what tricks they still may have up their sleeve? In the meantime, catch some clips of their performance last night in Los Angeles above.