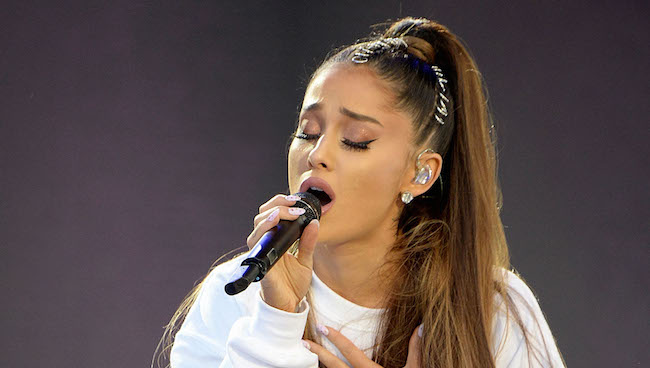 Ariana Grande has made her triumphant return with a surprise appearance at Coachella and the debut of her new song "No Tears Left To Cry." The un-announced performance took place last night during the set of EDM DJ/Producer Kygo. Grande hasn't produced any new music since the terror attack at one of her concerts in Manchester in May of 2017, however she has made a series of performances at various anti-gun, and other political rallies in the last few months, most recently at the March For Our Lives Rally in Washington, DC last month.
The song is an anthemic soft-banger. Lyrics about crying yourself dry and feeling pretty good about it, new vibes, embracing the future and shaking off the haters. It's still the uncanny dream pop that has always reigned supreme but the context gives it more of an emotional heft. For someone who was forced to witness and endure the horrors of terrorism first hand and up close, Grande has handled the trauma in a, particularly noble fashion. Turning her pain and experiences into activism and inspirational jams.
There was also an official video released and a single made available for streaming. The video is reminiscent of Inception or to a lesser extent, Doctor Strange. We see Grande navigating a world literally turned upside down as she bursts through walls and walks gracefully above a darkened skyline that never seems to end as it turns in on itself and blossoms outward. It's an apt metaphor for a girl who was forced to find her feet in a world that literally blew up in front of her. On her Twitter, Grande has continued to spread the love with a simple Tweet this morning, addressed to no one in particular.