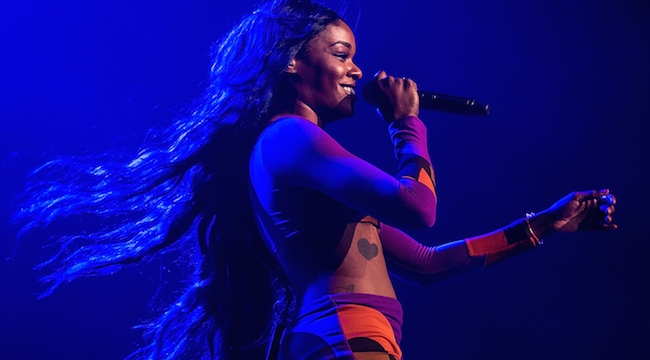 Azealia Banks's Paris Fashion Week fun appears to have gotten her into some hot water. While the rapper was enjoying her time in the French capital, a bench warrant was issued for failure to appear at a court appearance in conjunction with a 2015 court case involving the alleged biting of a security guard's boob.
In December 2015, Banks was arrested for allegedly assaulting a security guard in Manhattan. According to the guard's account, after being denied entry to the club Up&Down, the Broke With Expensive Taste performer punched the guard and bit her breast. Of course this wasn't her first time allegedly assaulting someone.
The musician was scheduled to appear in court on Monday for a hearing in that case, but Banks alleges that she had the dates mixed up. Thinking that she was scheduled to be in court March 8, the star scheduled a Paris Fashion Week appearance and couldn't arrange to get back Stateside in time. In lieu of her presence, she sent a family member and a statement. Her lawyer also released a statement to Pitchfork saying:
"Azealia Banks mistakenly believed she had a court appearance March 8 instead of March 6. She was in France for Fashion week due to meetings and other social gatherings and was not able to arrange her flight in time to appear today. She apologizes and will apologize in person to the Court for missing her scheduled hearing. In addition, she attempted to appear via a New York Attorney and through a close family member. Ms. Banks will go to the department to remedy the situation as soon as possible. Again, she apologizes for the inconvenience that may have caused the Department."
Neither was sufficient for the judge who issued a warrant for the 25-year-old's arrest. Hopefully she can get this whole thing sorted out soon like she did
a prior charge
.