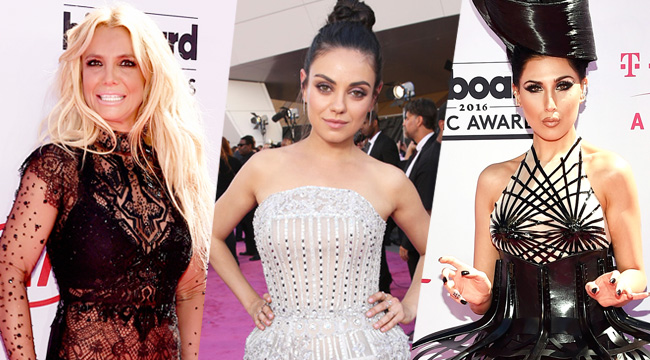 The Billboard Music Awards brought hours of performances and awards to television as the musical community celebrated its finest accomplishments of the year. Winners prevailed and social media reacted as one does. While the show itself remained relatively free of drama, the Prince tribute received some definite shade from an internet corner that may one day find itself on the receiving end of similar criticism.
Speaking of spectacles, every awards show is good for a superficial fashion roundup. Featured artists stepped up with their style efforts while actors took on presentation duties in their own fashion offerings. The end results were not outstanding, which made the "best" and "worst" designations feel more arbitrary than usual. Before those labels start assigning themselves here, let's kick this rundown off with one hell of a coincidence.
Best and Worst – Rachel Platten and Steven Tyler: Well, someone was bound to show up in the same dress, but these two showed up in (nearly) the same suit instead. Platten's outfit arrives courtesy of Alice + Olivia, and you can decide who wore it better.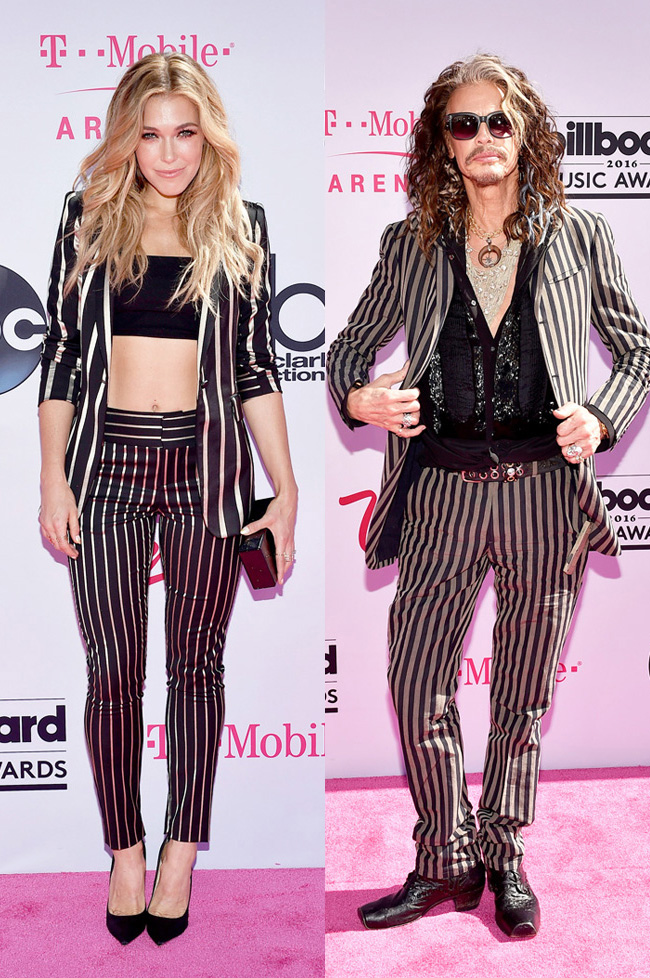 Best – Halsey: This Fausto Puglisi concoction ushered in the right amount of attitude for a music awards show. The designer has taken to splashing frocks with offbeat embellishments, which create an effect that's not too serious. The cut of this dress — which featured a double slit, midriff cutouts, and an asymmetric bodice — adds to the playful effect. On the jewelry side of the equation, Halsey chose a Ileana Makri Sea Tree Ring and Multi Shape Branch Ear Jacket with an Eva Fehren X ring.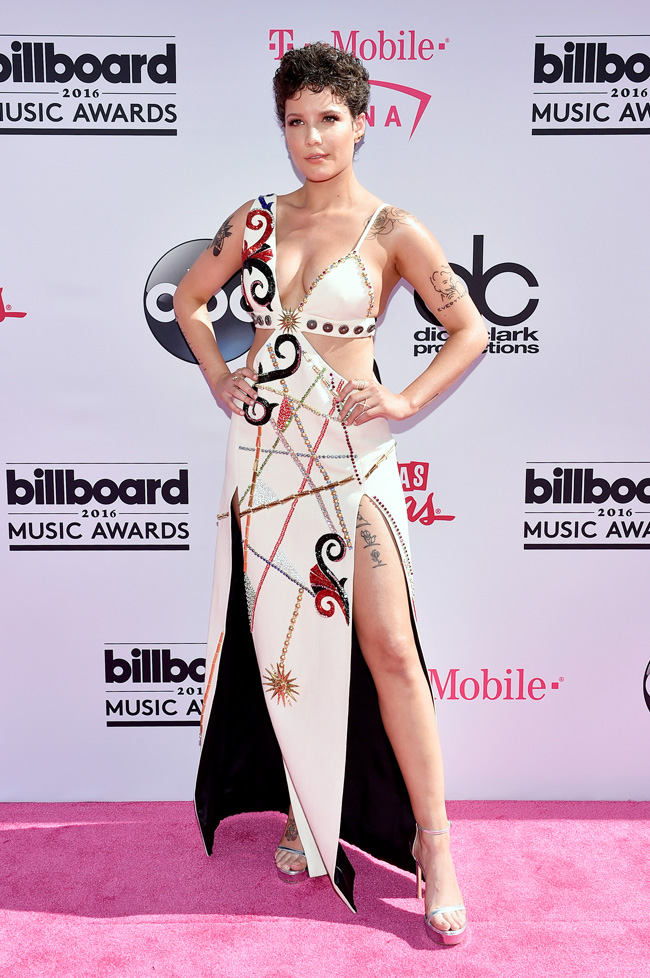 Worst – Rihanna: Well, they can't all be hits. As painful as it is to witness a rare style misstep from Rihanna, this Thierry Mugler jacket dress (made from wrinkly, ill-fitting fabric) failed to conjure up the singer's usual oomph or the glamour from her subsequent rendition of "Love on the Brain."
Best – Demi Lovato: Before a "Confident" performance, Lovato stayed true to her unique sense of style. This Chanel outfit has a lot going on — several competing fabrics, a bra top, and fingerless gloves — but succeeds on the (sorry) confidence of its wearer.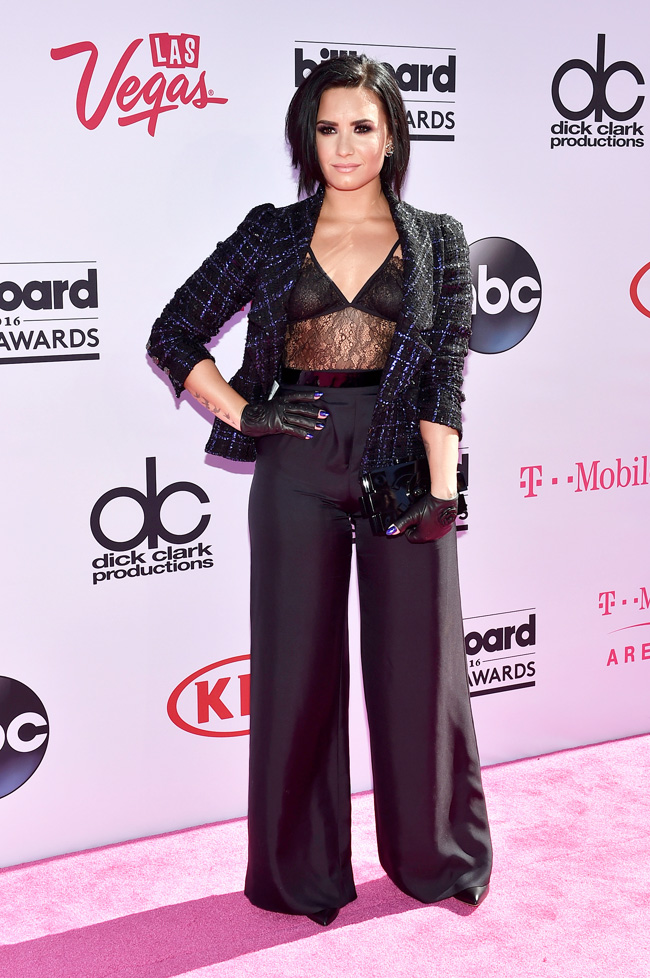 Worst – Ariana Grande: This dress caused a major mishap when Grande almost belly flopped while tripping up some stairs, which should have been a signal. This structured Atelier Versace gown swallowed up the diminutive Grande, although she handled her stumble like a pro.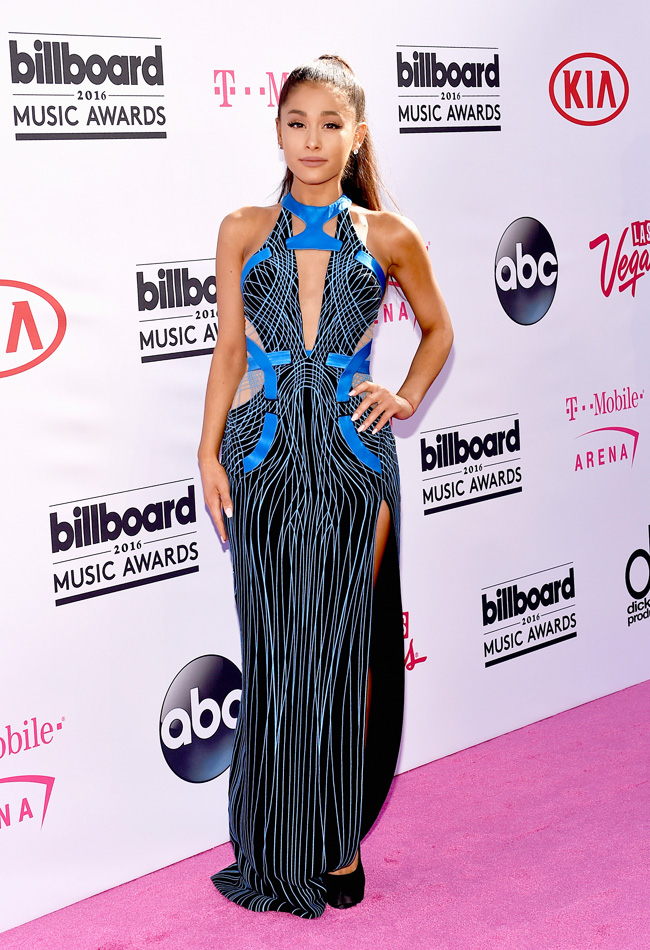 Best – Jessica Alba: One of the most stunning looks of the evening arrived with this semi-sheer Zuhair Murad number. Alba rocked and rolled in this mini dress with thigh-high Stuart Weitzman boots and smokey eyes to match.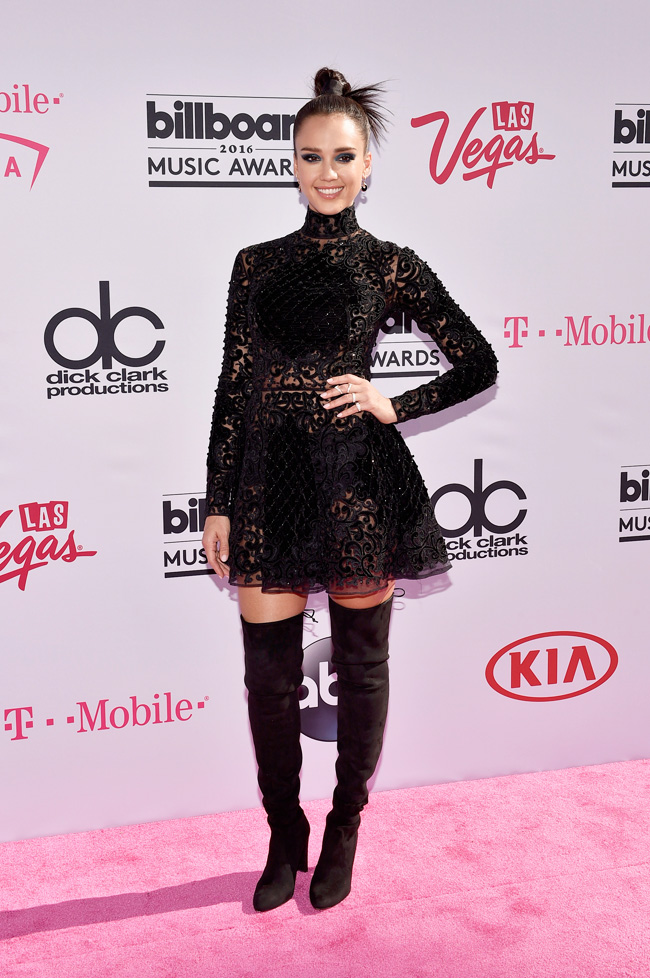 Worst – Pete Wentz: This guy rolled out of bed and threw on an Iron Maiden t-shirt that probably came from Hot Topic. No further elaboration needed.
Best – Kristen Bell: The actress brought a funky vibe in a Jonathan Simkhai jumpsuit, which received the perfect amount of detailing with a navy, zig-zag detail. And her smile (along with tousled hair) really is the best accessory.
Worst – Tove Lo: Quite often, Stella McCartney dresses start out with a decent concept and fall apart. This dress is no exception and devolves into "Ye Olde Coachella" vibes with white panties shining through.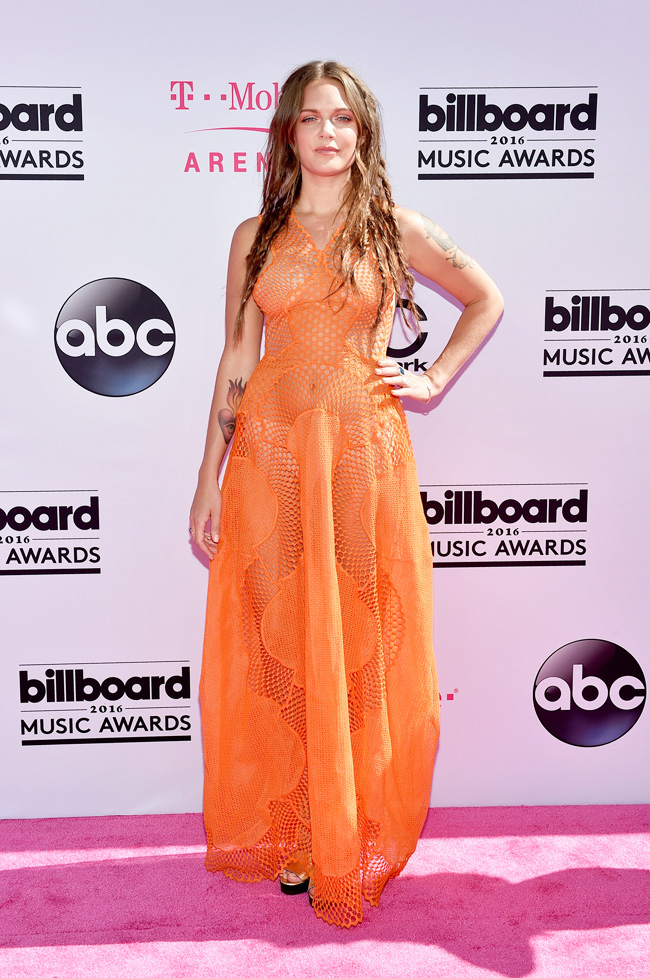 Best – Zendaya: This young woman rarely misses on the red carpet, and this Calvin Klein ensemble lives up to her usual success. A nude-colored bra top paired with a matching, flowing skirt never looked so cool.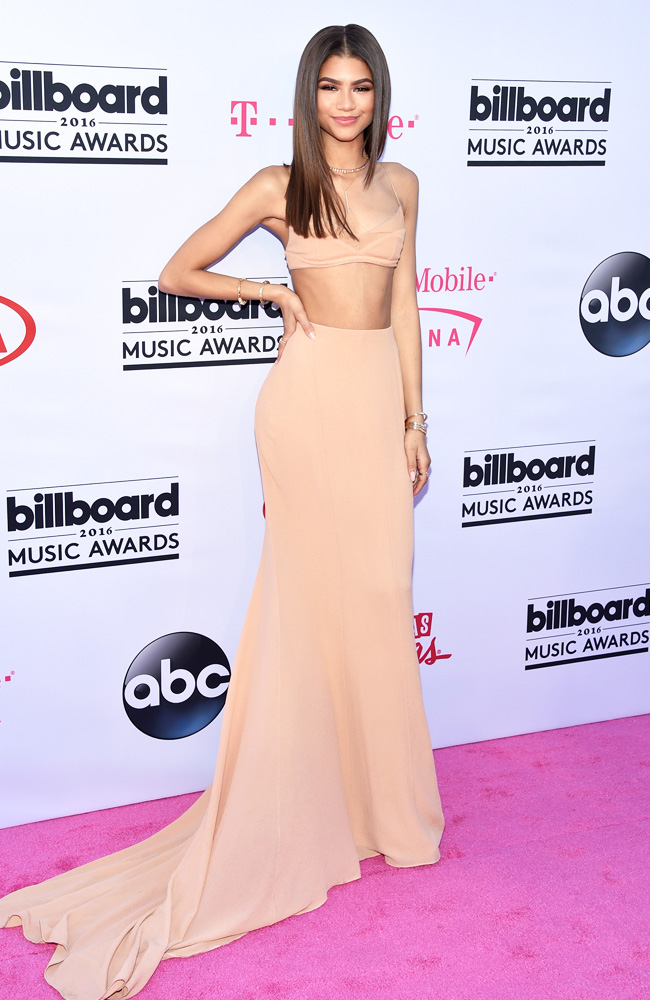 Worst – Kesha: Until a few days ago, no one knew if Kesha would be able to perform at this show, but she delivered an emotional Bob Dylan cover to applause. Unfortunately, this vintage Nudie suit didn't fare as well.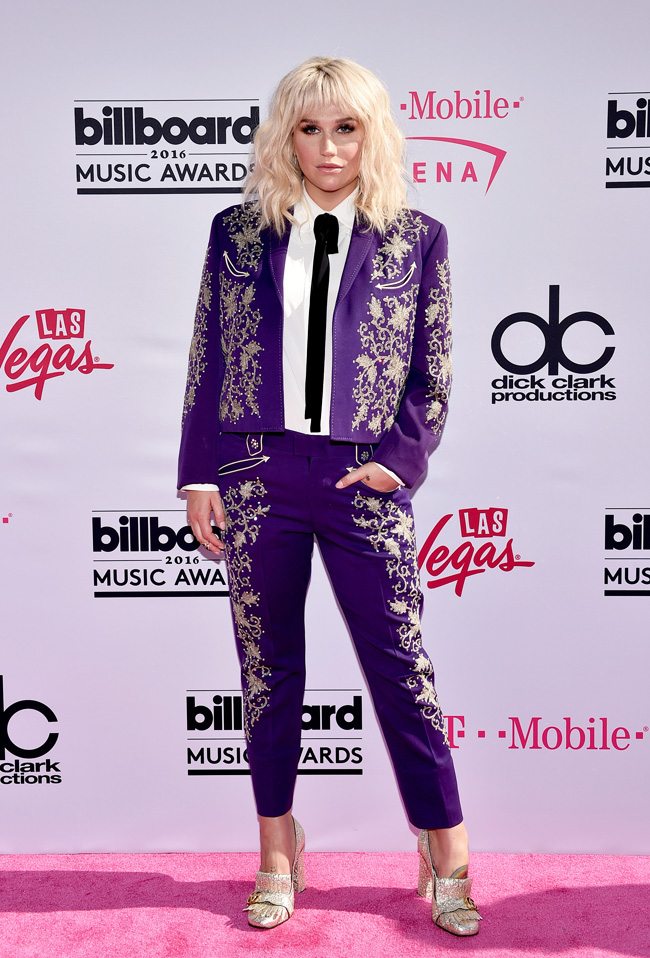 Best – Keke Palmer: This latex House of Harlot pencil dress wouldn't have worked on everyone, but Palmer pulls it off to perfection. Few aim for sophisticated heights with the Billboard Awards, and Palmer is having some experimental fun.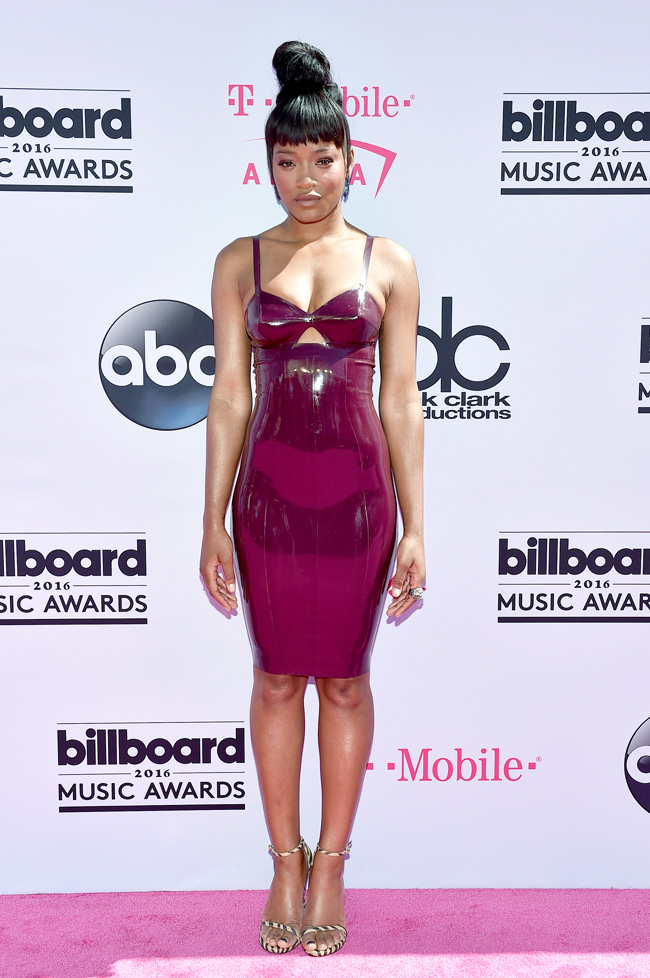 Worst – Sibley Scoles: The E! News fashion host attracted plenty of attention in this sheer dress, which was one of the biggest misses of the night. The gown looks like the tooth fairy had a sneeze attack.
Best – Idina Menzel: In one of many Michael Costello dresses at this awards show, Menzel brought drama with a structured cocktail dress that shimmered and featured strategic peekaboo detailing on the bodice.
Worst – Meghan Trainor: This Michael Costello gown gets carried away in a few places, namely the overdone sequins and the bunched-up shoulders. The dress looks like it's wearing Trainor instead of the other way around.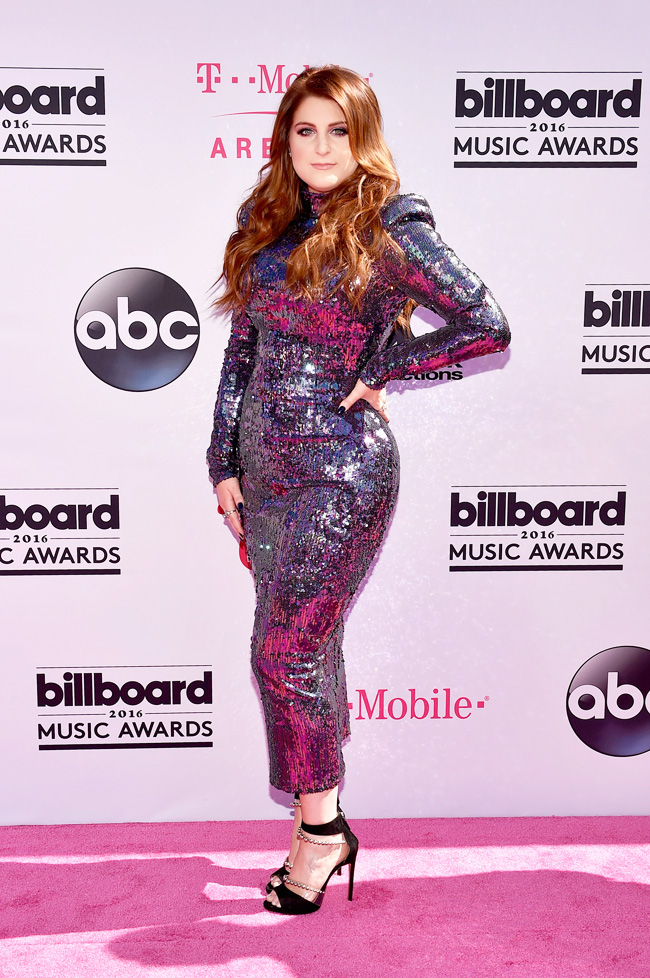 Best – Laverne Cox: In sharp contrast to the above dress, Cox wears the hell out of this Michael Costello gown, which is unimpeachable. Every aspect of this dress — from the embellished top to the sleek skirt, ending in a mid-sized train — is impeccably balanced.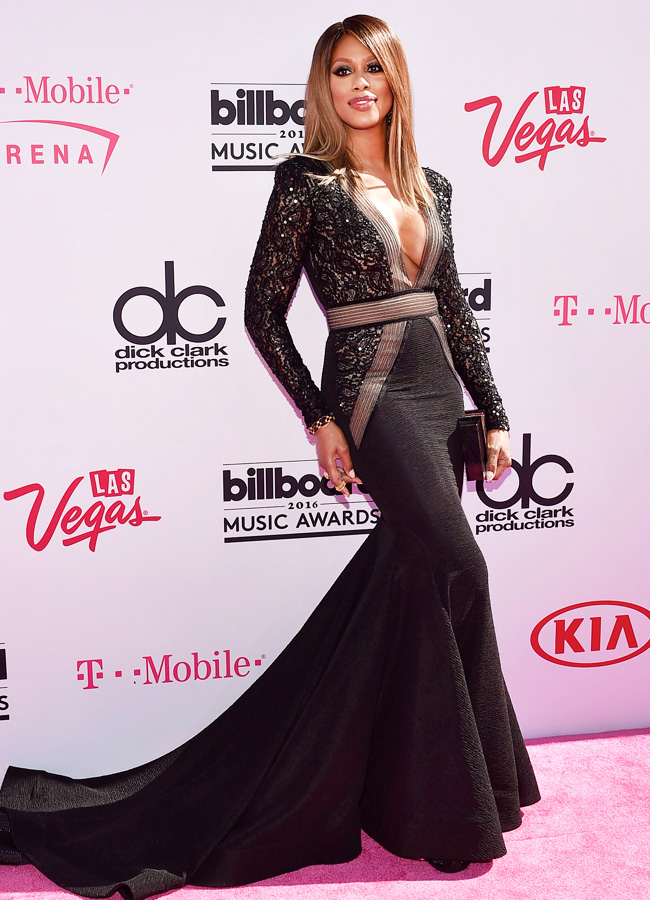 Worst – Kate Beckinsale: For music awards shows, the dress code is more relaxed than, say, the Golden Globes. So while Beckinsale (always) looks good, this Hamel gown is too formal for the event.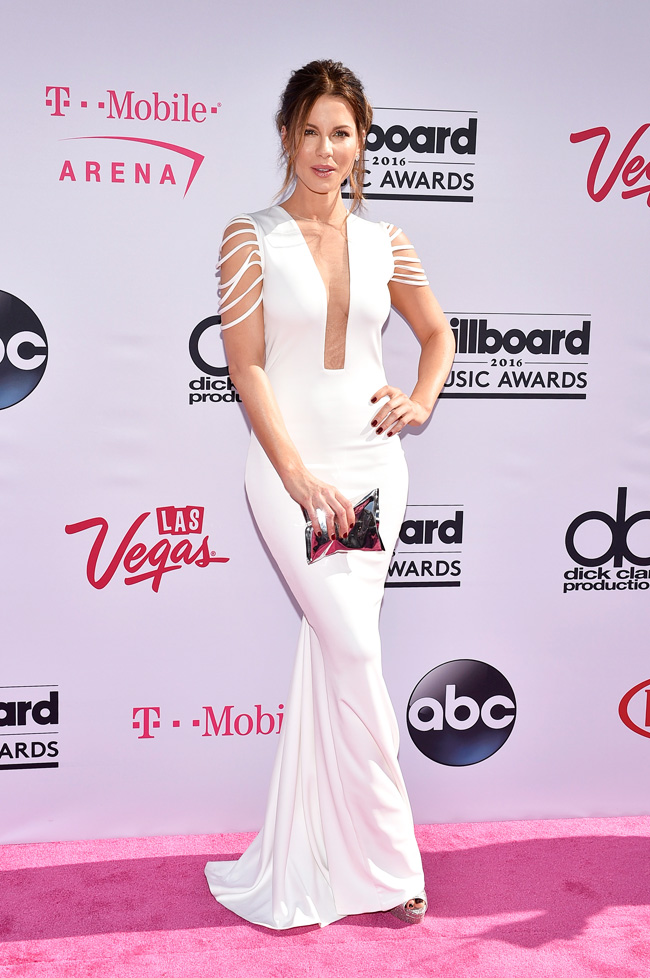 Best – Serayah McNeill: This Baja East ensemble shows plenty of skin by pairing a black bandeau top (with a one-shoulder effect) and high-waisted leather pants. The end result is sultry and just right for the venue.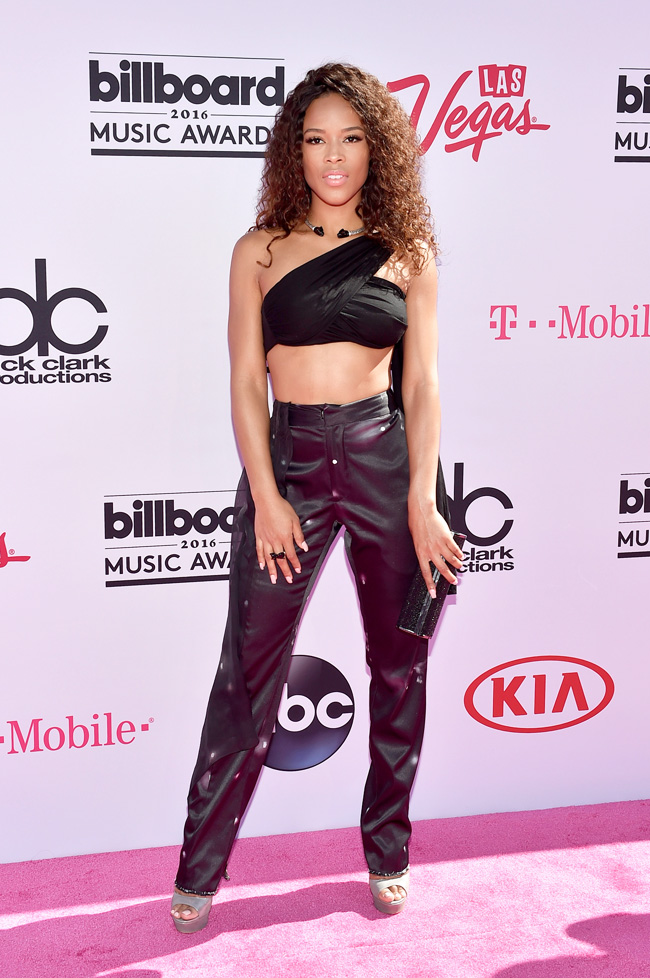 Worst – Ciara Philipp: This Plein dress had all the ingredients for success but fell prey to bad styling The shimmering fabric could have used some tailoring around the midsection, which would have brought the look together more.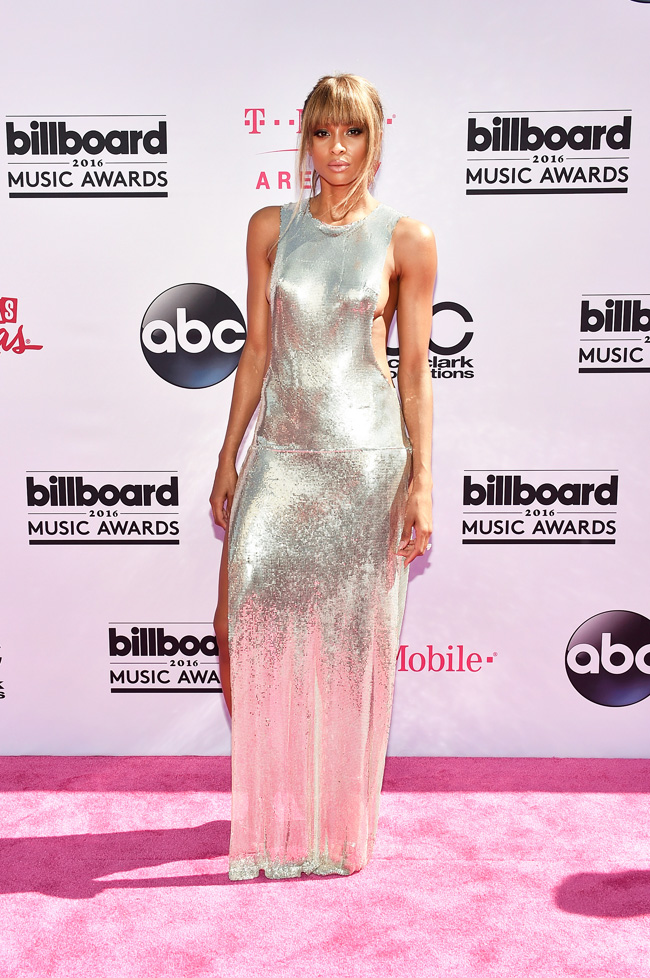 Best – Mila Kunis: One would be hard pressed to find a couture number that doesn't look too formal on a music-oriented carpet, but Zuhair Murad did good here. Kunis looks sophisticated yet flirty, like a ballerina preparing to hit the clubs.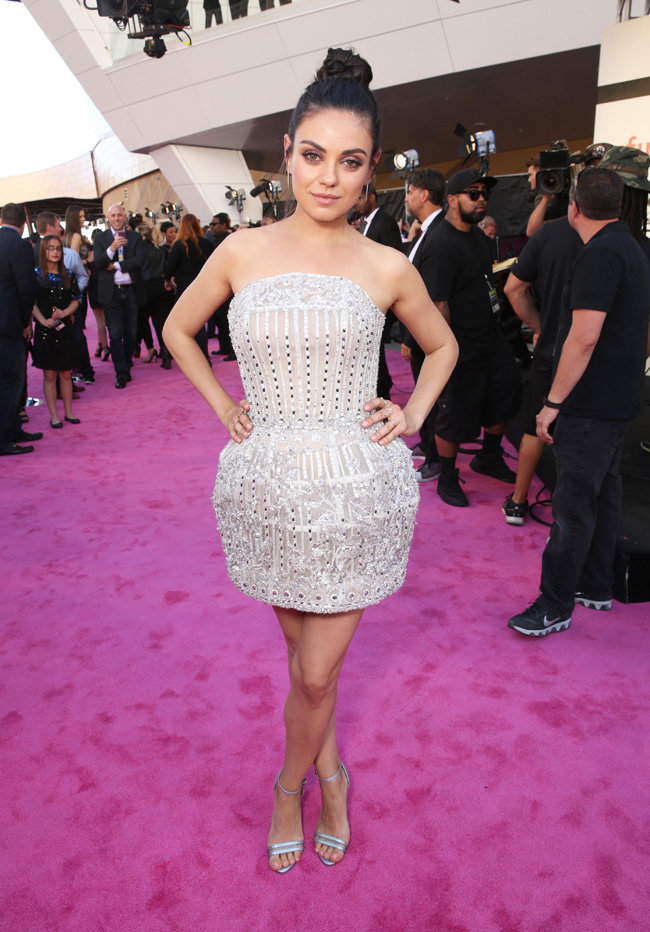 Worst – Z LaLa: Someone's trying a little too hard to pull off the outrageous stunt-queen factor that Lady Gaga frequented in 2008. Would losing the "cage" skirt have helped at all? Likely not.
Lifetime Achievement Award – Britney Spears: After everything this lady has been though, Spears can wear what she pleases (including this Reem Acra ensemble) and defy categorization.