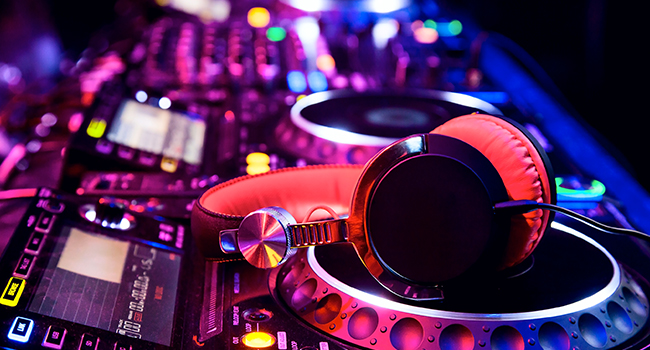 Whether you're new to the world of electronic music or a seasoned raver, curated playlists offer a novel opportunity to dive right into a certain sound or style easily and with the benefit of context. Miss those hot sweaty nights when Larry Levan DJ-ed at Paradise Garage? There's a playlist for that. Trying to get a history in '90s house music? There's a playlist for that.
Novice or expert, we've compiled a list of the best Spotify has to offer in terms of electronic music playlists, whether you're trying to keep tabs on all the great new electronic coming out or need to set a certain mood, we got you.
Deep & Dark Tech House
With tech house you get the best of both worlds from techno and house: the sleek obsidian lines from the former and the more melodic tendencies of the latter. Though this is a frequently updated playlist, its goal isn't to keep you informed of all the latest tracks, but rather it's all about mood– sending you on a well curated deep dive through "dark and mystifying, trippy beats."
Diggin In The Archives
This list, compiled by the good folks at R&S Records, celebrates their incredible back catalog which extends all the way back to 1983. Run by husband and wife duo Renaat Vandepapeliere and Sabine Maes, this Belgian label now based in the UK continues to be one of the best labels in dance music today. This playlist acknowledges their incredible history putting out records from Model 500 and Aphex Twin while juxtaposing that legacy with more recent releases from Maarten van der Vleuten, giving listeners a solid impression of the label's aesthetic and sound.
Synthwave From Space
If you're pining to turn your commute into a neon Miami dream "Synthwave from space" is a surefire way to make that happen. Like the title suggests, these retro synth forward tracks verge on the spacier territory, making this playlist the perfect canvas for your deep thoughts or daydreams. What's especially savvy about this playlist is how user "aofd3" pits modern synthwave from the likes of Gesaffelstein and S U R V I V E against the pioneering sounds of Vangelis and Tangerine Dream, erasing difference with a hazy and timeless mix.
Acid Techno
This playlist is pure acid, or as user "Adam Heaton" describes, "squelchy acid basslines over hard-hitting beats." Great for when you're driving at night on the freeway, trying to take your party to the next level, or simply in need of a BPM that matches your restless leg as your frantically try and meet a deadline. Featuring cuts from acid progenitors like Plastikman, F.U.S.E. and LFO, the list also includes more recent highlights from the likes of rising producer Amelie Lens, and the frosty urban techno from Imre Kiss.
Disco's 80s Mutations

Playlist curation website The Dowsers outdid themselves with this ultra-specific slice of boogie. Though most will attest that disco died in 1979, its sounds sunk their hooks into everything around it, from pop, to funk, to both new and no wave. This list of disco mutations covers the gamut of how disco lived on well into the 80s, showing how its influence was felt by artists of all types.
Overlooked Classics
Once there's a canon, you have to work to disrupt that canon. Electronic outlet Mixmag have been updating this excellent list of "overlooked classics" since last year, selecting cuts primarily from the '90s and early '00s to put together this retrospective mix of songs that deserve a second glance. This mix is solid track-to-track, and challenges our current conceptions of electronic classics, all the while being well curated enough on its own to work as a cohesive whole. Whether you want to play through the entire thing, cannibalize the bangers for your own playlists or to expand your knowledge of electronic as a whole, this playlist is for you.