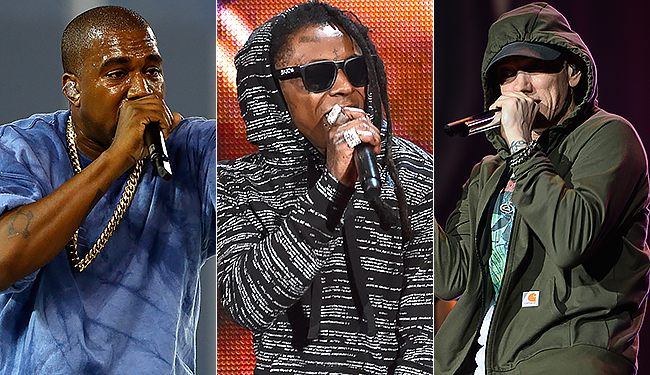 It has been a massive year for hip-hop, and not just because some of its biggest names have released full-length projects. Now past the midway point of 2015, we have seen some incredible guest verses from big names on big projects, small names on smaller projects, and everything in between.
The typical heavy hitters — Eminem, Kendrick Lamar, and J. Cole — delivered their expected quality. However, it has been as big of a year for up-and-coming artists, such as Rapsody and Vince Staples, to showcase their talents in front of bigger audiences. Here are some of the top guest verses from 2015:
Lil Wayne – "M'$" (A$AP Rocky's At.Long.Last.A$AP.)
Weezy has given his fans little hope of a Carter III-era return to glory — until he appeared on a single from A$AP Rock'y sophomore album, At.Long.Last.A$AP. Wayne delivers some of his strongest lines ("kill you and your dog then go put on a shirt that say PETA for life") in years.
Kanye West – "SMUCKERS" (Tyler, the Creator's Cherry Bomb)
Kanye has always had an admiration for Tyler, the Creator — enough to save some of his best rhymes in recent years for Tyler's latest studio album. In an album with so much distortion — too much, in my opinion — Kanye brings the sound back to hip-hop land with some classic, culturally relevant Yeezus bars ("you can't Lynch Marshawn if Tom Brady throwing to me.") We can only hope that this is a preview of what's to come on Swish.
Chance the Rapper – "Baby Blue" (Action Bronson's Mr. Wonderful)
It has not been an easy year for Action Bronson. Not only did Ghostface Killah put him in a metaphorical grave for copping his style, but the mediocrity of his debut album, Mr. Wonderful, was saved by yet another clever verse from Chance the Rapper. Excuse the attempt from singing from Mr. Bronson; focus instead on the hilarious bars from Chance ("I hope you never get off Fridays, and you work at a Fridays that's always busy on Fridays") in this pleasantly corny break-up song.
Rapsody – "Complexion" (Kendrick Lamar's To Pimp a Butterfly)
Kendrick Lamar was rather selfish in terms of lending out real estate for a spot on To Pimp a Butterfly. An artist of his stature could have tabbed any artist he desired, making the selection of Rapsody as the only guest emcee an eyebrow-raiser. Rapsody, however, saved her best work for her biggest stage, delivering a thought-provoking verse on race with some brilliant lines ("all my solemn men up north, 12 years a slave" in reference to Solomon Northup) and a visualization of a black James Bond. Appearing on one of the biggest album releases of the decade was a huge opportunity for Rapsody, and she cashed in.
Eminem – "Best Friend" (Yelawolf's Love Story)
While his protege Yelawolf took a massive step back with this country/rap fusion on Love Story, a verse from Shady himself gave the album at least a little bit of replay-able music. Featuring some fantastic flow — even by Eminem's gold standards — that syncs perfectly with the instrumental. Only Yelawolf's ear-jarring hook keeps this track away from excellence.
Kendrick Lamar – "Money Over Love" (Bilal's In Another Life)
You have to do some serious digging to find a halfhearted verse from Mr. Duckworth, but Kendrick brought some extra juice for Bilal's latest release In Another Life, perhaps in appreciation for his efforts in the making of Kendrick's To Pimp a Butterfly. "Money Over Love" is exactly what it sounds like — an ironic anthem of materialism and lust over love. Kendrick comes in like a freight train for what is a short but hard-hitting set of bars, leaving no room for translation in the final bars ("F*ck Mr. Cupid, put that vagina on me!")
J. Cole – "Warm Enough" (Donnie Trumpet & The Social Experiment's Surf)
For an artist of his popularity, Cole has kept a relatively low profile in terms of appearing on projects outside of his own, but he delivered one of his best guest verses to date on Donnie Trumpet's Surf. Appearing just a few minutes after Busta Rhymes, Cole shows off some terrific flow and delivery that is often forgotten for a rapper more known for his content than his wordplay.
Vince Staples – "Wool" (Earl Sweatshirt's I Don't Like Sh*t, I Don't Go Outside)
Vince Staples may have released an EP in 2014, Hell Can Wait, but his appearance on Earl Sweatshirt's sophomore album I Don't Like Sh*t, I Don't Go Outside may have been just as productive for the Staples hype train — and Hell Can Wait was pretty good. These grim, braggadocios bars with a hint of creativity ("Ramona Park made me from scratch; a lot of lotto picks inside this game called rap") give, in retrospect, a perfect preview into what was to come in his recent release, Summertime '06.