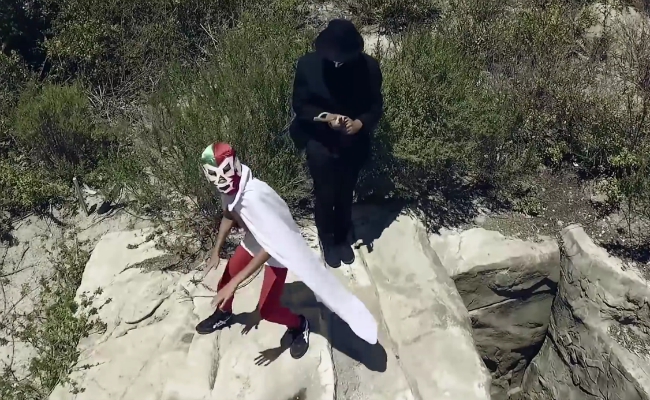 While most of this week was spent talking about Meek Mill and Drake going back and forth, and then Meek being soundly clowned, we did actually have some non-beef music drop as well. The Weeknd could not feel his face, maybe because it was on fire. There were also new tracks from Prince and Eminem. But of course, a bunch of releases dropped that might have slipped through the cracks.
Here are the best songs and music videos you missed this week.
Puscifer – "Grand Canyon"
While Tool remains on their *extended* hiatus, it doesn't mean that the band's frontman, Maynard James Keenan, has to. He's back with a new record with Puscifer, which is dropping October 30. While that's a ways off, we've got our first taste of the album with "Grand Canyon." The video is composed of beautiful shots of the titular landmark with a surprise at the end (which we may or may not have spoiled above.) Still, hearing that unmistakable voice over these majestic images is stirring.
Mac DeMarco – "Blue Boy"
Mac DeMarco perhaps entered the perfect marriage with his new video for "Blue Boy." The laid-back indie folk rocker teamed up with Fox's ADHD to make a kinda weird animated video for the Another One track. In the short clip, he manages to fight a giant green reptile monster, gets a cab ride from a giant mouth, and drag races a dog. So, yeah, makes perfect sense that these two trippy entities should meet.
Miami Horror – "Cellophane"
Australian indietronica group Miami Horror really grew sonically on their latest album, All Possible Futures. "Cellophane" is the latest video from the record, and it's a strange trip. One part Home Shopping Network and one part voyeur's dream, it shows how everyone is connected. Although, we're probably not all connected via extra long limbs, but the message is still there.
Unknown Mortal Orchestra – "Ur Life One Night"
UMO's latest clip from the great Multi-Love has the group scoring an old-timey picture show, almost reminiscent of a bazaar. Borrowing heavily from Asian art, according to the director, the sound of "Ur Life One Night" may seem anachronistic with the visuals of the video. But themes like love and sex and strife and struggle are fairly timeless. The world keeps turning in that way.
LIZ – "When I Rule The World"
The origins of PC Music are mysterious, to be generous, but what is undeniable is the songs are catchy as hell. LIZ's "When I Rule The World" sounds like it was made for a commercial, and it's no coincidence that it debuted in a Samsung ad. Now it has a standalone clip which revels in all of the busy glory that PC Music has come to be known for, whether or not you're buying a phone.