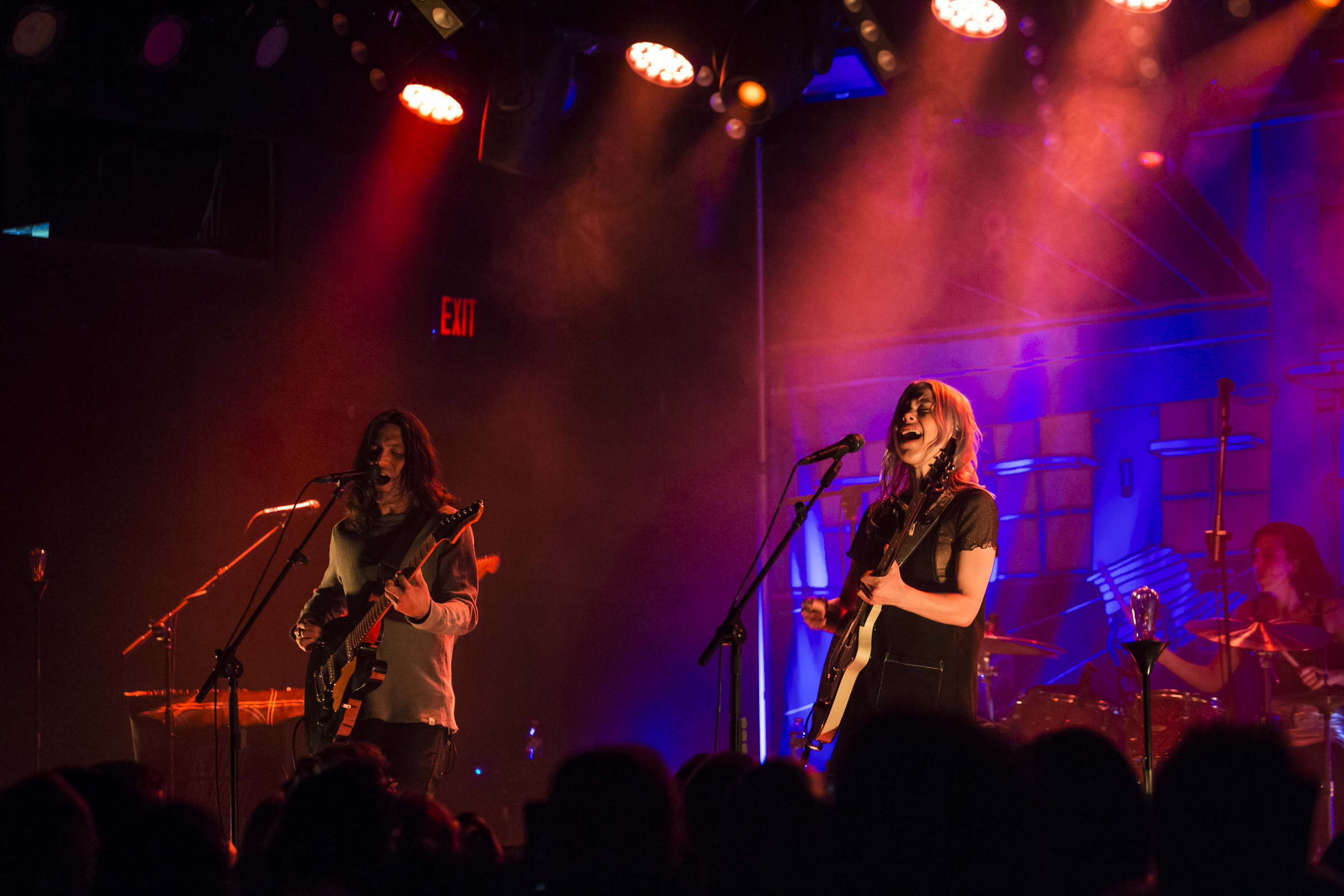 "Is this having fun?"
When Phoebe Bridgers asked this question at the heart of "Sleepwalkin'," early in the second of a two-night run at Los Angeles' Teragram Ballroom on Thursday night, the smile that beamed from her face was vivid even from the back of the room. Taken out of context of the song, the answer was clearly yes, that her collaborative project with Conor Oberst, Better Oblivion Community Center, is a joyous culmination of several years of tireless output. Bridgers has gone from rising local songwriter to putting out one of the best debuts in recent memory, 2017's Stranger In The Alps, to forming an era-defining supergroup in Boygenius to teaming with one of her songwriting heroes in BOCC. She hasn't missed a beat between projects and has consistently kept an air of gratitude and disbelief in her public persona. Never has a smile felt so deserved, so earned as when Bridgers unleashes it from the stage. Bliss can fall from the sky on those who don't even ask for it, but for Phoebe Bridgers, there's blood, sweat, and tears behind every elated grin, screaming that all of the work she's put in has been worth it.
That's not all that screams these days. Not long after Bridgers posted that she missed screaming for a living, referring back to her Boygenius tour where she would let wail at the climax of her soaring "Me & My Dog," she was back at it. This time it was covering Bright Eyes' 2005 Digital Ash In A Digital Urn closer "Easy/Lucky/Free" at the Teragram, where Bridgers howled without reservation at the song's closing. These were piercing cries that Bridgers knew weren't quite as controlled as Oberst's own, and she finally turned over the mic to him so all could witness the master at work. Screaming, like smiling, can be infectious, and though she doesn't quite have control of the former as an art form, the catharsis that it brings her is just as valuable as her ear-to-ear beaming.
Over the last several weeks, it has felt like Bridgers has had a lot more to scream about than she has to smile. Sure, her career is going great, but fans have also witnessed just part of the cost that many women experience as they attempt to find their way in their chosen professions. Bridgers bravely came forward as part of a New York Times investigation into Ryan Adams, revealing her experience with the famed songwriter that began with musical encouragement and collaboration, snowballed into a romance, and culminated with the kind of manipulation and harassment that is all too common in the music industry — and any industry, really. Throughout it all, Bridgers has stood tall, allowing her personal life to become headlines in the hope that other women won't have to endure the same struggles, that this sort of behavior becomes less normalized.
But seeing Bridgers in this light reveals an artist who has become an avatar for so much more than her music. When she's on stage or on record, the pain she confronts is the pain of any woman who's dealt with harassment in their workplace. You can see it on Twitter, you can see when she gets gifted a sword, you can see it when she screams and when she smiles — Phoebe Bridgers has come to mean more than she ever intended when she began her musical journey, having very little choice in the matter but handling it with grace regardless.
With that in mind, Better Oblivion Community Center's live performance feels like a much-needed turning to a new chapter. Aside from the smiles and the screams, she performs "Exception To The Rule" comfortably from the confines of a lawn chair, and, at one point, throws a beach ball out into the audience. Rather than adorn their set with straightforward interpretations of their past work, be it Bridgers' solo offerings of Oberst's Bright Eyes catalog, all nods to their past are presented with ingenuity, like Oberst taking lead on a punk version of "Funeral" or the pair turning "Lua" into a heart-tugging duet. Both artists could be pinned as self-serious if their solo shows were viewed in the wrong context. Together, they read more like a buddy comedy.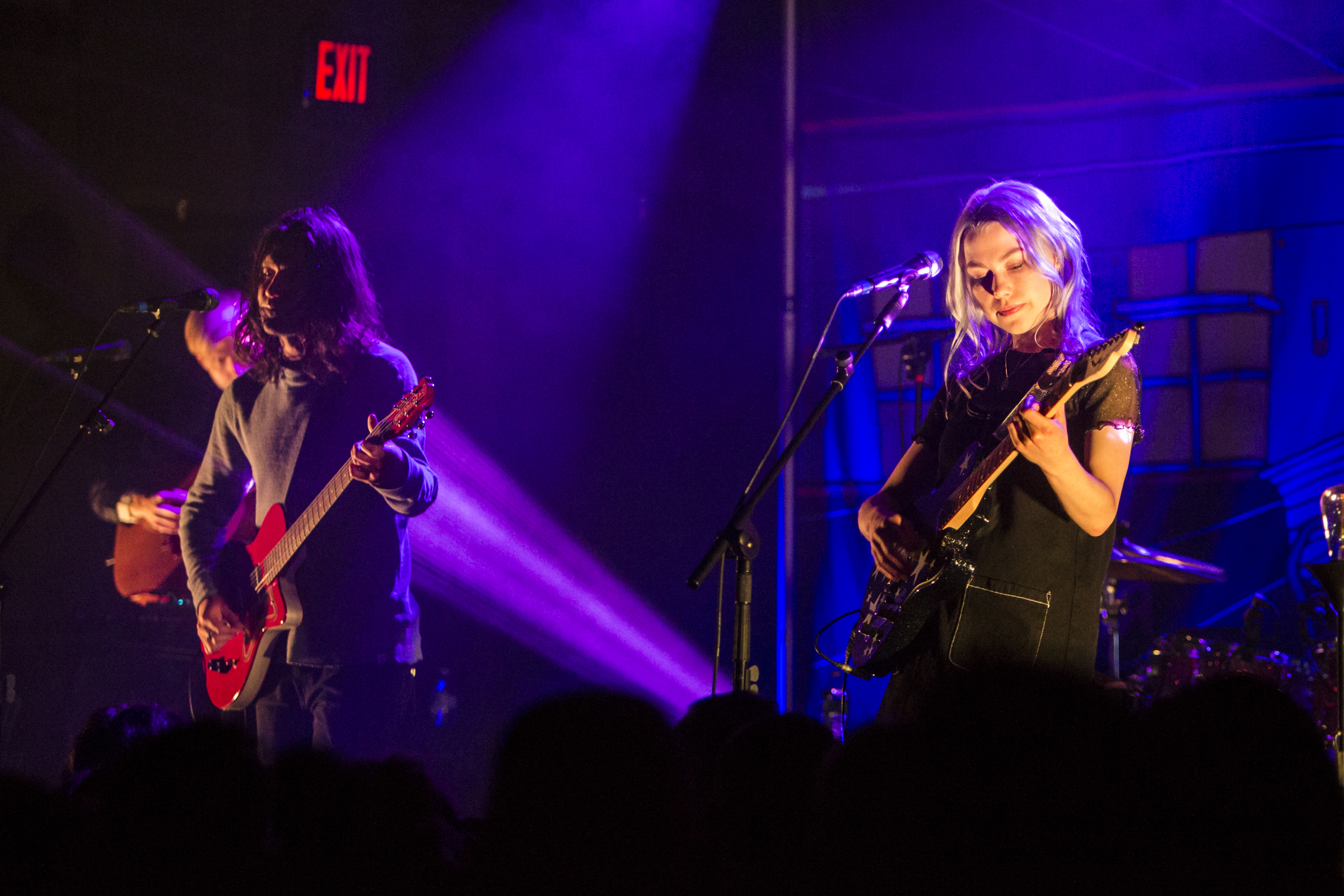 Maybe most interesting about Better Oblivion Community Center's live show is just how Bridgers and Oberst look at each other. It's more than respect or adoration or appreciation, though all are present when they lock eyes. Moreso, it's the realization of just what each offers the other. Oberst has forever been the wunderkind songwriter but now he's settled into a role of an elder statesman, making it that much more enjoyable to see him taking up the youthful spirit that Bridgers emanates. And for Bridgers, it's proof that her spare solo work is just one element of what she has to offer, that she can function well as a rock and roll bandleader, that her ghostly fragility is, to borrow her own words, just a kid in a sheet.
In Los Angeles, there was no location-specific cover, as the band has offered in Las Vegas (The Killers) or Seattle (Death Cab For Cutie) — though their faithful run through of The Replacements' "Can't Hardly Wait" is remarkable in that it took us 20 years to realize that Conor Oberst should be singing all of Paul Westerberg's songs. But the group did offer "Scott Street," with Oberst taking lead on Bridgers' most LA-centric solo tune, which takes its name from an Echo Park road just a couple miles from the venue. For those aforementioned covers, Bridgers has seemed genuinely flummoxed on social media when she has retweeted both bands sharing her work, the same kind of bewildered appreciation that radiated when more than a dozen friends took to the stage to bang random pieces of auxiliary percussion during Thursday night's "Scott Street." If it all seems like a whirlwind from the outside, imagine how it feels to be the artist, playing in her hometown, surrounded by friends and loved ones, sharing the stage with a major influence, and doing it all with the support of fans that have shown unending encouragement during an unspeakably difficult time. Is this having fun? You're goddamn right it is.