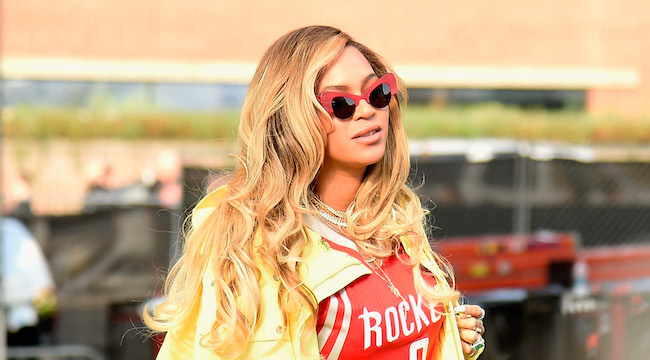 It's almost the Holiday season, but clearly, Beyonce is in the giving spirit all year, as is Pharrell. The two superstar artists recently donated items to The Lung Transplant Project. The organization was founded by "a group of lung transplant recipients who met at New York Presbyterian/Columbia University Medical Center," as the official website states. Their ultimate goal is to "raise money for the research that will decrease the time spent on lung transplant waiting lists and increase long-term survival rates."
Souvenirs from two of music's biggest stars will definitely help them raise the funds necessary to achieve their goals. Beyonce donated one of the infamous brimmed hats from her Lemonade World Tour, and Pharell gave Adidas Originals apparel. The items were signed by the artists, further increasing their value. TMZ reports that Beyonce's hat could fetch up to 2,000.
The person who wins won't just be donating to a good cause, they'll own a piece of music history. Beyonce is making more history of her own, starring in the live action version of The Lion King along with Donald Glover, Alfre Woodard, James Earl Jones and Jon Oliver. The movie is set to be released July 19th, 2019.
Hopefully, we won't have to wait that long for Pharell's next music project, as he recently released the bouncy "Lemon" featuring Rihanna alongside his band, NERD.
Those interested in the auction can bid at the official Heritage Auction site here.