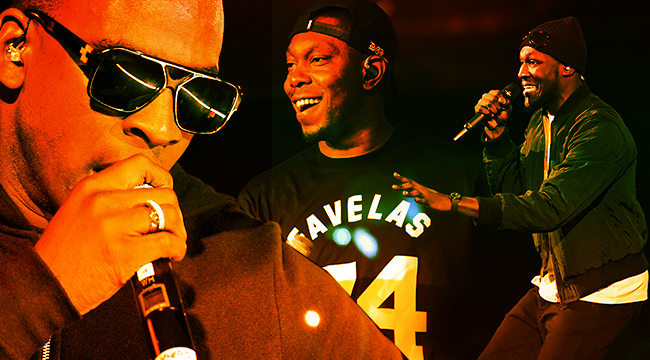 Last March, the news that Dizzee Rascal was going to perform his classic grime debut album Boy In Da Corner in full for the first time was, for long-term fans, slightly surreal. First, the realization that a genre predicated on the spontaneity and unpredictable energy of pirate radio clashes and freestyles had gone heritage: The practice of performing albums in order and in full had been popularized by All Tomorrow's Parties' Don't Look Back series from 2005 onwards, and had so far seemed the domain of classic rock or staid indie acts. Secondly, there was the surprising choice of location: This event, billed as a milestone for grime, was happening not in London, the city of its birth, but in the Music Hall venue in Williamsburg, New York.
Fifteen years after British music journalists first started writing about it as London's hottest new underground genre, and eight years after an attempt to create an American crossover (via collaborations between Dizzee and UGK) had sputtered out, grime's time has come. These days, young American tastemakers are all over it. In a review of that New York show, Noisey described "the genre's unrelenting rise in the US." Hip-hop megastars such as Drake, whose transatlantic alliance with London MC Skepta has been key, act as conduits. Meanwhile, at home grime has become pop: Stormzy rode the classic grime instrumental "Functions On The Low" into the Christmas Top 10 on "Shut Up," and provincial student unions — traditionally the kind of basic-before-there-was-a-word-for-it venues where white British teenagers learn to drink, then vomit, their own body weight in bad lager to the soundtrack of cheesy pop — now turn up to past and present grime classics.
The keenness with which fans had embraced the heritage trappings of the Boy In Da Corner show, which would come home in October to the Copper Box Arena in London's former Olympic park, is neither nostalgia — which implies that the scene died off — nor the kind of easy establishment trappings of a sound whose canon status was ossified with the inevitability of acclaimed white, male indie. Rather, it was born from years of frustration that the genre's growth was continually stymied. The unstoppable grime wave over the past few years has been dubbed a renaissance, but that term ignores how its long history informs its current flourishing present. Just call it unfinished business.
The Early Years
As with so many developments in British dance music, grime sprouted unintentionally from the seeds of another genre. "We thought we were making garage," Geeneus, founder of Rinse FM, the former pirate radio station that incubated grime, dubstep, UK funky and more has said about the tendency to foreground MCs over UK garage beats. As the staccato beats and irresistible melodies of UK garage itself began to run out of steam, the darker production that defined grime began to take over. Garage was a legitimate chart force in the UK around the turn of the century, and it faltered partly because of its artists signing to major labels who lacked the cultural knowledge to take them further.
Enter grime, helmed by Wiley's "Eskimo" and Youngstar's "Pulse X," two defining riddims from 2002, who showcased the genre's breadth even in its nascent period; the former a playful collection of icy bleeps and bloops rearranged into the kind of tune that gets stuck in your head for 15 years, the latter a screwfaced bass grind that made no concession to accessibility.
In retrospect, it's possible that Dizzee Rascal, another stalwart figure in those early years, came along too soon. Grime was, at its core, still a scene driven by the cut and thrust of radio and the rave at this point. Pirate stations such as Rinse and Deja would move from tower block to tower block on an ad hoc basis, the threat of getting shut down by the police ever present. Club nights such as Eskimo Dance, named after the Wiley riddim, were held in huge venues such as Area in Watford, a suburb on the outer edge of north London. "It was the most disorganized thing in the world but it was so, so raw," Eskimo Dance promoter Steven Cee reminisced to Boiler Room in 2015.
The sound itself was fueled by chaos and unpredictability as MCs jostled for a turn on the mic. This posed a tension of its own when rival crew members were in the same space. In 2003, concerned about too many MCs turning up in the tiny flats that were being used to broadcast Rinse, Geeneus shut the station down abruptly. Four weeks later, Dizzee Rascal nearly came to blows with Crazy Titch on air in Deja's makeshift rooftop studio — still a classic moment in the history of the genre.
The First Wave
Grime, wasn't a scene that should have been — or needed to be — legitimized by respectable yardsticks such as individual genius auteurs, albums-qua-albums or artists who transcended the genre. Yet, prodigiously, Dizzee Rascal provided all of this in 2003 with Boy In Da Corner, a tour de force that ushered in critical acclaim — including the Mercury Music Prize, and even a smattering of chart hits. As indisputable a landmark as it was, though, Dizzee may have embodied grime's fullest potential, but he was anomalous, not representative. In the world of radio clashes, dubplate singles and mixtapes sold at the Rhythm Division shop on Roman Road, the scene continued to incubate a seemingly endless supply of stars and smashes: SLK's "Hype! Hype!," Roll Deep's "When I'm 'Ere," Jammer's "Murkle Man," Wonder's "What Have You Done?," No Lay's "Unorthadox Daughter," Kano's "Ps & Qs", and Ruff Sqwad's "Anna."
But Boy In Da Corner was the kind of yardstick the few MCs groomed for crossover success couldn't live up to: two other MCs, Kano and Shystie both released solid major label albums, but their failure to storm the charts was held against them. Wiley's own debut, Treddin' On Thin Ice, confirmed the man who had essentially invented grime not just as a singular production genius but an MC with uniquely dry humor and fondness for non sequiturs. This idiosyncrasy, it would become apparent over the years, extended to every aspect of his career. In a parallel universe, Wiley would have been the genre's very own Timbaland: An incomparable auteur who could drive the careers of an entire stable of MCs and singers. In the real world, Wiley's enigmatic legend is entirely derived from his inability to march to anything but his own beat, for zigging when expected to zag, liable to have flown to Jamaica on a whim instead of turning up for a press interview. His relationship with the music industry, fellow artists and even his own work has, for one-and-a-half decades, been nothing but a merry-go-round of breaking up and making up that would put even the most dramatic love life to shame.
As a mentor to younger artists and — throughout the turbulence — a peerless musical innovator, Wiley is still a pre-eminent figurehead of the scene, but his ambivalence about his role has meant that the arc of his career has seemed to be more accident than design. His 11th — and, apparently, final — album, Godfather, was released in January; all killer and no filler, it's his finest work since his debut. Perhaps this is appropriate: Now that younger artists are embracing the spotlight Wiley never felt comfortable in, he's been freed up to make an album entirely liberated from any second-guessing. Wiley's career might have been characterized by the man's own idiosyncrasies — but it was also emblematic of a situation whereby the mainstream British music industry was alternately suspicious and uncomprehending of how grime worked, but the infrastructure of the scene itself was still too chaotic and rife with division to build its own ecosystem.
Ultimately, though, the most stifling measure came not from any aspects of the music industry, but the long-antagonistic police. Form 696 was — and still is — a controversial piece of risk assessment bureaucracy that, in its curious focus on the ethnic demographics and musical styles of club events, was accused of racially profiling London's nightlife. Grime's beating heart was never broadsheet acclaim, nor Top 10 hits, but the rave — and it was this outlet that was being shut off, even at established venues such as Shoreditch's Canvas, often with little prior warning. As blogger John McDonnell put it in journalist Hattie Collins' essential history This Is Grime, "Form 696 basically killed off grime for about half a decade. It stopped grime in its original form taking off by killing the live music."
The Electro Swerve
Plot twist: It turned out that Grime artists could still take off by metamorphosing into different forms. As with US hip-hop, commitment to the hustle and the grind were bedrock themes of grime, and Tinchy Stryder — who had risen to prominence in 2005 as a show-stealing 15-year-old on Ruff Sqwad's "Underground," embodied this when, on his 2007 debut album Star In The Hood, he declared his intent to get "mainstream money." More connected than most MCs, he was managed by the son of Liberal Democrat MP Norman Lamb, and his reappearance on major label Polydor was a game-changer.
From around 2007, American R&B artists had been incorporating more and more four-by-four elements into their music until the dominant chart sound of the late '00s had become a peculiarly cheap'n'cheerful mélange of watered-down electrohouse and vaguely "urban" stylings. Stryder embraced it with gusto, linking up with hook singers such as R;B nonentity Taio Cruz and girl group spare part Amelle Berrabah of the Sugababes for a series of entirely forgettable hits.
In 2009, he scored two No. 1 singles and a No. 2 album, and in this incarnation he continued to be a Top 10 presence until 2012. Nor was Stryder alone: Chipmunk played the role of teen heartthrob on a succession of top 5 hits between 2009 and 2011 while Dizzee, days of angst long gone and now a legitimate mainstream star, seemed content to grow fat cheerfully playing to the lairy festival crowd until further notice. Wiley, of course, was one of the few to emerge from the electro flirtation with dignity intact: Only he had the panache to realize a great house banger should be low-key, like his 2008 hit "Wearing My Rolex", not fizzing with overdone synths on every hook.
The Rebirth
At least Tinchy Stryder and Chipmunk got cash from their smashes. One of the most awkward crossover attempts during the electro years was Skepta's: his "Bad Boy" and "Cross My Heart" singles are not only execrable, but barely made a dent on the charts. A nadir was reached in 2011, when he chose to accompany his "All Over The House" single with a porn video, then went on air to tut self-righteously that people gave him the attention he'd been seeking by tweeting it. So it was appropriate that it was Skepta who ushered grime back in with, essentially, an apology in the form of a banger. "Yeah, I used to wear Gucci; I put it all in the bin 'cause that's not me," he spat over a metallic beat specifically designed to tap into lingering nostalgia for the Eski days.
If the internet of the early to mid-'00s had originally been a conduit for music nerds to tap into the distant sounds of an East London tower block rooftop and dripfeed the word to journalists, the internet of the '10s saw the floodgates open as grime artists realized they could build and nurture fanbases themselves. The previous obstacles could be bypassed. Here, there was no major label interference in your sound, no police to shut down a Youtube video or live stream, no need to validate success by chart positions when you could see your Twitter followers growing exponentially.
"It breaks the barriers down," Stormzy told me in 2015 for the London magazine BEAT. "Whereas labels would take an artist who had no fans and no support and try to gain them, with social media you can do that yourself from the get-go." And it helped grime permeate worlds it had never reached a decade previously, from fashion shows to middle-class teenagers outside London. Form 696 was useless against a grime hit being dropped in a students' union or a Calvin Klein afterparty, not to mention the bigger venues the scene's stars now found themselves playing: North London's Alexandra Palace, best known for hosting the World Snooker Masters; the O2, Beyoncé's choice of arena when in London, which Jme and Skepta's Boy Better Know crew intend to take over this August for a multi-discipline day festival.
Dizzee Rascal, for so long a leader of the scene who was also, accidentally, became an albatross around the neck of its commercial prospects, hasn't released an album or scored a hit for nearly half a decade. In his absence, genuine stars have sprung up. Skepta followed "That's Not Me" with the blistering "Shutdown" in 2015, stamping his authority not just on the world of grime but British pop culture. An interpolation of a horrified middle-class accent responding to Boy Better Know's appearance on stage with Kanye West at that year's BRIT Awards was an inspired touch. Whether a reading of a real social media reaction or a parody has never been confirmed, but it struck to the heart of the latent racism of British society, whereby black entertainment figures have long had to be made, euphemistically, "likeable" in order to pass muster with the public and be accepted as legitimate celebrities.
Skepta's fourth album, Konnichiwa — which contained "That's Not Me" and "Shutdown" — was, in 2016, the record that the grime scene needed in an era when the album qua album enjoys more cultural supremacy than ever. It did its job without any missteps, both affirming Skepta as an artist capable of simultaneously appealing to the mainstream and to the United States without losing sight of his own scene, and establishing grime itself as a fundamental part of the British music industry, this time with more community and infrastructure behind it than before. When Boy In Da Corner had won the Mercury Music Prize in 2003, it felt as though he was being lifted out of grime; when Konnichiwa took the trophy last year, it felt like a victory for the scene as a whole.
In 2017, though, with nothing to prove to anyone, grime feels even more diffuse than ever. Younger artists such as P Money and Jammz still capture the genre's core raw energy; older artists such as Trim and Nolay are finding their place in grime's brave new world to make some of their best work yet. But if Skepta ruled 2016 by making all the correct moves, Stormzy has indubitably snatched the crown in 2017 by tearing up the rulebook. His debut album, Gang Signs & Prayer, is bold enough to throw curveballs instead of sticking to what might have been expected; gospel and R&B sit alongside grime bangers, frank lyrics about the 23-year-old's struggles with mental health alongside the irresistible braggadocio of ubiquitous single "Big For Your Boots." If Dizzee Rascal's Williamsburg show represented the global crossover of grime's heritage, Stormzy demonstrates how grime is itself a global genre now.
In May 2017, grime even finds itself at the forefront of British politics. In 2003, Dizzee Rascal snarled, "I'm a problem for Anthony Blair" on "Hold Ya Mouf," a reference to the Labor prime minister who, despite his party affiliation, oversaw rising inequality, unpopular military interventions abroad and a yawning abyss of growing political alienation. Fourteen years later, the Labor leader is Jeremy Corbyn, whose refusal to toe the line at the time had also been a problem for Anthony Blair in his way. This month, following a wave of grime artists from Novelist to Stormzy expressing support for Corbyn, a ten-minute meeting between Corbyn and Jme set up by i-D magazine clocked up 1.3m views on Facebook. It's indicative not just of grime's increased stature as a genre, but its confidence in its own voice.
Alex Macpherson is a London-based freelance writer on music, tennis and travel. Follow him on Twitter here.