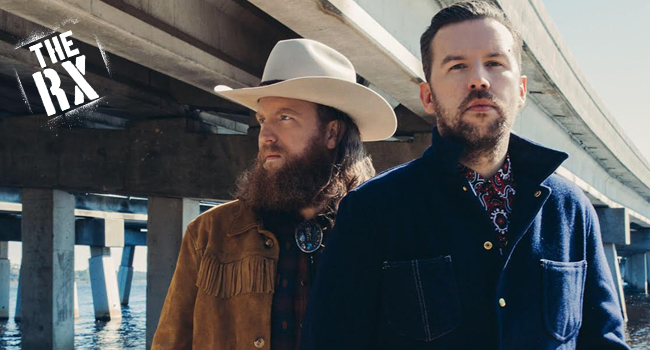 The RX is Uproxx Music's stamp of approval for the best albums, songs, and music stories throughout the year. Inclusion in this category is the highest distinction we can bestow, and signals the most important music being released throughout the year. The RX is the music you need, right now.
If you read music criticism in the '00s, you were conditioned to fear a certain group of people frequently cited for angry, reactionary judgments. I refer to "hipsters," a faceless hoard distinguished by their "skinny jeans" and "horn-rimmed glasses" as well as a tendency to get really upset whenever a "cool" indie band made pop-sounding records.
For a while overcoming the sourness of mythical hipsters — who, if they ever really existed, were marginalized to the depths of comment boards and egg-avatar Twitter by the dawn of the '10s — was a crucial narrative for underground artists looking to seize upon a mainstream audience. Because there are few stories that music fans enjoy more than seeing snobs put in their place, even when it's abundantly clear that snobs have a fraction as much power and influence as, say, corporate-backed streaming platforms. Tweaking hipsters will always seem noble. It feels like punching up, no matter if you're actually punching the air.
Lately, a version of the "judgmental hipster" stereotype has been recurring in reviews and profiles of critically adored and semi-popular country artists. Coverage of Kacey Musgraves' excellent third album, Golden Hour, often included swipes at "purists" who supposedly dropped their monocles over Musgraves' delectably twangy update of Fleetwood Mac's Tango In The Night period.
Ah yes, the purists — those backward-looking troglodytes who think country music went to hell when Hank Williams perished in the back of that baby blue Cadillac. When was the last time you read or heard from a person of consequence who actually believed that? Pardon me for squinting into the dimmest corners of the dwindling blogosphere in order to find anyone who still resembles a purist. Are there old-school grouches who turn their nose up at pop-country tunes that cannily integrate synthesizers and vocoders? Of course. But has that had any real impact on Musgraves, who is among the most well-reviewed country artists of the decade? Of course not.
Seriously: Who are the figureheads for "purity" in country music these days anyway? Chris Stapleton and Sturgill Simpson? The former makes soul-tinged southern-rock records, and the latter is a psychedelic prankster who loves Tool and Skrillex. Jason Isbell? He is John Prine trapped in the body of Bruce Springsteen. Any of the acclaimed singer-songwriters — Margo Price, John Moreland, Colter Wall, Tyler Childers — that get lumped under the country umbrella? They're all children of outlaw icons like Kris Kristofferson and Townes Van Zandt, who led country away from its roots and imbued the music with a poetic, Dylanesque sensibility. Even the purists don't seem so pure these days.
Last week, a battery of good-to-great country albums further illustrated the uselessness of the pop-vs.-purist binary. Ashley Monroe put out another beautiful, strings-laden folk-pop record, Sparrow, that sounds like the sweetest AM radio station of 1974, though she's probably still best known as Miranda Lambert's sidekick in the supergroup Pistol Annies. Old Crow Medicine Show reaffirmed its reputation as the scrappiest and most invigorating string band on the planet with the boisterous Volunteer, though the inclusion of electric guitar (a first for OCMS since 2004) gives the album a decisive rock edge. Even hickory-voiced Joshua Hedley, a dyed-in-the-wool Countrypolitan throwback signed to Third Man Records who poses in a Nudie suit on the cover of his debut Mr. Jukebox, can't bring himself to take potshots at Luke Bryan.
My favorite record from that recent bumper crop of strong country releases is Port Saint Joe, the second album by the family duo Brothers Osborne. Look at a photo of Brothers Osborne, and you might think they were constructed in a lab by a diabolical record executive obsessed with building the perfect contemporary country band. Brother John is a burly dude in the Stapleton mold, and brother T.J. is slicker and hunkier in an every-bro kind of way, like if Jason Sudeikis had been cast in the Jeff Bridges role from Crazy Heart.
Musically, Port Saint Joe checks nearly every box from both sides of the contemporary country menu. On one hand, they are perfectly capable of producing a dumb "let's get drunk on a pontoon boat" anthem ("Tequlia Again"), a funky after-bar jam that splits the difference between Jerry Reed and Chic ("A Couple Wrongs Makin' It Alright"), and a jammy showcase that stretches like a guitar-heavy alternative to the Zac Brown Band ("Shoot Me Straight"). On the other hand, Brothers Osborne pledge fealty to all the usual outlaw heroes and the substances they made famous ("Weed, Whiskey, and Willie," "Drank Like Hank"). Oh, and they don't skimp on the Nudie suits, either.
Like Musgraves, a long-time ally who befriended the brothers after they moved to Nashville from Maryland in the mid-'00s, Brothers Osborne represent a generation of country artists that are not interested in walling country off from the rest of the world, or making a federal case out of upending traditions. On paper, Port Saint Joe might seem like a mercenary bid to cover all the bases without ever committing to a distinctive voice. But in practice, Brothers Osborne only sound like themselves. Their eclecticism is so organic and ingrained that it seems stodgy to point it out as anything special.
Working again with Jay Joyce — long-time producer of Eric Church, who would be recognized as the decade's greatest arena-rock star if he hailed from New Jersey instead of North Carolina — Brothers Osborne manage to make Port Saint Joe feel spiritually country, no matter how far from the genre's sonic hallmarks they drift. They're a couple of good-time fellas who are all about the party except when they pull out the acoustics and strum a heartfelt weepie like "While You Still Can." While Brothers Osborne aren't yet a superstar act, their run of trophies at country-award shows — they've won Duo Of The Year at both the CMAs and the ACMs a total of four times in the past three years — suggests a Stapleton-like "savior" endorsement from the industry. These guys play ripping guitar solos and love Willie Nelson! Let's make them huge! Before long, they might very well be recast as an example of the purity that is once again under attack.
Don't believe it. Brothers Osborne can be purist and pop on the same album, or even in the same song. Why choose between Florida Georgia Line and Tyler Childers when you can have a little bit of both?
Port Saint Joe is out now via EMI Records Nashville. Get it here or stream it below.