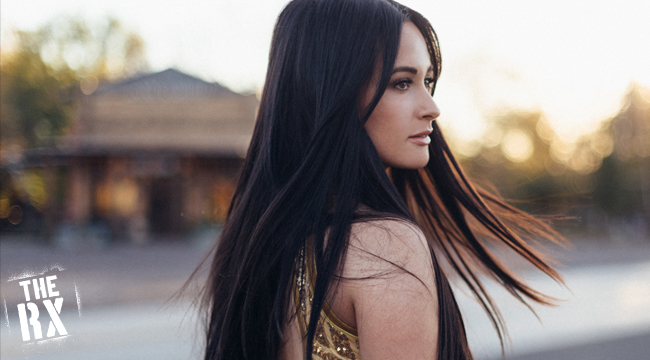 The RX is Uproxx Music's stamp of approval for the best albums, songs, and music stories throughout the year. Inclusion in this category is the highest distinction we can bestow, and signals the most important music being released throughout the year. The RX is the music you need, right now.
Good in a glass. Good on green. Good when you're putting your hands all over me.
It must be an exaggeration, but it feels like the new Kacey Musgraves album is the first good thing to happen in 2018. In a year already weary with fuck ups — both others and our own — Golden Hour is the summation of Musgraves' silvery strengths, and in her success, the hint of a lovely, somehow still-possible future shines. This album is so sweetly sure, so wisely tender, that I've spent the better part of this week listening to it while crying in parking lots, moved to pull over by the sheer grace of it. It's so easy to be jaded and unmoved, especially in our current era, that opening yourself up to be soft is the hardest thing in the world. Kacey's unflinching softness is the strongest thing I've heard all year, and it broke my proud, lonely heart right open. Golden Hour is brief, beautiful, and powerful; it's the work of a veteran songwriter who just released a modern classic in the prime of her youth. It shuts the door forever on the idea that only heartbreak can fuel ideal art.
Golden Hour reminds that even in 2018, there is a kind of deep, pure love that doesn't try to incite jealousy, that doesn't try to prove anything that isn't true. It's frighteningly rare these days, but Musgraves has found it, and her rendition of the age-old experience has resulted in a modern country masterpiece. A woman on the cusp of 30, newly-married to fellow musician Ruston Kelly, Kacey is something of an emblem for millennials, a generation of overeducated and underpaid adult-teens eager to put a decade or more of heartbreaks, missteps, and judgments behind us. Raised on divorce and porn, steeped in debt, pollution, and corruption, it takes an immense amount of talent to make love songs this earnest feel resonant to my generation. But here, these are love songs strong enough to bust open the biggest cynic's heart and let in wild, difficult beams of hope. In many ways, it feels like an album Musgraves was destined to make.
Kacey's understated persona belies the way she's been feverishly embraced by the mainstream music industry, where even the biggest country stars rarely gain steady footing. Her insistence on conquering Nashville her own way — with gay-friendly anthems and subdued, subtle country ballads that are nevertheless sharp — points toward a more significant shift in American culture. The Texas country singer is a rare crossover who is beloved by the indie mainstream, an outlier in her own conservative southern genre, honored by the Grammys and snubbed by country radio. Through it all, Musgraves maintains an enviable, sweetly tough poker face, and a determination to make whatever kind of music she wants to make.
On her breakout album, 2013's Same Trailer, Different Park, this was down-tuned honky-tonk with a razor-sharp pop edge, and on the 2015 follow-up, Pageant Material, it was a glittery but demure set of anti-establishment crooners, that, for all their sparkle, still came off as a bit of a retread. Golden Hour pulls from the same playbook as those two records, which both earned her Grammy nominations and top 3 chart debuts, but it contains an elevated sense of purpose that transforms her work from simply great to utterly magnificent.
And though she's been mighty political in a genre that demands its stars snap to attention when it comes to conservative America, blessedly, thankfully — almost magically — there isn't a hint of 2018's circus of scandal and scum on the record. Even in the most brilliant of hands, today's tragedies and farces usually make for poor, overly-specific treacle when turned into songs, and the blossoming country star wisely avoided this pitfall. Kacey has other things on her mind, and even if this whole damn place burns to the ground, she's going to love hard all the way to the end of the world. At this point, her unwavering, unpretentious confidence in love is almost a political act itself.
In the vein of another stubborn star who navigated trying times with beautiful, barn-burning love songs, Golden Hour kicks off with "Slow Burn," an open-hearted paean to love at the pace of molasses, whose melody is so clearly indebted to Neil Young's "You And Me," off Harvest Moon, that it could double as tribute if it wasn't so wholly its own love story. When it comes to form, Young's 1992 record functions as a sort of twin star to Kacey's latest, both of them echoing '70s analog charm through love songs too simple, tender, and graceful to be written off as overly emotional.
Always sweet, but shot through with rebellion and killer wit, Musgraves' songwriting continually invokes comparisons to legends like Young, and Willie Nelson, Guy Clark or John Prine. The fact that she's written or performed with all three of the latter stands as a testament to her position in the neighborhoods of Nashville, and also to her clear lineage in the country canon.
Anyone trying to deem this record out of the ordinary or rare for country and folk has a poor grasp of the nooks and crannies of those genres, and indeed, their massively storied histories. And let's give Kacey her due, too — this is the seventh album of material she's put out into the world, eight if you count her Christmas record. Though most people discovered Musgraves in 2013, when she made her major label debut, she's been releasing music and navigating her place in country since she was a pre-teen in the early 2000s.
Perhaps it was this lengthy heritage that eventually worked against Musgraves, and it took an experience like falling in love to push her toward the clear pinnacle that is Golden Hour. The bulk of this new album was written and recorded in a studio above Sheryl Crow's horse stables, where Musgraves co-produced and co-wrote each song with collaborators Daniel Tashian and Ian Fitchuk. Its resulting sound is refocused, pared back, and — golden.
The record's dazzling, dual lead singles, "Butterflies" and "Space Cowboy," both nudged toward psych-country, full of fuzzy, electric twang that conveyed two very different emotions, the former written just days after she met her current husband, the latter a resigned, powerful kiss-off to a lover who's already half out the door.
Later, a delightfully kooky song called "High Horse" proves that Musgraves can groove and funk with the disco set, all while resting comfortably on her preferred laurels — cheeky wordplay. Along with a barely minute-long sketch called "Mother," about the overwhelming experience of becoming a slightly older woman and grasping the inevitable mortality of your mom, these outliers bleed to the edges of her songwriting scope, hinting at corners future Kacey might explore. But the tribute to mothers, for instance, would've been a bulky and overstuffed at a traditional three to four minutes. Working in sketch form, it gestures toward the immediacy and fleeting nature of a feeling like this without stretching it into anything heavy-handed. The brevity makes the song feel heavier while keeping it light.
It's present Kacey, though, that makes up the bulk of the record, pining and sighing for a call, text, or hint on the gorgeous "Lonely Weekend," astutely capturing the way even the most stable romantic love comes with a sometimes unsettling pressure. The opening track, "Slow Burn," is my personal favorite, since it describes a confidence to go slow in love that I've never felt but always wanted, and the dreamy "Oh What A World" is the one that most often makes me cry, because it channels a specific wonder and joy in existence that I've always experienced, but recently felt cut off from.
Elsewhere, "Love Is A Wild Thing," the title track, and a Kesha-leaning orchestral stunner, "Rainbow," are blissed out explorations of love's progression, its insistence, its healing power. Then, there's the three-track run "Happy & Sad," "Velvet Elvis," and "Wonder Woman," that, in turn, showcase Kacey's ability to analyze the amber of a moment while inside of it, channel the sultry, sexy history of country's glamour, and finally, humanize the pressure women feel to be idealized versions of themselves. Each of these songs have been my favorite at different times, they might become yours, too.
Because, on a record like Golden Hour, there is no single standout track; all of the songs are of a piece, playing off of and illuminating each other the way people in love do, until they've become so entwined it's nearly impossible to imagine one without the other. On this album, Kacey has succeeded in concocting a set of love songs intimate and intricate enough that it starts to feel like this record is loving you right back, gently guiding a path toward the audacity of an old hope that has, once again, begun to feel possible. Drink it in.
Golden Hour is out now via MCA Nashville. Get it here.