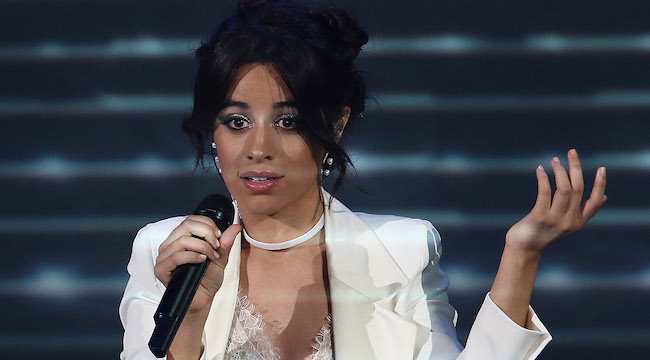 Fans of former Fifth Harmony singer Camila Cabello have been waiting patiently for solo music ever since she left the group in December. We get it. It takes a while to make an album (hell, Ed Sheeran had to sequester himself in the woods for a year to do it!). But the wait probably won't be that long. On Monday, U.K. radio network Capital FM may have leaked the title to Cabello's upcoming single in their "Camila Cabello music" section.
"A Good Reason To Go" appears to be the title of the new ditty, which captions a black-and-white picture of Cabello. This seems to corroborate the hint Cabello gave fans on Friday, when she revealed that the acronym of the song is "AGRTG."
Cabello is expected to perform the tune off her imminent album at KIIS FM's Wango Tango in Los Angeles on May 13. After announcing the gig, she confirmed that her set will only include tracks from CC1 (the nickname for her solo debut album).
Meanwhile, the Capital FM page also reveals that she has a track with Major Lazer called "Hard Beat."
So far, we've heard a few solo tracks from Cabello, but none that she calls all her own. She co-wrote and sings on Shawn Mendes' "I Know What You Did Last Summer," along with features on Machine Gun Kelly's "Bad Things," Cashmere Cat's "Love Incredible" and a cut off The Fate of the Furious soundtrack, "Hey Ma," with Pitbull and J Balvin.
And, on Monday, Mendes revealed a behind-the-scenes video of their jam sesh, which had them duetting Ed Sheeran's "Kiss Me."