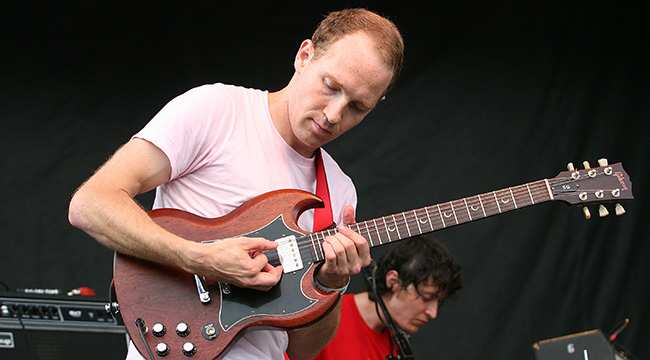 Daphni, the dance-floor-directed alter-ego of Caribou's Dan Snaith, has announced Joli Mai, the follow up to the project's 2012 debut album, Jiaolong. The album is slated for release this Friday.
The LP features extended versions of the originally composed material that Snaith included on his recent Fabriclive mix, which came out in July.
Four songs, "Face To Face," "Carry On," "Tin," and "Hey Drum" are all available to listen to in their entirety on the Daphni Bandcamp page. You can listen to "Face To Face" below.
[protected-iframe id="340bea948dd5aeb7d0e3cdb47ff0c142-60970621-76566046″ info="https://bandcamp.com/EmbeddedPlayer/album=762678559/size=large/bgcol=ffffff/linkcol=0687f5/tracklist=false/artwork=small/track=3390010010/transparent=true/" ]
Rather than aiming for consistency, Snaith imbued each song, from the funky "Face To Face," the soulful groove of "Carry On," the immediate beat of "Tin" and the meditative repetition of "Hey Drum," with the varying and disparate attributes of the Daphni project.
In the original statement released with the Fabriclive mix, Snaith said:
You'd expect a DJ mix where someone made each track to follow the previous one to be very homogenous. To seem like it was planned out and build in a controlled way. I think the result is almost exactly the opposite! The tracks on here pull from very diverse ends of the spectrum of music that I like/make.
The song "Vulture" is the only track on the LP not from the original Fabriclive mix. It made its debut in Midland's own Fabriclive mix which came out back in September.
Joli Mai is out on Snaith's own Jiaolong label as of 10/06. The tracklist is below.
1. "Poly"
2. "Face To Face"
3. "Carry On"
4. "Vulture"
5. "Xing Tian"
6. "Vikram"
7. "Tin"
8. "The Truth"
9. "Hey Drum"
10. "Medellin"
11. "Joli Mai"
12. "Life's What You Make It"