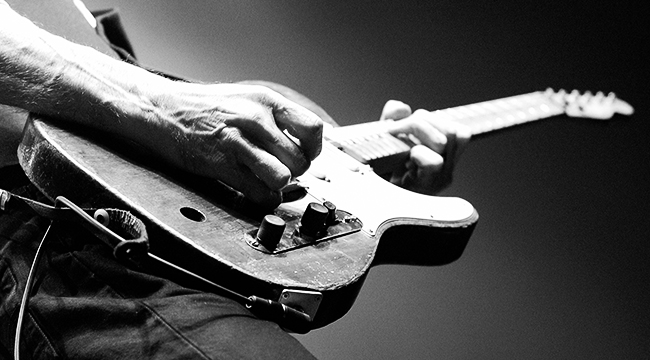 With Hannukah in full swing and Christmas right around the corner, chances are you're currently scrambling trying to come up with ideas of what to get for those special friends and family members in your life. The options of course are endless, but so are the possibilities of slipping up and securing a gift that'll end up on the exchange rack by December 26. If you're desperately hoping to avoid this fate for the classic rock lover in your life, fear not! I've put together a whole list of items guaranteed to turn this holiday all the way up to 11.
Bob Dylan — Trouble No More: The Bootleg Series Vol. 13 / 1979-1981 (Deluxe Edition)
For decades, Bob Dylan's so-called "gospel period" has been decried as one of the lower points of his lengthy, critically-adored career. While many will allow that Slow Train Coming, produced by Atlantic Records guru Jerry Wexler, is a fine album, the follow-ups, Saved and Shot Of Love usually receive a substantial share of vitriol. The latest entry into Dylan's bootleg series flips that opinion on its ear. The music within, delivered by a truly crack live outfit, gives the maligned songs the power and heft that was missing from the official, studio-recorded output. While the two-disc edition for about $15 makes for a great gift, the real Dylan-head will go nuts for the full, 9-disc set, that includes recordings of two shows in their totality, a 120-page book, and a live DVD for $120. If you really want to up the ante, pitch in a copy of Dylan-biographer Clinton Heylin's amazing chronicle of those years, Trouble In Mind.

U2 – The Joshua Tree (Super Deluxe)
U2 did something extremely un-U2-like in 2017: They looked back. This year marked the 30th anniversary of the Irish rock legend's seminal album The Joshua Tree, and perhaps because of how well the themes of that record reflected on the present state of America, or perhaps because the revenue potential was to great to ignore, the band gave it a birthday party for the ages, launching a worldwide, stadium tour, while also rolling out this elaborate box set, filled with live tracks, demos, and a remastered version of the album itself. While the live show may have ended – and if you missed it, I hate to say it, but you REALLY missed out – the set still remains and is a necessary addition to any '80s rock lover's collection. The four-disc CD set will run you about $91, while the vinyl-lovers will need to shell out just under $200.
Lou Reed: A Life by Anthony DeCurtis
Before this year, the literature surrounding the life and musical legacy of Lou Reed was shockingly thin; a few Velvet Underground write-ups here, along with some broadly written works there. The addition of Anthony DeCurtis's biography was absolutely necessary, and is the exact work that Reed's incredible life deserves. DeCurtis, who was an acquaintance of Lou's – it'd be stretch to refer to anybody who called themselves a journalist as a friend – brings the singer back to life with stunning clarity. In his capable hands, you get a view of Lou as he was, warts and all. The darker portions of his character get just as much time and attention as the more inspired and venerated aspects. Bar none, one of the best and most engrossing rock biographies of the year. Lou Reed: A Life runs for $32 list price.
Dreaming The Beatles by Rob Sheffield
What more can anyone hope to say about the Beatles? A lot as it turns out. The Fab Four are the most overly-chronicled entities in the history of the entertainment industry. Whole shelves could be filled just about their various live tours alone. Expert cultural critic Rob Sheffield manages to pull off the impossible by writing about the Beatles from a fresh, and indeed, essential perspective. So many writers and fans like to contain the group to the era known as "The Sixties," but Sheffield is keenly aware that that's merely where the story begins. The Beatles are a far bigger entity today than they ever were at the time they were sending hordes of screaming teenagers running through the streets after them, hoping to get a closer look, and maybe a lock of their mop-top for eternity. Dreaming The Beatles is the story of how four lads from Liverpool swept the entire world off its feet. You can score a copy for about $25 list price.
Fender Jimi Hendrix Monterey Stratocaster
If you were to create the Mount Rushmore of great guitarists, Jimi Hendrix would surely be the first face etched in granite. The Seattle-native only got 27 years on this Earth, but he made the absolute most out of them, crafting stunning works of blues-rock, slathered with a myriad of twisted psychedelic colors. His weapon of choice, of course, is the Fender Stratocaster, and this year, the guitar company decided to honor the 50th anniversary of his flame-kissed breakthrough set at the Monterey Pop Festival with a special edition of that guitar, painted to look exactly like one that Hendrix turned to kindling that fateful evening. Only runs around $899. Lighter fluid sold separately.
Tickets To Springsteen On Broadway
Bruce Springsteen might just be the greatest live performer on the planet. His shows with the E Street Band have gone down as the stuff of legend; they are three and sometimes as much as four-hour long sets, brimming with some of the most elaborate, action-packed rock and roll anyone has ever seen. In 2017 however, the Boss decided to go it alone, eschewing football stadiums and basketball arenas for a fixed-residency at the 900-seat Walter Kerr Theater on Broadway. It's not a play. It's not a concert either. It's one man telling the story of his life through spoken word and song. Our own Steven Hyden called it, "one of the best shows I've ever seen." Though tickets have long sold out, if you show up the night of, you might luck out if you wait long enough on standby. Though be warned, prices can run up to as high as $850.
A Wolfgang's Vintage Concert Shirt/Poster
Sure, you can go to you local big box retailer and pick out some mass-produced Guns N' Roses or Beatles t-shirt printed up by the hundreds of thousands and give it to your Dad, Mom, Brother, Sister, Aunt or Uncle this holiday season, OR, you can show them you put a little thought into their particular rock and roll obsession and cop something a little more exclusive. Wolfgang's has a whole host of vintage-style concert tees and posters, with the choicest taken from shows delivered at either the Fillmore East/West or Winterland Ballroom in the 1970s. I don't know about you, but that Led Zeppelin Avocado shirt looks pretty damn choice.
The Replacements — For Sale: Live At Maxwell's 1986
Throughout their existence through the 1980s, The Replacements remained a glorious, spectacular mess. Heading into a show, you didn't know whether you were going to be treated to a sloppy romp through a series of half-finished originals and poorly warbled out covers, or the purest night of rock and roll excellence that any band has ever managed to cobble out of thin air. In 1986, the Mats touched down at Maxwell's in Hoboken, New Jersey and delivered the latter. Luckily, the tapes were rolling that night, and now, 30 years later, fans of the Minnesota rockers can finally enjoy in stunning audio fidelity the true, raw, open-hearted power of The Replacements in all their Stroh's guzzling glory.
Marshall Kilburn Portable Bluetooth Speaker
Vinyl is great. We all love vinyl of course, but in all fairness, it can become kind of a pain in the ass getting up every 20 minutes, walking over to the record player, changing the side, sitting back down, and repeating that action over and over again. If you just want to listen to some non-stop tunes throughout your day, this Marshall portable Bluetooth speaker is just the item to make it happen. It's got the sweet, classic Marshall amplifier look, but more than that, delivers audio with almost flawless, audio fidelity. It's great for the home, office, or, because of 20-hour built in battery life, pretty much anywhere else you might want to go. Only runs you about $190 for the black version, and $200 for the cream.
The Rolling Stones Kid's Denim Jacket
Denim is the unofficial fabric of rock and roll lovers around the world. Some may argue for leather, and that's fine, but in a larger sense, denim has made a stunning comeback over the last three years or so. And while it's true that you can very easily go down to almost any clothing store in the world, pick out a Levi's jacket and embroider your own patches, why not let someone else do the work for you? I mean, c'mon, look at this incredible Rolling Stones piece from their official site? It's the perfect garment for your son, daughter, niece or nephew to start them off right on their journey through the wonderful world that is rock and roll.
The Who — Maximum A's And B's
The Who are one of the most savage, powerful, and most importantly, loud groups in the history of rock and roll. And while for most bands of their generation, the album is the be-and-end-all of they discography, The Who paid special attention to the creation of the hard-hitting single, especially early on in their career. For the first time ever, all 86 of the band's A-sides, B-sides, and EP cuts have been gathered together in one place, taken from each label they were signed to throughout their career, including Brunswick, Reaction, Track and Polydor labels. For the Who fanatic in your life, this 5-disc set is absolutely essential.