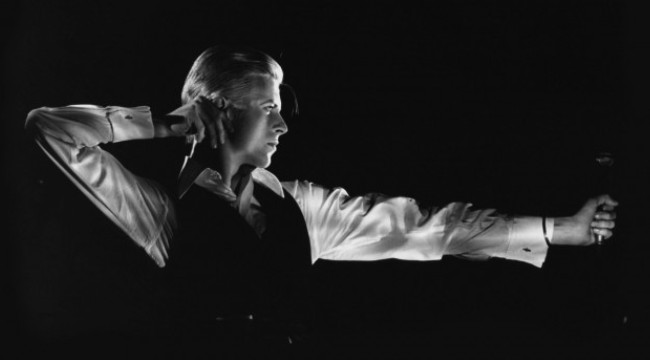 Behind David Bowie's two different colored eyes was an artist, in the truest sense of the word. Walking through Brooklyn Museum's new "David Bowie Is" exhibition, viewers are finally provided a glimpse into a mind overflowing with otherworldly creativity, through almost 500 objects from across Bowie's five-decade career. The exhibition features everything from baby photos to handwritten lyric sheets to his iconic costumes, with a walk-through perfectly complemented by a captivating, individualized auditory experience powered by Sennheiser.
The exhibition was curated and organized by Victoria Broackes and Geoffrey Marsh of London's Victoria and Albert Museum and has made twelve stops across the globe, with over 1.7 million people experiencing full immersion into Bowie's creative universe. A four-month run at the Brooklyn Museum marks the final stop on the world tour, echoing Bowie's own journey that came to an end in New York just after his 69th birthday in 2016.
"David Bowie Is" reveals the inner workings of not just a musician, but also a painter, filmmaker, fashion designer, illustrator, actor, writer — the list goes on. Across its 26 sections, viewers are provided with unprecedented access to anything and everything even a casual fan could desire, all taken from Bowie's personal archive.
Sections are not organized chronologically, but rather thematically, providing unprecedented access into Bowie's influences and his collaborators, as well as his touring life and appearances on the dramatic stage and screen. Rare video footage of Bowie's single meeting with Andy Warhol is juxtaposed with contact sheets of outtakes from photo shoots for the Aladdin Sane and Heroes album covers, images that have become forever cemented into the zeitgeist of modern pop culture. It would take hours to fully take in all of the images, multimedia, and text that is on display throughout the space.
More than anything, though, the exhibition serves as a reminder of the sheer irreplaceability of David Bowie. With the ability to track the creative process in all of the mediums within which Bowie worked, provided is an all-encompassing view of an artist who beautifully embodied, and redefined the word. "David Bowie Is" boasts an incredible, astounding collection that simultaneously answers questions and builds upon lore, depicting a messianic figure whose departure from our world leaves a void waiting — begging — to be filled.
"David Bowie Is" is on view at the Brooklyn Museum from 3/2-7/15, with special after-hours events throughout the run. Pick up tickets here and check out a few select images from the exhibition below.