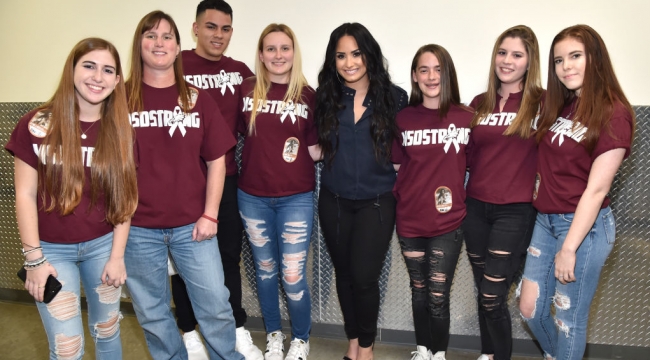 On Monday night, Demi Lovato set out on her Tell Me You Love Me tour. The first leg opened in San Diego and featured a touching appearance by a group of six students that attend Marjory Stoneman Douglas High School, where 17 people were tragically killed in a shooting earlier this month.
Before Lovato sang her emotional ballad "Warrior," she encouraged the crowd to donate to the CAST Foundation, a mental health service organization that is accompanying Lovato on the Tell Me You Love Me tour. All proceeds from Monday night's show will benefit mental health services for the students at Stoneman Douglas.
Lovato, in an interview with CBS, talked about her heartfelt motivations for bringing the survivors onstage.
"It has nothing to do with politics. It's about healing. It was how can we help these students heal from what they've been through? These students that came here today and shared their stories are so incredibly brave and courageous and they really are warriors in my eyes."
The singer has grown to become an outspoken activist alongside her eminent musical career, championing an array of issues including feminism and eliminating the stigma that surrounds mental health, which is informed by a personal struggle with addiction. Watch footage of the moment below via Twitter.