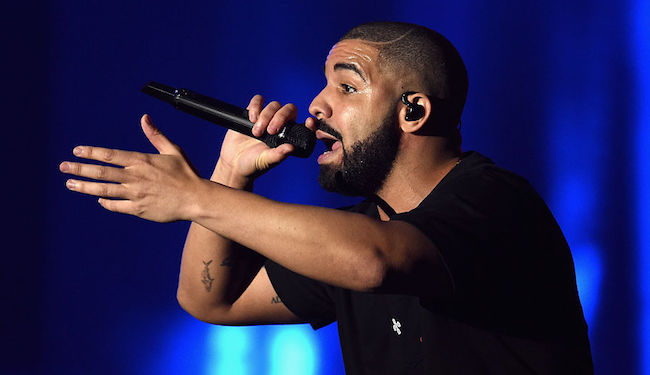 Drake's ankle is supposedly in pretty bad shape, but not so terrible that he couldn't head home to Toronto and give his fans an amazing show. Last week, Papi broke the news that he was postponing a few back-to-back Summer Sixteen tour dates on doctor's orders because of a messed up ankle. After giving it all he had for 51 dates with Future, the rap king needed a break to let his ankle heal probably following an injury.
But ankle be damned!
After tearing down the Bell Centre in Montreal, Canada, Friday night, the 29-year-old OVO leader went home to Toronto and unleashed a little bit of venom on his famous foes. "I don't give a f*ck about other rappers," a hilariously angry Drake declared at Air Canada Saturday night. "I don't give a f*ck about none of these other singers. Nobody can talk to me cause I'm from The Six. I go over there by myself and I do it every single f*ckin' time, boy!"
Drake rarely mentions names, but just recently Meek Mill was taking shots at The Boy with a superb freestyle on Funk Flex, rapping, "Posted up with Nicki, that's when it get tricky…n*ggas in their feelings, that's when it get drizzy." Get it, guys? Drizzy? Drake? I'll give you a moment to pick your mouth up from the floor.
The slight also appears to be directed at Tory Lanez who has the habit of sneak dissing his OG and recanting faster than Usain Bolt at the Olympics. And then there's Travi$ Scott. The Birds In The Trap Sing McKnight artist displayed high levels of salt after Aubrih became a thing again earlier this year following their own relationship. Airing out his feelings on Snapchat, Travi$ said Rihanna wanted "the flame and not no emotional n*gga." Adding, "6God gotta werk werk MORE. F*ck 6OD. Bout to pull a Chris Brown on this n*gga." Coincidentally, Travi$ was reportedly spotted "sneaking" to Rihanna's hotel while Drake was in Montreal Friday night.
Guess Rih's Instagram post really riled him up.