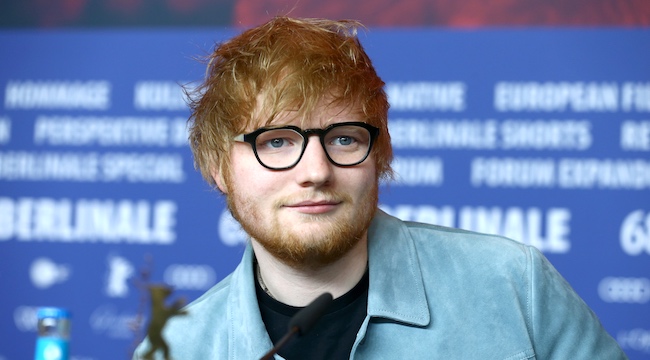 In recent years, Marvin Gaye's music has been the subject of much litigation: In 2015, Pharrell and Robin Thicke were sued by the Marvin Gaye estate over their single "Blurred Lines," and were ultimately ordered to pay $7.4 million in damages for copyright infringement of Gaye's 1977 hit single, "Got to Give It Up." Now it's Ed Sheeran who might be in trouble, since he's now being sued for a second time after his hit "Thinking Out Loud" has been accused of sounding too much like Gaye's "Let's Get It On."
Last year, the heirs of Edward Townsend, Jr., a co-writer of the track, sued Sheeran. Meanwhile, a company called a company called Structured Asset Sales (SAS), which owns a share of Townsend's song catalog, tried to join in the lawsuit ("intervene," in legal terms), but was unsuccessful. So now, SAS has filed a lawsuit of its own, against Sheeran, "Thinking Out Loud" co-writer Amy Wadge, Atlantic Records, the label's parent company Warner Music Group, distributor Asylum Records, and Sheeran's publisher Sony/ATV.
The SAS lawsuit, which seeks $100 million in damages, cites specific musical reasons why Sheeran's song knocks off Gaye's:
"In Gaye's song, this chord progression within the backing pattern occurs in the key of E flat, and in Sheeran's song the progression occurs in D major […] listeners will hear the two progressions as functionally equivalent […] Many listeners will not recognize that Frank Sinatra sang 'My Way' in D major, while Elvis Presley sang that song in C major; it is clearly the same song despite the difference in key."
Sheeran previously responded in 2016 to the connections made between the two songs: In documents obtained by TMZ at the time, Sheeran said the shared elements in question are "extremely commonplace" in music and are "unprotectable, public domain elements." The publication also notes, "He also claims there are little to no similarities when it comes to the vocals and song structures."
Listen to Sheeran's "Thinking Out Loud" and Gaye's "Let's Get It On" below.