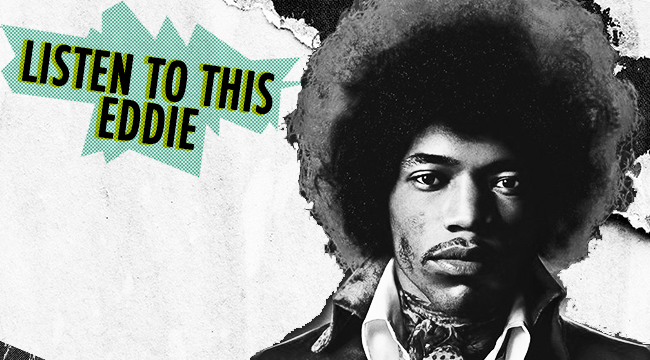 Listen To This Eddie is a weekly column that examines the important people and events in the classic rock canon and how they continue to impact the world of popular music.
This is finally it. After an unbroken string of new records, box sets, and compilations that has spanned six decades, on March 9th, the well of unreleased Jimi Hendrix studio material will finally run dry with the offering of new album Both Sides Of The Sky. It's an unparalleled achievement, and a testament to Hendrix's work ethic that we've managed to go for so long enjoying new pieces of music crafted by the guitar wizard so many years after his death. Sadly, it's just a fact that all good things must eventually come to an end.
Both Sides Of The Sky is the third entry in a trilogy of albums packed with mostly unheard studio cuts that began with Valleys Of Neptune in 2010, and continued with People, Hell And Angels three years later. This latest release, fittingly, collects material from Jimi's final years inside studios around New York City, working with a wide range of different artists like Stephen Stills and Lonnie Youngblood. Most of the tracks feature one or both of the members of his acclaimed Band Of Gypsys, with his old Army pal Billy Cox on bass and Buddy Miles on guitar, and for the most part, reveal a funkier, more R&B-inspired sound that diverged from his early, psychedelic leanings.
As with every new release, Both Sides Of The Sky gives us another chance to examine Hendrix as an artist, and marvel at the sheer breadth of his genius. Whether that means busting out a sitar for the song "Cherokee Mist," slapping on a bass for a tasteful cover of Joni Mitchell's "Woodstock," or kicking up the phase pedal on the funky and melancholic instrumental "Jungle," there are so many different dimensions to what he can do, and so many different, tantalizing clues offered about where he might have gone had he lived past his 27 years.
To get a clearer picture of where Jimi Hendrix was at in his final years I interrupted his friend and engineer, the legendary Eddie Kramer, as he was hard at work refurbishing the famed El Mocambo Club in Toronto, and talked about the process of recording this material and polishing it up for release so many years later. As the namesake for this column — he'd never heard of the renowned 1977 Led Zeppelin bootleg that was named after him, but was definitely intrigued — it was a special thrill indeed.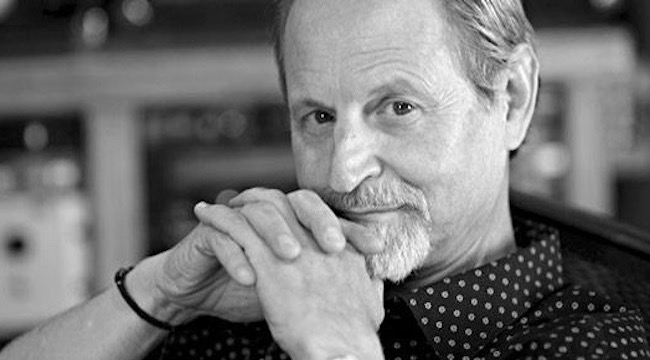 Am I correct to say that Both Sides Of The Sky is the third of a trilogy of albums that began with Valleys Of Neptune in 2010?
You are so correct. That is exactly what it is. It's something we put together during the period when we put the People, Hell, And Angels and the other album together, we decided that some of the material we were coming across didn't really fit so we said, 'Let's just put this aside and maybe in a year or two we can look at it again.' Over the years we pulled a lot of material that seemed to fit more as a studio album, showing Jimi's preponderance during 1969, jamming in the studio and trying to find his feet with a new direction. I think these songs are exactly a reflection of that. It's what Jimi was up to during that '69 period.
Where was his mind at and at what stage was his evolution as an artist through that time in 1969?
It was a very interesting time for Jimi. He was pretty much on his own since I was building Electric Lady Studios for him and he was jamming a lot. This was part of the process that Jimi loved. He would go into the studio and use it as a rehearsal room, which got pretty expensive, but thank goodness that the tapes were rolling because we have this wonderful backlog of material that we've been going through over the last few years. This reflects him trying out new sounds and new directions. He was experimenting more with the R&B, pop, funky kind of mode. What was really a telltale sign was at Woodstock, he introduced his band as "Nothing but a Band Of Gypsys." Which should have told us something because at the end of the year, the Band Of Gypsys arrived and performed at the Fillmore East for that monumental concert and it became a big record and a big part of Jimi's new direction. Out of the 13 songs on this record, exactly 10 of them have never been heard before.
You mentioned the Band Of Gypsys and Billy Cox and Buddy Miles are on a lot these unheard songs, whether together or separately. How different was Jimi's dynamic with those guys from Noel Redding and Mitch Mitchell in the Experience?
They were different in the sense that they came from different backgrounds and different influences. Mitch's background of being a jazz drummer, he was very heavily influenced by Elvin Jones. He was remarkable as a drummer of course, and Jimi loved the Experience and kept going back to them. After the Band Of Gypsys was disbanded, Mitch rejoins the band and the Experience is reformed, but with Billy Cox on bass. What's interesting is that when one listens to Mitch's playing in 1970 after the Band Of Gypsys is no longer, you can hear very distinctly the influence of Buddy Miles on Mitch. He becomes much funkier, a little less flamboyant. He famously said to me about Buddy Miles, "He's a bit of a cement mixer isn't he?" What he was really saying, Buddy Miles was the master of the fatback; that insistent R&B, funky kind of drumming which is great. Mitch and Noel and Jimi had one particular sound, which was very adventuresome. It was the essence, certainly, of what Jimi did on the first two albums, and even on the third album Electric Ladyland, you can hear strong element of blues and R&B that are creeping in. It was only a matter of time that Jimi put together the Band Of Gypsys, even though it was short-lived.
Were you in the room for those Band Of Gypsys shows at the Fillmore East?
I was not at the Fillmore East. I was probably doing something else. It was a very busy year for me.
Working on Led Zeppelin II or something?
Yeah, and Woodstock and god knows what else, but suffice to say, Jimi and I mixed that album the first time it came out. It was always great to mix with Jimi. We did it a lot together. He wasn't that happy with some of the things that Buddy Miles was doing, but overall, it had to satisfy a contractual situation that he had run into with Capitol Records. He owed them an album. But history has been very kind to that record. It's another cornerstone of Jimi Hendrix's musical life.
Is it true that he would speak to you in musical terms through the use of colors?
Oh definitely. Colors were a big deal. "Hey man, I want some green on that," and I knew immediately he was talking about reverb. Or, he would say, "A little bit more red man," and that distortion. When it went to purple, that was serious distortion.
How long did it take you to build that chemistry, where you could understand his code of language like that?
In the beginning, when I first started working with him in 1967 at Olympic Studios in London, it wasn't long before we established a rapport. We were experimenting a tremendous amount, which is why Jimi and I really hit it off I think. I wasn't scared to experiment. It also had the complete blessing of Chas Chandler, who was Jimi's producer. He gave us the code. He said, "The rules are, there are no rules." It was lovely. It gave us freedom to try anything we wanted to. Jimi thrived on us being creative, and we thrived on his genius. I guess it worked.

How was Jimi as a collaborator? It's kind of astounding how many different names pop up through the list of credits on this album.
This record is fantastic from that point of view because it shows that Jimi's relationships with his fellow musicians were wonderful. He enjoyed their company. He loved jamming with them. Stephens Stills is one; Johnny Winter, Lonnie Youngblood. In fact, you could trace this as far back as late-1967, around about December of '67 I would say when I was at Olympic recording Jimi's rendition of "All Along The Watchtower," which has Dave Mason from Traffic. Dave was playing 12-string and Jimi was playing six-string. He loved jamming. In fact, there was a club in New York called The Scene, which was right around the corner from the Record Plant, and he would find musicians there. One night there would be Steve Winwood from Traffic or Jack Casady from [Jefferson] Airplane. They would come in and what would we do? We would record "Voodoo Chile" from Electric Ladyland in a matter of three takes or whatever it was.
Could you talk about Jimi's friendship and working relationship with Stephen Stills, who has a couple of entries on this new album, "Woodstock" and "20 Fine?"
In the case of Stephen Stills, he had jammed with him in London; he knew him. He was a cool guy to hang out with and Jimi was at the Record Plant in New York City, and one night in stumbles Stephen Stills saying, "Hey man, I got this great song, it's called 'Woodstock' and it's by Joni Mitchell. It's really cool, you gotta hear it!" He plays it for Jimi and asks, "Should we do something on it? Let's just jam on it." So, Jimi picks up a bass, not a guitar, and they go at it. There's Stills on organ, Jimi on bass and they cut a track with Buddy Miles on drums and it's fantastic. Then Jimi says, "I'll put the guitar on." So he puts the guitar on. It's amazing how he was able to play like a session guy, which is exactly what he'd been doing. When you hear that track he's playing subdued. He's playing exactly what the song demands. He's playing exactly what Stills has brought to the table. It's perfect. He's not the overtly sexual, crazy superstar guy that you would expect.
Going along with that idea of playing what the song demands, the last song on the album "Cherokee Mist," features some pretty astounding sitar parts, which is something you wouldn't expect from Jimi.
Interestingly enough, that sitar was in the studio a lot. When the roadies brought in the pile of guitars, the sitar was quite often in there. Certainly in late '69 and '70. He just enjoyed the tone of it. It's got this haunting sound, but what's amazing about "Cherokee Mist," not only the sitar, but that raw, wah-wah guitar that's thundering away like a bear in the woods. Then you got this incredible Indian pulse with the drums. There's no bass guitar, so all the bass you hear is from Jimi's guitar. Then that sitar on the top playing that melody line is really mysterious and awesome. It has this visceral appeal even though it's not finished. One can imagine what Jimi would have done with it with a vocal.

I feel the same way about the song "Jungle." As you listen you wonder where he might have taken it vocally or what would he would have done with it had he had the chance to complete it.
Exactly. That's exactly how I feel about it. "What would he have done?" It would've been genius, that's for sure.
Can you talk about the song "Hear My Train A Comin'?" Different versions have surfaced on different releases over the years, but I think this one might be my favorite. It's just so in your face.
Ah, you are so correct my friend! "In your face" is how I feel about a lot of these performances. They just smack you right in the gob. They're present. He's in the studio. He's standing at the mic and playing [guitar] at the same time and directing the band with the neck of the guitar, which is what he would always do. These songs are close to being finished, but they're not, which is why I find them so attractive.
You talk about this material being unfinished, and you've obviously worked on a lot of Hendrix released through the years, what's left in the vault at this point?
Yes, very good question. There's probably no more studio stuff. Maybe bits and pieces, but not enough for an album. I think what we do have, quite a lot of, is amazing live performances. Plus the footage for some of them on wonderful 16mm film that was shot in sync that has yet to be released. Probably over the next few years we'll get to that. You know, if somebody has some multi-tracks or some other tapes that we don't know about, let us know! As far as I can see though, this is it in terms of studio material.
I'm a huge fan of live recordings and when it comes to Jimi, I know that the 1969 Royal Albert Hall performances are still waiting in the wings. I'd love to hear those someday.
I like the way you said "in the wings." It's pretty much what it's doing, sitting there with wings on, ready to take off.