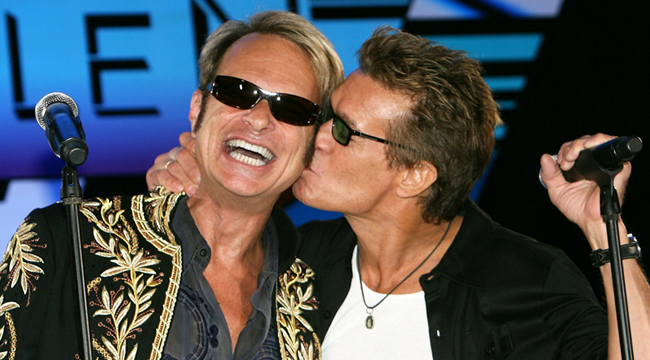 Guitar god Eddie Van Halen covers the new issue of Billboard magazine. He spends much of the interview in "get off my lawn" mode, and the journo notes several contradictions. For one, Eddie keeps insisting how he doesn't hate anyone. Then, he talks smack about everyone. Lead singers are a huge trigger subject for Eddie. He grumbles about David Lee Roth, can't stand Sammy Hagar, and thinks ex-Extreme singer Gary Cherone dresses like John Travolta.
One thing is clear: There can be only one true Van Halen frontman. Eddie has resigned himself to being shacked to Diamond Dave for the duration of their current tour. They'll probably tour again in the future, even if they don't like each other, but this is show business, baby. You can't change the magnificent Dave, and Eddie will always be a glorious curmudgeon. Eddie's current complaint about Dave is how he needs to finally grow up at age 60:
"[Dave] does not want to be my friend. How can I put this: Roth's perception of himself is different than who he is in reality. We're not in our 20s anymore. We're in our 60s. Act like you're 60. I stopped coloring my hair, because I know I'm not going to be young again."
Would Eddie like to make another Van Halen album? Sure, but he foresees a problem in the creative process. Dave just wants to dance.
"It's hard, because there are four people in this band, and three of us like rock'n'roll. And one of us likes dance music. And that used to kind of work, but now Dave doesn't want to come to the table. [But] I think it's now built into people's DNA, that it just won't be Van Halen if it's not Roth's voice."
Eddie delivers plenty of other admissions. He's big on Google alerts and notices when people compare other guitarists to him, but Eddie won't listen to these up-and-comers. Actually, he doesn't listen to anything at all. Eddie hasn't bought an album since 1986.
"I don't listen to anything." The guitarist maintains that the last album he purchased was Peter Gabriel's So, when it came out in 1986. He's not familiar with the work of Radiohead, Metallica or Guns N' Roses. He appears to know only one Ozzy Osbourne song Randy Rhoads played on, and it's Crazy Train. He sheepishly admits he never even listened to most of the bands that opened for Van Halen and worries, "Does that make me an a**hole?"
Eddie isn't truly worried about looking like "an asshole." He's an institution who never has to record another album. Dude can coast forever, pretending like the crazy dancing man who's dancing next to him doesn't even exist. It's good to be Eddie Van Halen.
(via Billboard)