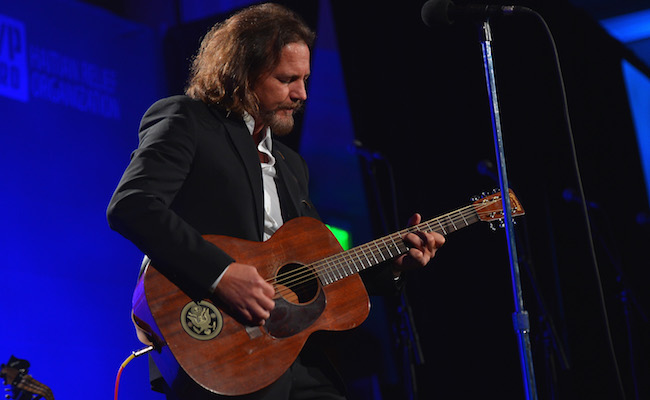 Chris Cornell's friend, peer and Temple of the Dog associate Eddie Vedder appeared in concert on Saturday. The performance marked the first live show Vedder has done since his fellow grunge icon's passing and it was a concert said to be rich with subtle tribute.
Playing in Amsterdam in a strict no-video venue, Vedder altered lyrics and leaned into songs that have a certain additional resonance following Cornell's death. Fan postings about the show note that Vedder's solo performance of the Pearl Jam cut "Long Road" changed the lyrics "But still/Something's missing" to "Without you/Something is missing" for the Dutch audience. Vedder's renditions of Neil Young's "The Needle and the Damage Done," Fugazi's "I'm So Tired" and Cat Stevens' "Trouble" were all on display on that night's setlist.
On Pearl Jam's official message board, user Electro_UK shared their perspective of the atmosphere of Saturday's concert:
"The show was pretty much entirely about Chris without directly mentioning him. It was clear Eddie couldn't bring himself to talk about it head on. He spoke a little how the healing process can start with music and made numerous references to how sad he was and how much he and his friends were struggling.
During the performance, Vedder had a heartfelt response to a fan screaming "I love you!" in the Amsterdam crowd.
"Thank you. I need it – we all need it," said Vedder. "I'm thinking of a lot of people tonight. And some in particular and their families. And I just know that healing takes time, if it ever happens. It takes time, and that means you have to start somewhere. So let it be music. Let it be love and togetherness. And let it be Amsterdam."
Eddie Vedder is scheduled to perform two more concerts in Amsterdam on May 29th and 30th before bringing his trek to Berlin next.
(Via Consequence of Sound)