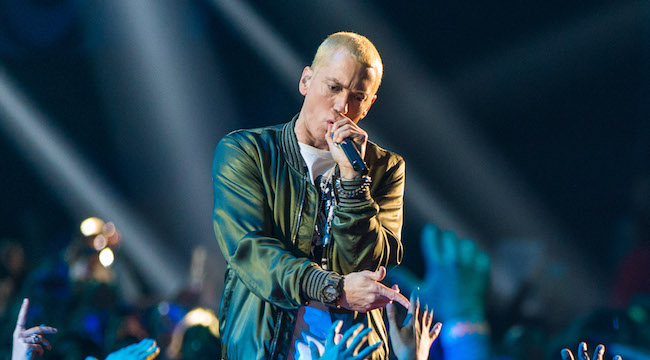 If Eminem's incendiary anti-Donald Trump spoken word rant from the BET Hip-Hop Awards wasn't enough for some listeners, it looks like they'll be getting all the Donald disses their hearts desire on Eminem's upcoming album, rumored to be dropping on the 17th of November.
Per Digital Music News, Eminem is preparing a major anti-Trump release, with one source relaying that, "You might even hear that freestyle as track 1." Another source stated that while "not every [album] track is about Trump, [Eminem is] definitely letting his feelings be known" on the album.
After last year's "Campaign Speech" lit into Donald Trump for a divisive and invective-fueled (though ultimately successful) Presidential campaign run, Eminem's politics were made pretty explicitly clear, but he still used his platform to draw a line in the sand between himself and Trump's supporter with his award show freestyle, and now it seems that rhetoric will carry over to his full-length efforts as well, giving him a new celebrity target to lash against that the general public will probably largely get behind.
In other big news for Eminem and his Shady Records imprint, it was announced today that Shady Records had signed up-and-coming Compton rapper Boogie, who joined fellow recent signees from underground label Griselda Records, Conway, Benny, and Westside Gunn, for the second all-Shady BET Cypher.