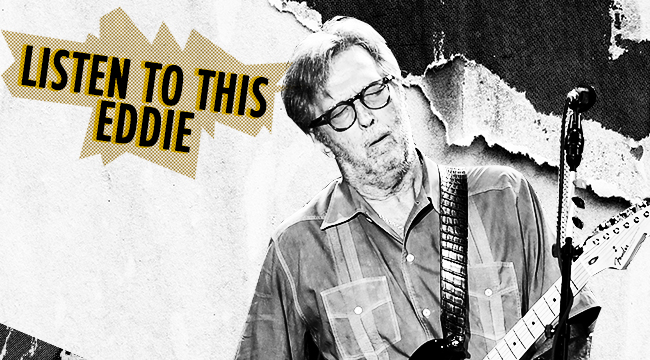 It was hard to shake the feeling inside the hallowed halls of The Forum in Los Angeles on Monday night. Was this it? Was this really going to be Eric Clapton's last stand? The former Yardbird, Cream member, Blind Faith guitarist, et al has only played a few shows over the last several years, and this four-night stand in LA was the last event on the docket, coming quickly on the heels of a similar run at Madison Square Garden. It really felt like this could be the last acts in one of the greatest careers in music over the last 50 years.
Clapton has openly talked about his late-life disdain of touring. "The road has become unbearable," he told Uncut back in 2014. "It's become unapproachable, because it takes so long to get anywhere. It's hostile everywhere: Getting in and out of airports, traveling on planes and in cars." Then last year, he revealed that he's lately been dealing with chronic nerve damage.
"I've had quite a lot of pain over the last year," he said to Classic Rock Magazine. "It started with lower back pain, and turned into what they call peripheral neuropathy, which is where you feel like you have electric shocks going down your leg… [It's] hard work to play the guitar and I've had to come to terms with the fact that it will not improve."
Even as he copes with the rigors of life on the road and degenerative nerve disorders, Clapton remains one of the best pure guitar players on planet earth, a fact that was driven home time and again during his incredible performance on the Forum stage. Whether acoustically, on tender ballads like his elegy to his son Conor, his eternal love-letter to George Harrison's wife Patti Boyd, and the sardonic "Nobody Knows You When You're Down And Out," or through his trusty, electrified Strat on burners like Cream's explosive, psychedelic "White Room," the glitzy "Cocaine," or his immortal take on Bob Marley's "I Shot The Sheriff," the ease at which he ripped off both rhythm parts and solos was jaw-dropping. Bathed in blue and white light, eyes clenched shut, Clapton played like a man set on fire.

Of course, this wouldn't be the first time that the imitable guitarist used the Forum as a venue to help say farewell. As you walk through the posh Forum Club just off the Loge area, there's an ornate wall depicting a collection of live albums that were recorded in the venue throughout the years. The entries get rotated in and out, and on this night, it was impossible to miss the presence of a bright-eyed and bushy-tailed Clapton standing in between drummer Ginger Baker and bassist Jack Bruce on the cover Cream's final album Goodbye, the first three tracks of which were captured at the Forum almost exactly 49 years ago.
It's easy to forget because of the size of their impact, but Cream was only around for just about two-and-a-half years, and what a run it was. The band codified the power-trio format, while releasing four, seminal works of '60s psychedelia, Fresh Cream, Disraeli Gears, Wheels Of Fire, and of course, Goodbye. Throughout the London tube system, graffiti artists took to spray-painting a tribute to the new leader of the rock movement, a phrase that would dog the band's guitarist for years to come: "Clapton Is God."
Inside the band, there was turmoil almost from the start. Baker and Bruce had played together before Cream in another group called the Graham Bond Organization where they built up a mutual disdain for one another. Baker actually once pulled a knife on the bass player in the years before they linked up with Clapton. Yet, for all the hate and arguments, their musically chemistry was undeniable, and so they did the best they could to make it work in Cream, with Clapton usually being placed in the unenviable position of playing referee to their many squabbles.
By 1968, everyone had had enough. "When we returned to England in the early summer of 1968, commercially speaking we were in very good shape," Clapton noted in his autobiography. "As far as I was concerned, all this counted for nothing because we had lost our direction. Musically I was fed up with the virtuoso thing. Our gigs had become nothing more than an excuse for us to show off as individuals, and any sense of unity we might have had when we started seemed to have gone out the window." In other words, it was time to call it a day.
"In the meantime, we struck a deal agreeing to do two more albums, one of which we had partially recorded before leaving the States [on] a farewell tour of America in the autumn." The recording he's referring to took place at the Forum on October 19, 1968, just ten months after the arena opened. The three songs taken from that evenings performance offer a fascinating glimpse into the state of the band at that moment. While their personalities clashed offstage, in front of a crowd they still managed to hold it together well enough to turn in a bit of magic.

The opening number, a cover of Skip James' "I'm So Glad" that was originally included on their debut album Fresh Cream, is stretched out to nearly ten minutes long, allowing Clapton free reign to explore the vast limits of his fretboard. "Politician" comes next, an elephantine monster of plodding psychedelic political commentary, followed by the truly transcendent blues standard "Sitting On Top Of The World," which features some of the most simmering guitar passages in Clapton's entire oeuvre.
After this tour concluded with a final show in Providence, Rhode Island on November 4, the band returned to England where they planned to play two last-ever concerts at the Royal Albert Hall in London. As far back as 1968, Clapton was already blaming the rigors of the road for causing the end of his musical ventures.
"Whistle-stop touring in America was the beginning of the end for Cream, because once we started constantly working in such an intense way, it became impossible to keep the music afloat, and we began to drown," he wrote. "When you are playing night after night on a punishing schedule, often not because you want to but because you are contractually obligated to, it is only too easy to forget the ideals that once brought you together." All that being said, eight months later he found himself back at the Forum, playing in yet another short-lived band, Blind Faith with Steve Winwood, that imploded just as spectacularly as Cream. The process repeats itself.
Who knows what the future holds for Slowhand? Perhaps six months from now he'll announce another residency in London, Tokyo, Chicago or some other megalopolis, and this run in 2017 will become a forgotten footnote or an all-too-early wake. Then again, maybe he'll follow through on his threat and hang up his strat for good, settling in for a nice retirement in the English countryside, casting about for fish in the river near his home. What's clear is that the chops are still there, admittedly not as sharp as they were in say his Derek and the Dominoes days, but perhaps the desire has finally gone out of him. If history is to be our guide, all we can expect when it comes to Eric Clapton, is for him to do the unexpected.

Bootleg Bin
Why not make it a trifecta of epic shows at the Fabulous Forum? As a concert junkie, it's long been a dream of mine to catch a live performance at this particular venue, and on the flight into LA from Chicago, I listened to more than a few different recordings of shows that took place there. The one that I wanted to highlight today was a show performed by Led Zeppelin on September 4, 1970. This gig was captured for posterity by an audience-goer who brought in a tape recorded, and was heavily bootlegged throughout the 1970s under the alias Live On Blueberry Hill.
Zeppelin played the Forum sixteen times throughout their career — the name of this column Listen To This Eddie was taken from another Zeppelin bootleg made from a show they played at the venue in 1977 — but they never ran hotter than they did that fateful night in the Fall of 1970. This gig took place just a month before the release of their third album, and as such, gave the Southern California fans their first taste of now-iconic classics like the volcanic "Immigrant Song," which they used to open the show, the bluesy "Since I've Been Loving You," and the tender, acoustic "That's The Way."
The highlight was their biggest hit up to that point — this was still pre-"Stairway To Heaven" — "Whole Lotta Love" which was stretched out to nearly seventeen minutes and included a medley blues and rockabilly classics thrown into the middle like "Boogie Chillin'," "Red House," and "Honey Bee." The name of the bootleg was derived by the second encore performance of Fat Domino's immortal ballad "Blueberry Hill."