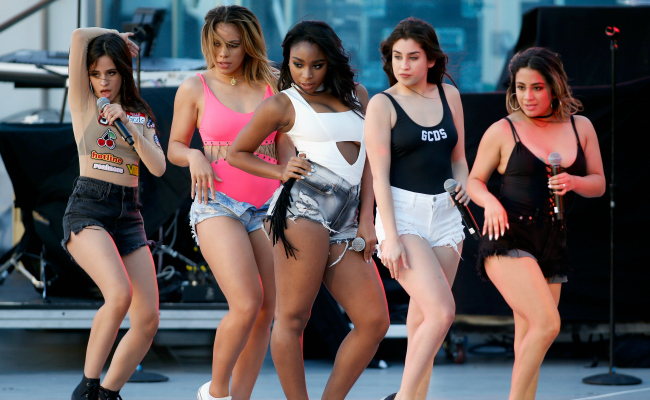 Just like dial-up internet, or Nick News with Linda Ellerbee, you likely thought Napster was nothing more than a fixture of your past. And that's only if you've ever even heard of the throwback music streaming service at all.
For whatever reason, perhaps appealing to millennials unwavering sense of irony, Fifth Harmony released their latest bonus track, "Voicemail" on the old school equivalent of Apple Music or Tidal. Napster, founded in 1999, was originally meant to serve as a peer to peer file sharing platform and operated this way only until 2001.
Though acquired by Rhapsody, a.k.a. the online music store that had those rad commercials, the Napster brand continued to function and just experienced a relaunch. But only now does it seem to be getting put to some significant use with a big get like Fifth Harmony.
"Voicemail" can currently only be found exclusively on the obscure streaming service, but admittedly it's worth the download. Full of sass, a fiery beat, and with a #girlpower narrative, this bonus track is reminiscent of other pop anthems from the 2000s by the era's reigning musical divas.
Whether the ladies of Fifth Harmony were pulling a tongue-in-cheek ploy in utilizing this tech from decades past (because honestly, who leaves voicemails nowadays?) or paying homage to the pop princesses of the early '00s, either way, it may be worth bringing back Napster just for this song. Plus who doesn't love a throwback?
Check out the new beat and catch Fifth Harmony on their North American tour when they kick off on July 27 in Manchester, New Hampshire.