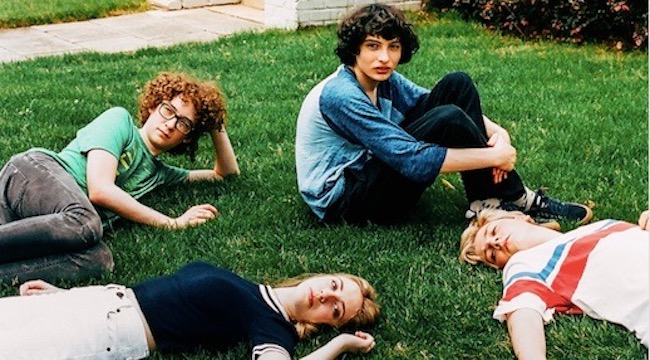 Chances are good that if you've heard of the name Finn Wolfhard it's probably because of his starring turn as Mike Wheeler in the Netflix series Stranger Things, or as Richie Tozier in the 2017 horror film It. As it happens, Wolfhard's talents don't just end on the screen. He's also the singer for the band Calpurnia, and today, he and that group are unveiling a brand video for the song "Greyhound" off their new album, released just last week called Scout.
Directed by Jeremy Schaulin-Rioux, the video follows Finn and others around as they navigate their way through the city with headphones clasped tightly around their ears. Schaulin-Rioux recently recounted how he met Wolfhard when the pair worked on a different video project for the indie rock darling PUP. "It was a super gnarly, bloody, freezing rain soaked shoot held together by a crew of maniacs, especially this incredible gang of young (they were only 11 and 12 year olds then!) dudes who came together for one day and somehow turned into a ferocious punk band. They were both like 5 feet tall already inspiring and scary." He added, "I thought we'd scarred them all for life, but a few years later we reunited to do a sequel."
Scout is out now via Royal Mountain Records. You can purchase your copy here.