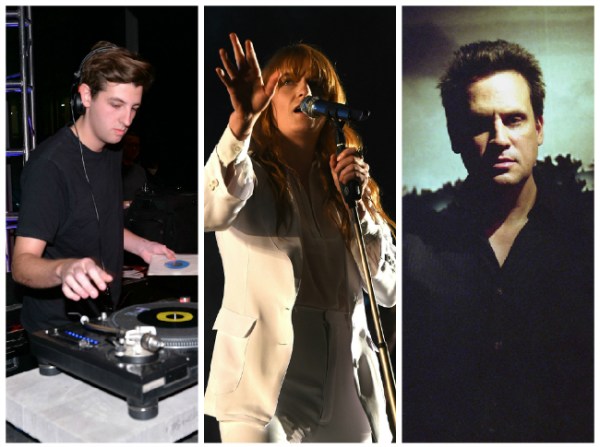 We've got so much new music this week. Starting strong, there's a fantastic new album from The xx's own Jamie xx, Florence + The Machine make a triumphant return after four years, and Sun Kil Moon is back off the heels of his 2014 critical darling, Benji. Also, there are new efforts from Major Lazer, Dawes, Jason Derulo and more. Here's the new music you need to hear this week…
Jamie xx — In Colour
For his first solo effort, Jamie xx has struck gold with In Colour. His solo work echoes his DJ sets, in that it gives him a chance to separate himself from his downbeat dream pop work of The xx and explore more expansive sounds like UK Garage, house, and more.
We've already heard tastes of In Colour, like the amazing "I Know There's Gonna Be (Good Times)" featuring Young Thug and Popcaan, "Girl," "Sleep Sound," and "Gosh." Now that the full record has arrived, the finished product does not disappoint even in the slightest.
Florence + The Machine — How Big, How Blue, How Beautiful
After a four-year layoff, Florence Welch is back with another helping of soulful rock on How Big, How Blue, How Beautiful. Having gone through a personal journey on the way to this album, How Big… possess a thunderous and tumultuous quality to it. Earlier this year, the title track set the stage for the grand sound that was to come.
Sun Kil Moon — Universal Themes
Prolific singer/songwriter Mark Kozelek is back just a year following his critically acclaimed Album of the Year candidate, Benji. On Universal Themes, Kozelek is even more challenging and raw, almost becoming the character that his abrasive public persona has shifted into as of late. Anyone who has listened to Sun Kil Moon before may know the score here, but newcomers may be taken aback.
Here's what else is out this week:
Major Lazer – Peace Is The Mission
Jason Derulo – Everything Is 4
Girlpool – Before The World Was Big
Dawes – All Your Favorite Bands
Willie Nelson And Merle Haggard – Django And Jimmie
The Darkness – Last Of Our Kind
SOAK – Before We Forgot How To Dream
Algiers – Algiers
Lil Durk – Remember My Name
Jedi Mind Tricks – The Thief And The Fallen
Someone Still Loves You Boris Yeltsin – The High Country
Ben Lee – Love Is The Great Rebellion
Kinski – 7 (or 8)
Barenaked Ladies – Silverball