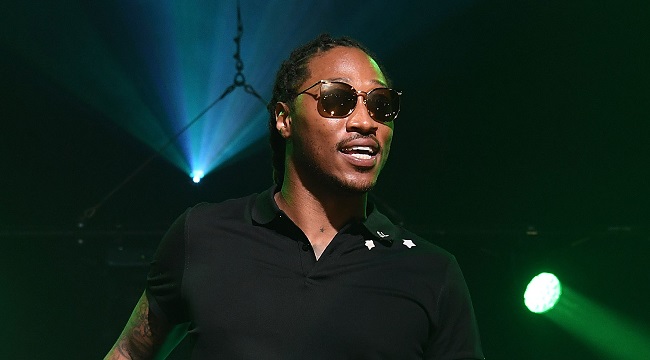 After dropping back-to-back albums earlier this year, while gearing up for another leg of his Nobody Safe tour, Future is commemorating his busy 2017 in the most millennial way possible: with a new pack of emojis. The astronaut has partnered with AppMoji to release the second set of FutureMojis, a perfectly deemed pack of Emojis, for $4.99 on both iTunes and Google Play.
After working on Emojis with Stephen Curry, Rick Ross, Wiz Khalifa and more, AppMoji's new set plays on iconography familiar to the #FutureHive, including Future as an Astronaut, killing the flute while purportedly playing "Mask Off," sliding down a syrupy slide, and him laying with a lady in — you guessed it — a Gucci flip-flop.
This isn't the constantly-working rapper's first foray into emojis, as he dropped the first pack of Futuremojis in February 2016. This emoji set is different however in the fact that they will "work everywhere," as AppMoji CEO Oliver Camilo has noted. "The content for this release is next level," Camilo gloated about the emojis that will be available to use on just about every major social media app. AppMoji is known for using a universal keyboard that will allow you to communicate the Futuremojis with anyone else who has the mobile keyboard installed. Sensational.