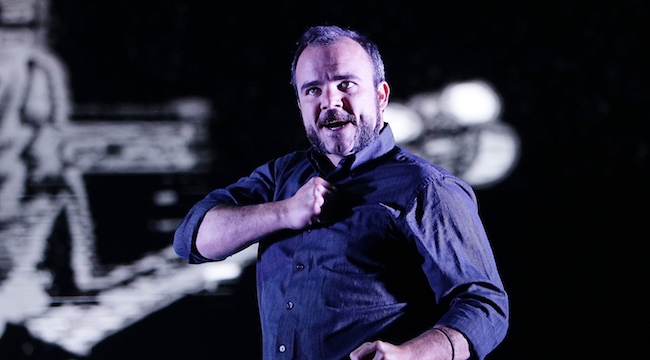 With The Far Field, Future Islands gave us one of 2017's finest indie rock albums, especially if you enjoyed their previous effort, 2014's Singles: Aesthetically, the band didn't undergo any sort of huge overhaul between albums, which is fine because Singles, their breakout record, worked extremely well. It was enough to absolutely wow David Letterman when they performed on his show, anyway.
It doesn't sound like Future Islands is quite done with their signature sound either: The group is the latest contributor to the Adult Swim Singles series, with the new song "Calliope." The track would fit in nicely on either of the band's past couple albums, which makes sense considering it was recorded during the sessions for their 2017 album The Far Field. It has the group's signature prominent bass rhythms, combination of guitars and synths, and Samuel T. Herring's emotive vocals.
It appears this song is more of a last breath from Future Islands' previous album than it is an indication that a new one is on the way soon: The band tends to take a few years between records, which means we might still have a while to wait for the follow-up to The Far Field.
Listen to "Calliope" above.