After the crushing all-consumingness of Lollapalooza, with its swarm of vendor tents, stages upon stages, and four days of music, maybe it was important to have a stark contrast in the form of FYF Fest. Pared down to two days, with four stages (and an intimate DJ spot) and a smaller layout, FYF seemed more manageable and easy to navigate. The fun of festival season is its varied lineups – with some overlap – locales, crowds, and formats. Each has their place.
FYF coming after Lollapalooza felt so much more fitting. Had the two been flipped on the schedule, the crush of the behemoth that is Perry Ferrell's brainchild would've been too much. I don't know if I would have made it. FYF was the Bloody Mary after the hangover. It perked me up, and gave me the energy to devour almost any band that was thrown at me. Locals have grumbled that FYF is different than it used to be, and that's true. But it hasn't gone the way of Coachella or Lollapalooza, not yet anyway. If it does, the Medusa effect will take hold – three more smaller festivals will spring up in its place.
From Grace Jones to Kendrick Lamar, and Head Wound City to Anohni, there was something for everyone. Plus the fans at the event were some of the chillest of any festival I've ever attended, which made enjoying the acts that much easier. Of course, the experience is a big part of why you go. But the music's still important too. FYF made it easy to get both.
Here's the best of what we saw over the weekend.

King Kendrick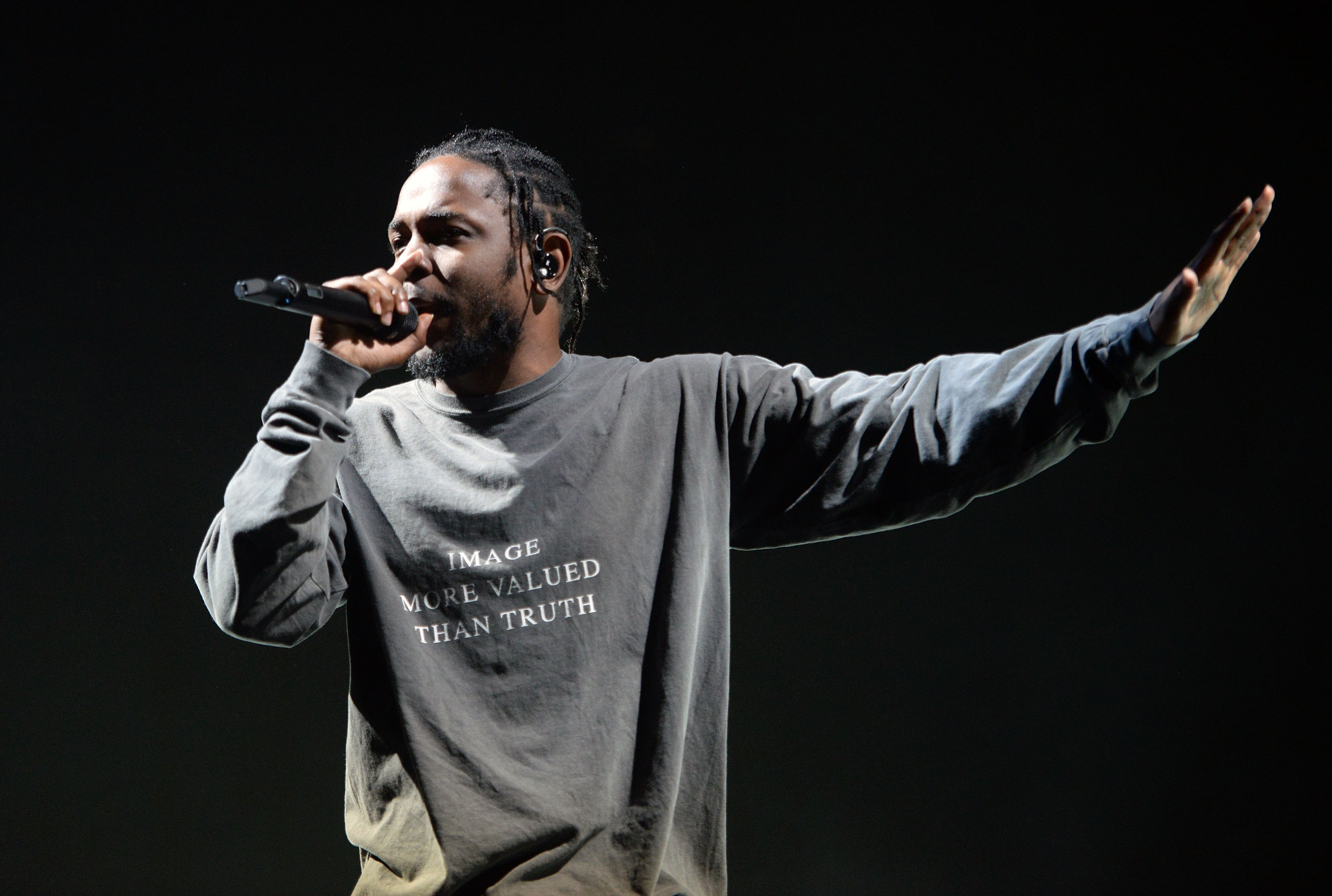 The backdrop featured clips of Oprah and important historical events. Guests like Jason Mantzoukas, Nick Kroll, and Chris Bosh were in attendance. The crowd was the biggest of any act – headliner or otherwise – on Saturday or Sunday. Kendrick deserved all of it, and more.
The thoughtful, engaging, energetic, and confident Kendrick Lamar ran through a buzzsaw set of hit after hit in rapidfire succession, which felt like a fitting tribute to his hectic and eventful past few years. Tracks from To Pimp a Butterfly didn't feel out of place at all sandwiched between good kid, m.A.A.d city offerings. Lamar was playful with the audience, joking at times, thanking his "day ones" and wearing an understated gray shirt that read "image more valued than truth."
Long after the house lights came on, fans were still chanting "Kendrick," imploring him to come back out. And even after security told everyone to get out, people lingered in hopes of one more encore. This was the single most impressive set of the entire fest, and Kendrick more than did his city justice.
Wait Your Turn And Change Your Ways

Everything Dev Hynes does is cool. The artist commonly known as Blood Orange commands the stage, and anyone on it, like an expert tactician. And he's just as comfortable parading out special guests and dancing on stage as he is behind a keyboard slightly right of center.
In what was arguably the most satisfying and refreshing set on Sunday, Hynes brought out Carly Rae Jepsen, Sky Ferreira, Nelly Furtado, and Empress Of, gave us a shredding guitar solo, and even played some cello.
"God damn that was fire," Hynes said breathlessly following "Best to You," and no one dared to disagree. The audience collectively strained their necks to see anything that was going on in between impromptu dance breaks, and Hynes ate it all up. Blood Orange deserves to be headlining festivals like this someday, and that day doesn't seem that far off.

How Did I Become A Virus?

With the Natural History Museum of Los Angeles off to the side, Anohni delivered the entirety of her album HOPELESSNESS to a politely spellbound group of spectators. Choosing to stay draped in a dark dress with her face covered, Anohni instead projected a variety of subjects on a multimedia presentation behind her, letting those individuals mouth the words and express a variety of emotions.
It was haunting and familiar. A common refrain whenever something bad happens in 2016 is that this year can go ahead and be over now and HOPELESSNESS captures all of that — the fear, the anger, the confusion, the exhaustion, and the daily throwing up our hands and wanting answers without finding any.
Anohni's voice was powerful and soulful, and was able to keep viewers stock-still. Great performers have the ability to make you feel something, and Anohni did that for the entirety of her set.
I didn't come into the weekend expecting to dance more during Grace Jones' set than anyone else's. But that's the reason I keep coming back to festivals. I want to be surprised. I want to explore. And I want to do or see something I've never seen before. Jones has been great making music for almost four decades now, and her sound is just as relevant and influential as ever.
James Murphy of LCD Soundsystem mentioned during his set that he used to love coming on after headliners, so that the crowd that was there was really in it for them, and for the music. And he thought this year's FYF gig was a lot like that. He remarked they got to follow one of his heroes in Grace Jones, and it meant a lot to him.
One of Jones' best gifts is her ability to weave in and out of genres and keep her style in tact. She flourishes in disco, club, new wave, electronic, funk, and soul, and at 68 years old, she's still as fresh and springy as ever.
"We party in church," Jones said during her performance. "And we've got a club-love-drug party."

Saves The Day Wins The Day

For many kids growing up in the early 2000s, Stay What You Are was a seminal and important album. You could hear Saves the Day in any number of bands that followed, and I was particularly interested in seeing how into the record played 15 years later.
Fans belted out song after song, and lead singer Chris Conley and his band didn't want to leave the stage. So they played a few more nostalgic hits, digging as far back as 1999's Through Being Cool. While time will tell exactly what effect the emo and early 2000s pop punk era will ultimately have on music, the aesthetic seeps into listeners who are old enough now to have kids of their own.
"This is a great fest," Conley said. "Please come back every year forever. We'll be here. Maybe just chilling."
The album sounded terrific, and it's held up better than I ever thought it would. I just have to resist the urge to call up old friends and get too nostalgic.
It seems impossible for Rae Sremmurd not to have a good time. I get the sense that they could start a party in Bed Bath and Beyond. Before Sunday's closing set even started, Slim Jxmmi couldn't help himself. He sprinted out in a red velvet robe and hopped around spraying champagne on the crowd. He looked around sheepishly for a second, and spiked the bottle into a giant inflatable "SREMM" placed in front of the DJ stage.
The speakers cut out a couple times, and rather than get mad like other artists, the duo shrugged and said "We're too turned up!" before trying again. They're legitimate rock stars, and they're not jaded yet. Fans can feel that, and they respond by dancing, jumping, chanting, cheering, and throwing things in the air.
SremmLife2 wasn't exactly a departure from the original SremmLife, but the songs are bigger, bolder, and somehow even more confident live than tracks like "No Flex Zone" or "No Type." Slim Jimmy and Swae Lee are just enjoying the ride.