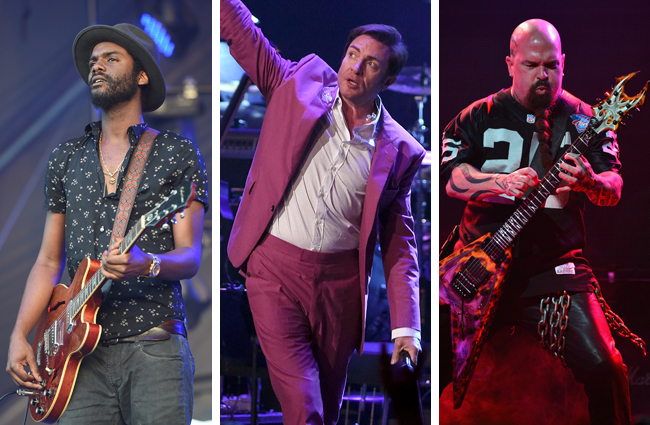 The new albums dropping this week all share the common theme of artists being forced to venture out and try new things. Following Gary Clark, Jr.'s is spanning multiple genres on the follow-up to his fantastic major label debut; Duran Duran are a legacy act, but have to force themselves to adapt in an ever-changing landscape; and Slayer are pushing through not only the death of a founding member, but the recent departure of another.
And that isn't even including the new records from Beirut, Prince, Jay Rock, T.I., and more. Here are the new albums you need to hear this week.
Gary Clark, Jr. – The Story of Sonny Boy Slim
2012's Blak and Blu was a fuzzy, bluesy masterpiece of guitar work and soul from the Austin-based troubadour Gary Clark, Jr. For his follow-up, The Story of Sonny Boy Slim, Clark has grown even more ambitious in his sounds, not only tapping the blues, soul, and rock n' roll he's known for, but dipping his toe into hip-hop and electronic influences. But don't be mistaken: This is not a scattershot effort from the rocker. Everything is filtered through his unmistakable grit in a way that jives perfectly for him. Tracks like "Grinder" and "The Healing" show these sensibilities and boundaries being tested, but not wildly overstepped.
Duran Duran – Paper Gods
Duran Duran's journey has truly been like very few. They went from being on the cutting edge of new wave, to adapting when such a genre was no longer in vogue, to surviving long enough that new wave was back in style. Having survived such a cycle is a nearly impossible, but the progenitors of synthpop have somehow managed. Perhaps the reason they've stuck around is managing to sound modern without losing their identity. Teaming with Janelle Monae on "Pressure Off" and Kiesza on "Last Night in the City" are both masterful partnerships. Funk god Nile Rodgers offers additional production on Paper Gods to keep things skin tight, and even more daring moments (like a Lindsay Lohan feature) seem more adventurous rather than desperate. Perception is everything when an act who is older attempts to remain contemporary, and Duran Duran seems to be making all the right moves here.
Slayer – Repentless
The last few years for the metal deities in Slayer have not been easy ones. First, the band had to deal with the tragic passing of founding member Jeff Hanneman, and then longtime drummer Dave Lombardo left the band. But through all the hard times, a band like Slayer isn't exactly the type to roll over. We saw in their clip for title track "Repentless" that the band is more than capable of delivering the heart-pounding thrash that fans are accustomed to. Tom Araya's vocals still sound on-point, and though half of the people known to be with the band aren't present, what they've managed to do on this album is still impressive.
Here are the rest of the week's releases
Prince – HITNRUN: Phase One (Tidal Exclusive)
Jay Rock – 90059
Beirut – No No No
Empress Of – Me
T.I. – Da' Nic EP
Low – Ones and Sixes
Garfunkel and Oates – Secretions
Jess Glynne – I Cry When I Laugh
The Libertines – Anthems for Doomed Youth
Craig Finn – Faith in the Future
Sir Michael Rocks – Populair
Nero – Between II Worlds
Ben Folds – So There
Jewel – Picking Up the Pieces
Hollywood Vampires – Hollywood Vampires
Bring Me the Horizon – That's the Spirit
Leona Lewis – I Am
Stereophonics – Keep the Village Alive
Scorpions – Return to Forever