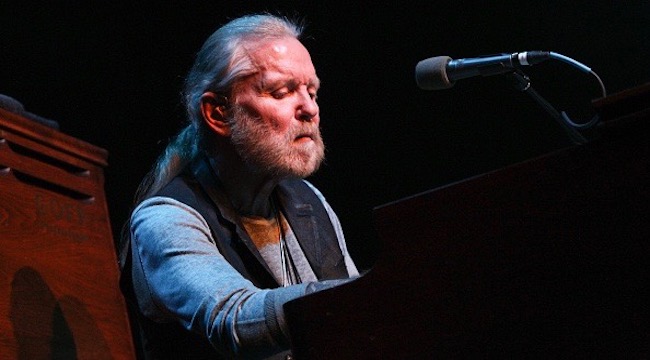 The news of Gregg Allman's death sent shockwaves of sorrow throughout the entire rock-loving community on Saturday afternoon. The lead singer of the mighty Allman Brothers Band had reportedly been in ill health for quite some time, but his passing still hit like a right hook to the gut. He was an indelible figure; a legend who used his voice and his Hammond organ to change the sound and shape of popular music across the last five decades. He will be sincerely missed.
It's really hard to overstate the impact of The Allman Brothers Band. As a group, they all but invented the Southern Rock genre that first came to prominence in the early 1970s. Rock had always been a Southern thing, going back to the time of Elvis, Jerry Lee Lewis and Buddy Holly, but by the 1960s, it had increasingly become the dominion of big name bands coming out of England, California, and the Midwest. The Allmans reclaimed rock for the region of its birth.
Their distinctive sound was characterized by hard blues, hard booze, furious bottleneck slide solos, and a certain soulfulness and twang that was missing from the records produced by their Northern and British contemporaries. They were also one of the earliest proponents of the onstage jam, regularly stretching songs that existed as tight, three and four-minute tracks on record into 20 or 30-minute marathons of musical transcendence. That overall vibe and aesthetic continues to reverberate through the work of prominent, modern bands like Drive By Truckers, My Morning Jacket, Alabama Shakes, and many, many more.
Even though they were affixed with the Southern Rock label, Gregg himself wasn't too concerned with advancing the cause during his life. "We weren't out there to sell southern rock," he wrote in his autobiography My Cross To Bear. "We were out there because we had the best god**n band in the land. The Allman Brothers Band has had its bad nights, but we are some Super Bowl mother**kers compared to all them other bands."
Super Bowl mother**kers indeed. Though they were great on tape, and really, the albums Eat A Peach and Brothers And Sisters are stone-cold classics, it was in front of a crowd that Gregg and his band really shone. A Facebook message that was posted to his official account that shared the sad news of his passing claimed that, "Gregg considered being on the road playing music with his brothers and solo band for his beloved fans, essential medicine for his soul. Playing music lifted him up and kept him going during the toughest of times." That feels spectacularly true.
The Allman's crowning achievement is the 1971 album At Fillmore East. "No one did it better in a live setting than the Allman Brothers," Gregg told me last year. "Fillmore East is still the proof, all these years later." I can't say that I disagree. It's a thrilling snapshot of the band at the very height of their performative powers; that desperately short window when Gregg's brother Duane was still calling the shots.
The album was recorded across a three-night stand that the band landed at super-promotor Bill Graham's vaunted New York City venue, the Fillmore East, in March of 1971. They weren't even booked as headliners going into the gig. They were supposed to open for Johnny Winter and the Elvin Bishop group, and were actually billed as an "Extra Added Attraction" on the marquee. But neither of the headliners could top their sprawling, raucous energy. By the third night of the residency, they were closing out the show.
From the moment Duane's rollicking slide guitar comes screaming through the speakers on the opening number "Statesboro Blues" you know you're into some otherworldly territory. Then Gregg's soulful, twangy voice takes control, bringing everything back down to Earth, all the way down to the hot and humid region where the blues and rock and soul music all began. The symbiosis between band and front man, and between the actual brothers themselves, is incredible. Never more so than on the album's standout track, and the Allman's opus "Whipping Post." The song is a volcanic, 23-minute long volcanic eruption delivered in a swirling 11/4 time signature. It's not quite psychedelic, but it's definitely disorienting.
Duane and fellow guitarist Dickey Betts rightfully get a lion's share of the credit for contributing most of the song's most dazzling pyrotechnics, but this particular rendition of "Whipping Post" would've been just another in a long series of noteworthy, but otherwise unexceptional extended guitar jams that characterized more than a few live sets performed by '70s-era rock artists. No, what gives "Whipping Post" its heft is the guttural, pained emotion that Gregg brings as he relates his story of a "mean woman" that made him look like a fool. "She took all my money / Wrecks my new car / Now she's with one of my good time buddies / They're drinkin' in some cross town bar." When he cries out the chorus, Sometimes I feel / Iike I've been tiiiiiiiied / To the whipping post," you know exactly what he means, and your heart breaks for him.
Throughout their history, the Allman Brothers Band was a group continuously dogged by tragedy. Shortly after making their breakthrough with At Fillmore East, Duane was killed in a motorcycle accident on October 29, 1971. Just a little over a year later, the band's bassist Berry Oakley was also killed in a motorcycle accident just three blocks from where Duane died in Macon, Georgia. Earlier this year, on January 24, 2017, drummer Butch Trucks committed suicide, shooting himself in the head.
Through it all, Gregg kept playing. Music was his salve and his salvation. Despite his battles with substance abuse, numerous divorces – including a high-profile falling out with Cher – health issues, and more losses than any one man should have to endure, you couldn't keep him away from a stage. Very nearly up to his dying day, he was still out there, booking shows, and playing before adoring crowds.
"I've had guys come up to me and say, 'Man, it just doesn't seem like losing those two fine cats affected you people at all,'" the singer told Cameron Crowe in a profile piece for Rolling Stone in 1973 that became part of the basis for the film Almost Famous. "Why? Because I still have my wits about me? Because I can still play? Well, that's the key right there. We'd all have turned into fucking vegetables if we hadn't been able to get out there and play. That's when the success was, Jack. Success was being able to keep your brain inside your head."
Gregg Allman managed to keep his own brain inside of his head for far longer than many of his contemporaries. Though he may be gone, he lived his life to the fullest. It's like he sang on, "Ain't Wastin' Time No More," an elegy he wrote for Duane, "You can't let one precious day slip by…Cause time goes by like hurricanes." You have to make it all count.