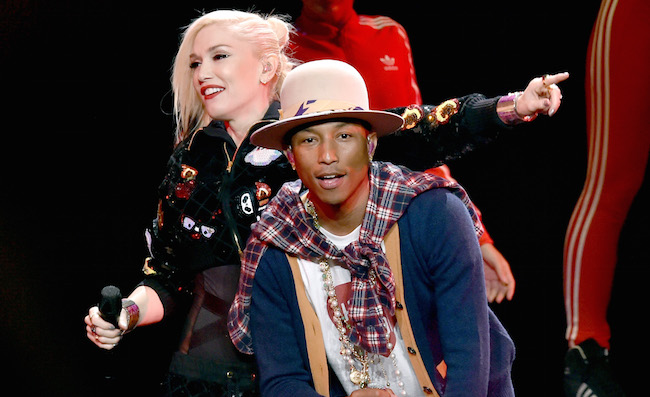 Gwen Stefani's legal team is preparing for sh*t to be bananas. (B-A-N-A-N-A-S.) The No Doubt frontwoman's 2014 solo effort "Spark the Fire" has sparked pop's latest copyright infringement suit. Pharrell Williams, who already has his fair share of baggage in the song ownership dispute department, was also named in this bout of legal action.
Gwen's Skateboard P produced track from a few years back is being alleged of lifting the chorus of a previous tune from the '90s. Seeing as "Spark the Fire" wasn't quite the comeback triumph one might hope for, it might not be the most lucrative Stefani cut to take to court, but that's not the main force, we suppose. The Hollywood Reporter states that Richard Morrill filled a complaint in Colorado federal court alleging that Stefani, Pharrell and Interscope Records ripped off his 1996 song "Who's Got My Lightah." Here's where things take a bonus turn.
Morrill is a singer-songwriter who was formerly in the late-'80s funk metal band L.A.P.D. — which is now known as Korn — but, in 1997 and 1998, he was a hairstylist in Huntington Beach.

He says Stefani, then the 20-something lead singer for No Doubt, came into his salon. Morrill claims he played his song for Stefani while he was coloring and styling her hair, she liked it and he gave her a CD containing it.
Boom! Korn connection! A potential hairstyling scandal! Allegations of a song sat on for decades!
If Gwen and Pharrell ripped off the tune, they certainly didn't get much value for it. "Spark the Fire" bricked on the charts. THR reports that Morrill is "seeking damages, disgorgement of profits from the song, an injunction and a declaration that his copyrights were infringed."
(Via The Hollywood Reporter)