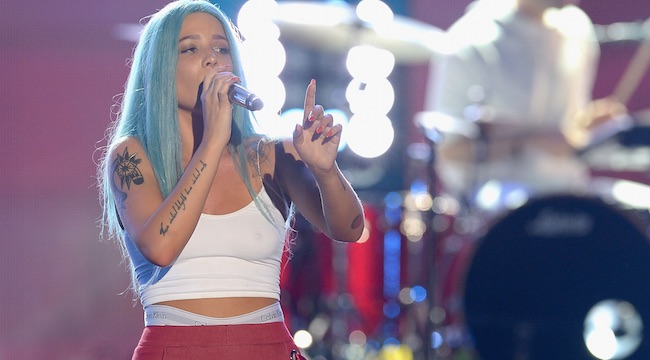 Halsey is a pop star on the make, as her excellent new album Hopeless Fountain Kingdom so clearly illustrates, and as such she's been on a press junket, doing interviews and talking about her newfound place at the top of the music industry. After all, she was the first woman in 2017 to score a No. 1 album on the Billboard chart, and she's currently touring the record, which will only boost her status even more.
In an interview with The Guardian, though, she shifted gears a bit to address two other artists — Quavo, who appears on her record, and Iggy Azalea, who she thinks is an idiot. A "f*cking moron" to be exact.
First, the Quavo thing. We've already been over Migos' struggle to be open to the queer community, and whether or not they are actually homophobic, the group has struggled with that perception a lot this year.
As someone who identifies as bisexual, The Guardian interviewer wanted Halsey's perspective on working with Quavo. Her thoughts:
"I think he's misunderstood. Just because I choose to be a socially conscious artist, and I'm pretty good at it, that doesn't mean every artist is going to be equipped to be politically correct. I don't think he's inherently homophobic, I think he's in a tough place of trying to explain what he means. I agree his apology was bullshit but I can't police everybody."
But this wasn't enough for the interviewer, who suggested she should carry over her policing into her own album. Halsey, for her part, agreed, and that's when she went in on the failures of Iggy Azalea:
"Yes, I can, and there's a lot of people I wouldn't put on my record. Iggy Azalea: Absolutely not. She had a complete disregard for black culture. F*cking moron. I watched her career dissolve and it fascinated me."
Halsey is also bi-racial, her father is Black, so she definitely has a different perspective on this, and honestly, at this point, most people probably agree with that assessment. For her part, Halsey has not really incorporated a lot of hip-hop sounds into her work, though given the textures and variety of Hopeless Fountain Kingdom, she certainly might in the future. But not with Iggy, apparently.