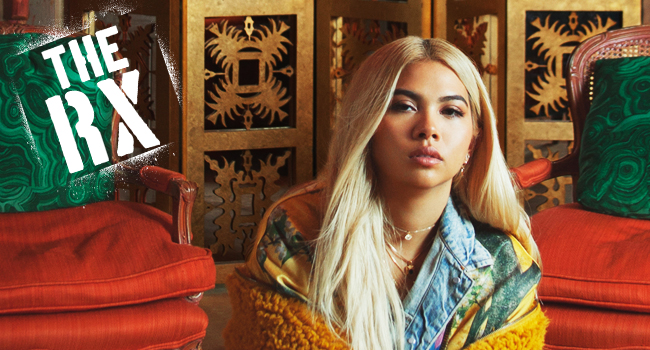 The RX is Uproxx Music's stamp of approval for the best albums, songs, and music stories throughout the year. Inclusion in this category is the highest distinction we can bestow, and signals the most important music being released throughout the year. The RX is the music you need, right now.
"I remember my gay content for TV was watching two straight girls make out on The Real World," budding pop star Hayley Kiyoko told me over the phone, in between bites of tacos. "That was my fix." Instinctually, I switched out of "reporter mode" and into "two queer women having a chat" mode. "Saaaame, girl, same," I vocal-fryed into my TapeACall.
The pop music scene has been expanding with gay, queer, queer adjacent, and queer-assumed musical performers enough over the past decade that Kiyoko probably isn't the first of something — but that technical truth sells short the way it feels, like she's creating a brand new lane in the music industry.
Maybe it's because of her music videos. Starting with the breakout hit video for "Girls Like Girls" from her second EP This Side Of Paradise Kiyoko has been self-directing music videos that are undiluted lesbian melodrama. In her videos for "Feelings," "Sleepover," and "Curious" — singles from her new album Expectations — Kiyoko explicitly romances women; she seduces them and pines for them, she kisses and… more than kisses. Whether or not these images should feel fresh, they do. The visual language is clearly queer; vibes-wise, the viewer can feel the difference when the eye behind the camera is a gay one.
Or maybe she feels like a new kind of pop star because of her lyrics, stories of obsessive pining for a best friend who will never love you back like that (You wanna be friends forever? / I can think of something better), stories of a female lover going back to her boyfriend (If you let him touch ya, touch ya, touch ya, touch ya / The way I used to, used to, used to, used to), stories of girls who will hook up but won't admit they're into it ('Cause baby, you know that you got it / Girl, yeah, you know that you want it / Girl, why can't you just be honest — with yourself?).
These anecdotes are familiar for anyone who grew up queer, who hunted for the crumbs of these stories in movies and TV and online, who exchanged them giddily with the first queer friends they finally, finally made. But here they are now, front and center, with Top 40-style beats and instrumentation, no longer crumbs. Instead — the whole cake.
I wish I'd had Expectations in my headphones while I was growing up, to give me an understanding that my experiences could actually connect me with other girls rather than isolate me from them. I wish I'd been able to see myself in song lyrics, rather than trying to see myself in the spaces between them. But like, it's never too late! Listening to Expectations, I'm back in my teenage bedroom, with something other than just The Real World to get me through the long lonely nights.
This sense of my tribe finally finding their bubblegum pop soundtrack fueled my conversation with Kiyoko, when we connected between stops on her latest tour. We chatted about the gay stuff, of course, as well as her dedication to being a pop star that dances and the creative energy that fueled her album.
When you were growing up, what did you listen to? Is there a gap you in terms of female, gay storytelling you were consciously trying to fill in?
I grew up listening to mainly female artists, but I never had someone that was just fully out there, and that looked like me. Tegan and Sara were probably the closest thing to artists I identified with, as far as creating great music and knowing that they liked girls. I was deeply inspired by them growing up, I loved them. I really appreciated having them in my life.
I read an interview you did with The Dallas Voice where you said, 'I don't want to come out. I just want people to watch my art and take it for what it is.' I really loved that sentiment. Why didn't the big personal coming out media announcement feel right to you?
I never really had a "coming out" thing in my life, so the announcement didn't feel necessary for me. I wanted people to watch the art and put the art first — and obviously my art is going to allude to the fact that I like women. I'm not ashamed of it; I've loved women since I was five. It's something that's a part of me.
My choice goes back to me trying to normalize gayness. That's also why I do the videos that I do, because to normalize gayness you have to push the boundaries.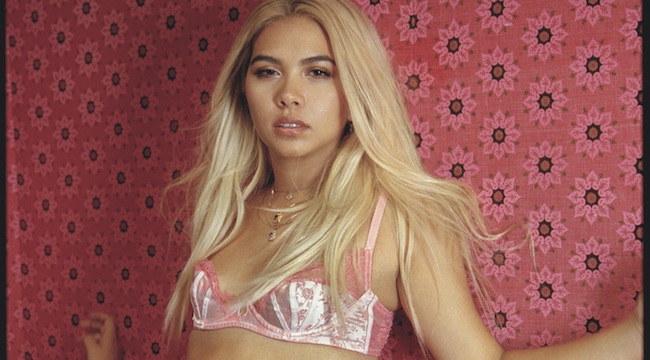 You direct your own music videos, and as part of that creative process, you've decided to include dance numbers, which is a little rarer with pop stars nowadays. Why did you decide to include dance in your performance style?
I grew up dancing, but at first I didn't know how to incorporate dance into my music, until the past couple of music videos. It's been fun to showcase my dancing, because it's something I love to do. I'm hoping to do a lot more dancing in my live shows, moving forward. People really love to watch me dance apparently! Every time I do a body roll on stage people go wild.
Why do you think people love watching you dance?
I don't know why people love it so much but I'm very lucky that they do! Growing up, I always admired male pop stars that would sing and dance. I thought of dancing as such a sexy thing, something that the girls really loved. I remember wanting to be a pop star who danced and made girls like them more.
Did you have as much creative control over your tour performances as you did your music videos?
My ideas and too large and expensive! I can't do everything, right now it's too much. Eventually, when I play arenas, I'll be able to create the worlds that I've always dreamt of for the live shows. In the meantime, my choreographer Anze Skrube — he's amazing — helped me creative direct the current tour and translate my ideas to smaller venues.
I've been curious — no pun intended! — about the way you find place, specifically Southern California, in your songs and lyrics. How does LA influence your songwriting?
I grew up in California. I think that's why I have a strong connection with water, it makes me feel calm. I love going to the beach and just… sitting there. Throughout the album, you can hear those influences.
My favorite album cut is "Under The Blue/Take Me In," and those lyrics have a lot of water imagery. The "Blue" refers to pool water, I think.
I love hearing what peoples' favorite songs are, because they're always different. To me, that's the best compliment, because that was my goal working on this album: To make every single track sound and feel different. I love "Under the Blue," I love the percussion. We wrote that song in Ojai, California and we built it off that strong beat. I loved the idea of writing an edgy, dark song, with twisting words and feelings.
In "Palm Dreams," I wanted a song for a Cali girl. People are so surprised, they say, 'oh you're actually from LA!' I wanted to have a quirky song about the idea of people getting lost in their dreams, about how Los Angeles can sometimes be a trap for people and can be discouraging at times. And then, I wanted to fuzz that narrative around.
Hayley Kiyoko's debut album Expectations is out now via Atlantic Records. Get it here.