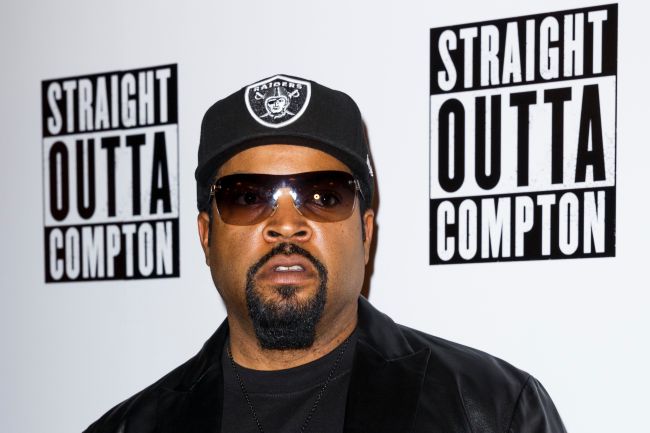 Ice Cube has said a lot of wise things in his career — like when he made us question whether any of us were REALLY there in Are We There Yet? — but his thoughts on award shows are particularly enlightened. He's not planning on boycotting #OscarsSoWhite, er, the Academy Awards, where the NWA biopic Straight Outta Compton is nominated for Best Original Screenplay, because "you can't boycott something that you never used to go to anyway."
Cube, however, did attend the Grammys last night, but not for long. After handing out the Best Rap Album award to Kendrick Lamar for To Pimp a Butterfly with his son, O'Shea Jackson Jr., he was outta there.
"If any of y'all thought I was gonna stay through that three-hour bullsh*t, you out your batty ass mind," he told the camera before taking a puff. "I'm back in the car, bitch." (Via)
"I'm back in the car, bitch." He used Leonardo DiCaprio's Oscars acceptance speech! But hey, at least Cube showed up. Snoop Dogg had seats to the Grammys, " but f*ck that," he said on Instagram. "I'm sitting in my mothaf*ckin' house watching this sh*t. Me and my n*gga." It's no wonder Snoop didn't bother. He holds the record for most Grammy nominations without a win. His most recent loss: Album of the Year for To Pimp a Butterfly.
(Via Billboard)