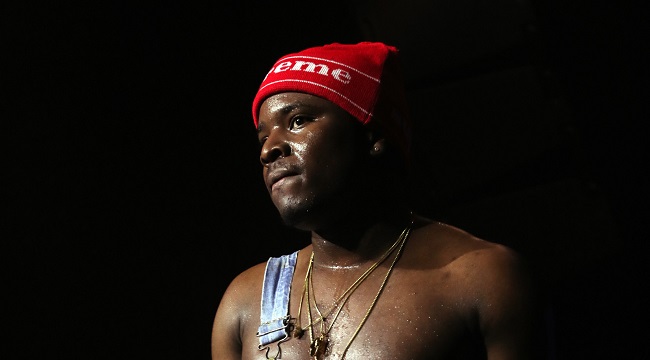 Maryland rapper IDK, (formerly known as Jay IDK) has been steadily ascending, and now he's set to release perhaps his most ambitious project yet. The young rhymer has won acclaim with a brand of trap that inverts the popular drug-dealing, hedonistic content of the subgenre and explores his rough upbringing in the sobering context of systemic oppression. If most trappers present a sculpture of modern nihilism, Jay is equally focused on the sculptors.
He's perhaps most known for his 2015 Subtrap(A portmanteau of "Suburban Trap") concept album and coinage, but now he's back with IWASVERYBAD, a typically creative concept LP which uses his life as a springboard to explore urban gentrification and how a middle-class kid can be drawn into the streets.
[protected-iframe id="f8c133edb1d261e8114ac765cefb0e8a-60970621-76566046″ info="https://as-embed-player.adultswim.com/?album=idk&track=919d2296-4afa-4839-914f-6fd4c96f7a9a" width="100%" height="400″ frameborder="0″]
IDK partnered with Adult Swim for the album, which will be accompanied by visual clips which serve as episodes of his life story. It will be released in full on October 13th via HXLY/Commission Music, but IDK just dropped three songs from the project, the sinister "Mrs. Lynch, Your Son is The Devil," "Maryland Ass N*gga" (featuring Swizz Beatz) and "Pizza Shop." Along with Swizzy, the tracklist shows features from DOOM, Chief Keef, Yung Gleesh, and more.
The next trio of singles from IWASVERYBAD will be available on October 5th. You can view the tracklist below, and preorder here.
1. "Mrs. Lynch, Your Son Is The Devil"
2. "Maryland Ass N*gga" Feat. Swizz Beatz
3. "Pizza Shop Extended" Feat. Yung Gleesh & MF Doom
4. "Dog Love Kitty" Feat. Mother Marygold
5. "Mama Said 'Respect the Venus Symbol' I Didn't Listen"
6. "Windows Up"
7. "Birds And Bees"
8. "17 With A 38"
9. "No Shoes On The Rug"
10. "No Words"
11. "Black Sheep White Dove"
12. "Baby Scale" Feat. Yung Gleesh *Bonus Track*