As I write this (but which may no longer be the case when you read this), Interpol is holding a press conference at General Prim 30 in Mexico City (and livestreaming it here). They haven't had a new album since 2014's El Pintor, so with that in mind, you can probably guess what the fuss is about: The band just announced that their sixth album, Marauder, will be released on August 24 via Matador. The announcement is accompanied by lead single "The Rover," an on-brand song that has all the high post-punk energy that has made the band so endearing since they released Turn On The Bright Lights in 2002.
Paul Banks says the album is named after a destructive aspect of his personality:
"Marauder is a facet of myself. That's the guy that f-cks up friendships and does crazy shit. He taught me a lot, but it's representative of a persona that's best left in song. In a way, this album is like giving him a name and putting him to bed."
The band is also set to perform on The Late Show With Stephen Colbert tomorrow (June 8). Below, check out the Marauder artwork and tracklist, as well as Interpol's upcoming tour dates.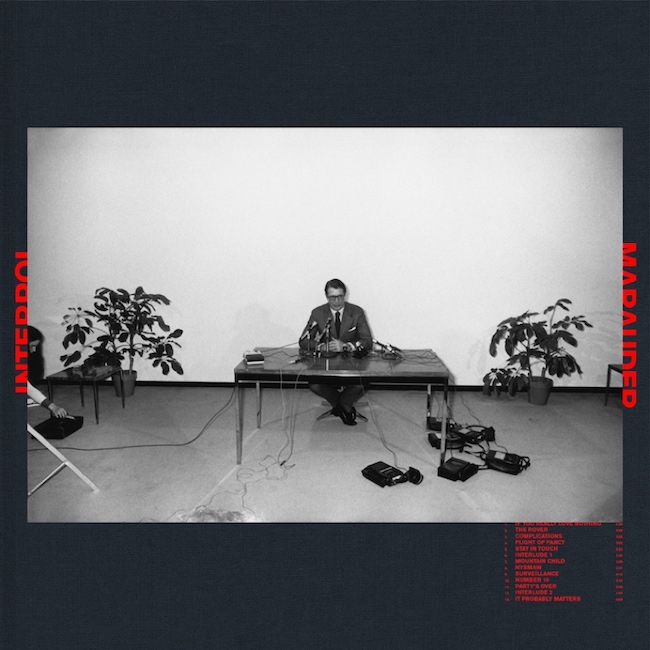 1. "If You Really Love Nothing"
2. "The Rover"
3. "Complications"
4. "Flight of Fancy"
5. "Stay in Touch"
6. "Interlude 1"
7. "Mountain Child"
8. "NYSMAW"
9. "Surveillance"
10. "Number 10"
11. "Party's Over"
12. "Interlude 2"
13. "It Probably Matters"
6/25/2018 — Wien, Austria @ Arena Wien Open Air
6/26/2018 — Sesta Al Reghena, Italy @ Sexto Nplugged
6/27/2018 — Zagreb, Croatia @ INmusic Festival
7/1/2018 — Glasgow, UK @ TRNSMT festival
7/5/2018 — Roskilde, Denmark @ Roskilde Festival
7/7/2018 — London, UK @ Hyde Park (with The Cure)
8/24/2018 — Brooklyn, NY @ House of Vans
9/14-16/2018 — Chicago, IL @ Riot Fest
10/4/2018 — Los Angeles, CA @ Hollywood Bowl (with The Kills and Sunflower Bean)
10/6/2018 — Berkeley, CA @ Greek Theatre (with The Kills and Sunflower Bean)
11/6/2018 — Tokyo, Japan @ Akasaka Blitz
11/14/2018 — London, UK @ Royal Albert Hall
11/24/2018 — Copenhagen, Denmark @ TAP1
11/29/2018 — Paris, France @ La Salle Pleyel
2/16/2019 — New York, NY @ Madison Square Garden (with Car Seat Headrest and Snail Mail)
Marauder is out 8/24 via Matador. Pre-order it here.