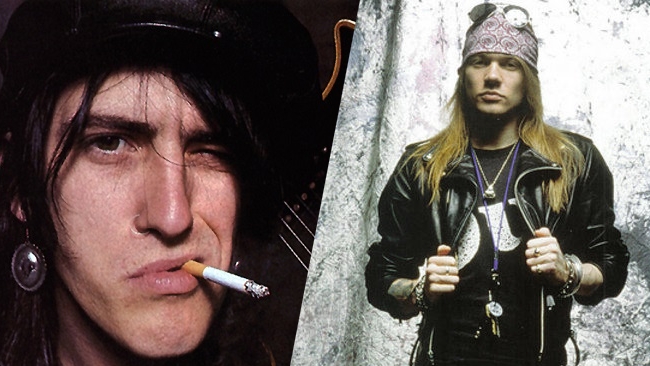 By all accounts and measures, Guns N' Roses' 'Not In This Lifetime' tour has been a wild success. Yet while the reunited rock gods have appeared to barely miss a beat when it comes to conjuring memories from our collective youths, they have appeared to miss one major figure from their past — Izzy Stradlin. The co-founder of the band and its original rhythm guitarist has been a noticeable no-show as Axl Rose, Slash and Duff McKagan travel the country. Even original drummer Steven Adler made an appearance. So what gives, Izzy?
Well, first we had Axl's side of the story, in which he pinned Stradlin's absence on his flakiness.
"I don't really know what to say about Izzy. It's like you could have a conversation and think it's one way and the next day it's another way. And I'm not trying to take any shots at Izzy. It's just his thing is kind of his thing, whatever that is," said Rose.
Yes, Axl is "not trying to take any shots." Sure. I mean, they kind of sound like shots, but hey, what do I know?
Now tell me you didn't think Stradlin would respond.
Point, counterpoint.
The "of course it's about money" reasoning does seem to make sense, because it's not as if Stradlin has been completely opposed to rejoining the band since he went his own way in 1991. He filled in for his replacement Gilby Clarke for a handful of shows in 1993 and then joined Guns N' Roses 2.0 (also known as the version of the band that featured Axl and a rotating cast of characters) for a European tour in 2006 and a couple of shows in 2012.