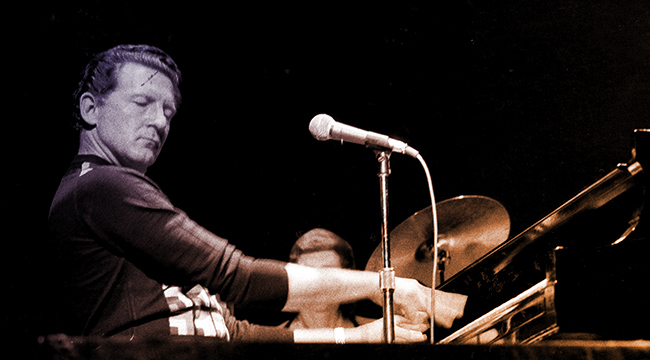 "Where's the Killer!?" The young man behind me with the exaggerated green mohawk and nose ring was growing restless. It was about 8 PM on Saturday night and the band onstage had just launched into their fourth song, a cover of Carl Perkins "Blue Suede Shoes," and still there was no sign of Jerry Lee Lewis. As the trio ran through the '50s rockabilly hit, a smattering of boos broke out among the crowd. The mohawked gentlemen began shouting obscenities at the musicians keeping time, manifesting the displeasure of everyone in the near vicinity. They were just on the verge of kicking off another number when a man in a suit walked on and gave them a signal. "The Killer" had arrived.
Of all the booking decisions made by Riot Fest, the annual gathering of punk bands, indie acts and hip-hop artists that takes place every year in Chicago's Douglas Park, the inclusion of Jerry Lee Lewis on the bill this year was far and away the most eye-popping. At 82-years old, the "Great Balls Of Fire," singer doesn't get around that much these days, and when he does perform, it's usually to a rather tame, mostly grey-haired casino crowds. This was an entirely different kettle of fish.
Jerry Lee's singular brand of old school rock and roll didn't quite fit in with the overall milieu of this particular multi-day event, but as a last remaining link to the genre's "golden era" in the 1950s, and one of the only living artists remaining from Sun Records era-defining roster, you could understand why he was invited to appear. But he did stand out. For context, the last time I caught a late-night set at this very same stage, the self-described "Radicals Stage," was last year, for Wu-Tang Clan, who bombed atomically. Out in the darkness somewhere, New York indie rockers Interpol were, at this very moment, probably playing cuts from their latest album Marauder, while Beck was in his trailer, gearing up to close out the show. The next evening's big attraction would be the one-two punch of Father John Misty and Run The Jewels.
A vast array of questions raced through my mind in the days leading up to Jerry Lee's showing at Riot Fest. Would people show up for his set in the first place? If they did, how many? Does Jerry Lee Lewis still have avid fans in 2018? Did anyone buy a one-day pass exclusively to see this man rip on the piano? Would there be a backlash against his appearance? Would he even show up at all? I mean, he's not exactly a spring chicken. If he did show up, how would he sound?
Let's take those questions one by one. First, yes, the people did show up, and they showed up in droves. I couldn't quite tell you how many folks there were spread out in the field behind me, but when I turned around shortly after his band began playing, there was a sea of faces staring back at me. Second: Yes, Jerry Lee does, in fact, have fans in 2018; rabid ones who gleefully made their way to the railing just to see him play. One wore a t-shirt that was completely taken up by his image flipping the middle finger. She called him her "favorite singer," though admitted Johnny Cash was a close second. A man a few feet away was even more rapturous in his praise: "This is a f*cking American hero we're talking about!" he proclaimed.
Third: Would there be a backlash against his appearance? Kind of, but it was very understated. When I walked through the gates, I noticed someone had made a sign that read "I've Got 99 Problems And Jerry Lee Lewis Is One," and there were some grumblings among people I talked to about his presence, but no out and out protests. I bring this up only to say, if there are any musical icons in the world more capital "P," Problematic than Jerry Lee Lewis, it's a very short list.
Lewis's personal history is one filled with all the alcohol and violence you'd expect from a rock star of the 1950s, but there's a far more insidious side as well. Back in the 1960s, his career was nearly derailed when he decided, inexplicably to marry his 13-year old cousin Myra Gale Brown. She was actually his third wife by that point and they stayed married for 13 years and had two children together before getting divorced. Jerry Lee's fourth wife, Jaren Elizabeth Gunn Pate, died in a swimming pool in 1982, and there is compelling evidence that his fifth wife, Shawn Stephens was actually murdered by Lewis himself, though he's never been formally charged for the crime. Lewis has been married twice more since her death.
It would seem that there's an unspoken statute of limitations when it comes to cancel-culture, as pointed out by Florida rapper XXXTentacion shortly before his murder after he'd run afoul of Spotify's "Hateful Conduct Policy" while facing charges of aggravated battery of a pregnant woman and witness tampering. Lewis was not one of the legendary figures that XXX named pointing out the hypocrisy of the hastily put together policy — Gene Simmons of Kiss, David Bowie, Ozzy Osbourne, Miles Davis, Dr. Dre, and James Brown were among the 19 notable figures to make the cut — but Lewis certainly could have been.
For many people however, the image of Jerry Lee that has endured through the years is the one depicted by Nick Tosches in his incredibly compelling biography Hellfire. Tosches writes about Lewis as an old testament villain; the ultimate rock and roller, all fire and brimstone, out-drinking and out-playing anyone who dares enter his orbit. The book opens with a scene in 1977 of "The Killer," drunk off his ass, crashing into the gate of Elvis's Graceland mansion, waving a pistol and demanding an audience with "The King," who is too chicken to come out and meet him, preferring to call the authorities and let them face the wrath. Lewis is led away in handcuffs. Elvis is dead just a few months later.
"I was always worried whether I was going to heaven or hell," Lewis himself told The Guardian just a couple of years ago in a moment of genuine self-reflection. "I still am. I worry about it before I go to bed; it's a very serious situation. I mean you worry when you breathe your last breath, where are you going to go?" But the ultimate judgment of his character is most likely out of our worldly hands — and despite his past, he's yet to hit a "canceled" moment of his own here on earth.
After the man in the suit gave the signal, a stooped figure in a purple sequined jacket purposefully strode out of the wings to an explosion of cheers. He smiled, shook his cane in the air, then took the jacket off, untucked his white shirt from his jeans and sat down behind the baby grand piano set up in the middle of the stage. If I'm being completely honest, I was prepared for the worst. I've seen my fair share of "classic" artists far younger than Jerry Lee turn in abysmal performances live, but damn it if the man still can't play the ever-loving sh*t out of the piano. His voice may not be what it used to be — a little flat, lacking some of the signature nuance — but just to hear him fervently wail away on the ivories, running his hands up and down the keys, tossing off riffs, and counter-melodies was absolutely astounding.
He never really spoke to the crowd, moving from one song to the next, and then the next with hardly a pause in between, but every once in a while, after a particularly enthusiastic response to something like "Roll Over Beethoven" he'd toss of a "Mercy!" just like he did all over that seminal 1964 album Live At The Star Club, and it was like time had stood still. At least from my close-up view, you could tell he was having fun up there. I couldn't imagine the last time he'd played a show that had honest-to-God crowd-surfers, but I'd wager that it's been decades.
The set ended just as his set has ended for years. He ripped into the biggest hit of his career, "Great Balls Of Fire," then kicked into his earliest, "Whole Lotta Shakin' Goin' On," during which he stood up, and just like he's down thousands of times before, kicked his piano stool across the stage to really dig into the keys. And that's Jerry Lee Lewis in 2018. With Elvis, Johnny Cash, Carl Perkins, Chuck Berry, Fats Domino all dead and gone, and Little Richard formally retired from performing, the Killer remains the last man standing of a long-gone era.