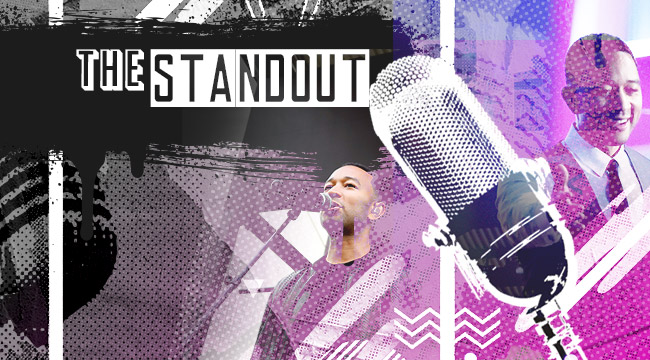 Listening to albums is a full time job. Every day, new bodies of work flood iTunes and your favorite mixtape sites. I love the process of giving an album a spin from start to finish. It's like test driving a car: wavering back and forth between committing and seeking alternatives with every turn. After a few listens, I tend to pick out favorites I religiously quote, place on playlists and recommend to friends.
The Standout is here to highlight one record from a particular album that fits the criteria above.
Song: John Legend's "Love Me Now"
There's a special category of R&B artists in my lifetime that can craft love songs better than anybody else. Lionel Richie, K-Ci & JoJo and John Legend are three of the top names in this hard-to-get-in club. Legend is one of the only artists of our generation who articulates love in such a vivid way. His music isn't given a time-stamp. He doesn't chase the trends of today, or even adapt too much as the years go by. He's just himself and it's why his latest single, "Love Me Now," is going to be a huge hit.
With a new album on the way, but in no way fast enough, Legend's first single takes a more danceable and upbeat approach. This is elegant dance at the prom versus grind on me in the dark corners of the club. I almost feel bad for not dressing up every time this song comes on.
I love how Legend is able to incorporate feeling into the music he makes, which is a strong component of being one of the best. Music we can relate to always tends to stick around longer than anything else. "Love Me Now" is about how going the extra mile while you're with someone. "I don't know who's gonna kiss you when I'm gone," he sings on the hook, "So I'm gonna love you now like you're all I have."
Hit singles are often hard to predict unless your name is Bruno Mars or even The Weeknd at this point, but they also have a distinct trait. Legend understands what it takes beyond a catchy hook, because he has a lot of them. "Love Me Now" invokes the age-old idea that less is more in the verses. Instead of trying to draw out long, detailed ideas, he's aiming for the simple but effective ones. "Pulling me further, further than I've been before" is meant to describe how deep this love is becoming without having to spell it out for you.
During a recent Facebook Live session, Legend told viewers that "Love Me Now" is all about "living and loving to the fullest, no matter what tomorrow may bring." His vision couldn't have came out any more well-rounded. When dating gets tough, songs like this provide hope and inspiration. They lay the foundation down for the idea that you want a love that's similar to what the song is saying. "Love Me Now" represents what I want to have one day. The words mean something now, but they'll mean a lot more when I'm in love.
Check out previous installments of 'The Standout' right here.