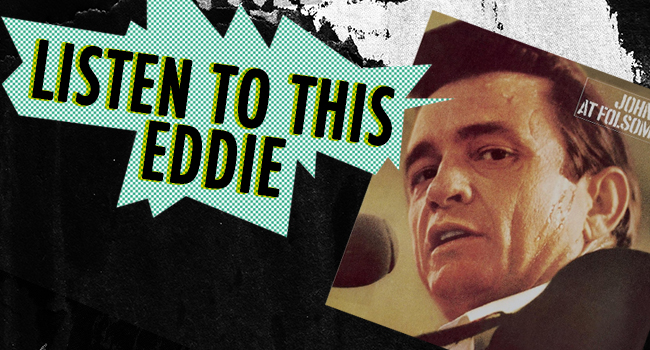 Listen To This Eddie is a weekly column that examines the important people and events in the classic rock canon and how they continue to impact the world of popular music.
Any list of the greatest live albums of all-time would become null and void without the inclusion of Johnny Cash's record At Folsom Prison. Recorded at the maximum security penitentiary in California on January 13, 1968, Cash, backed by his faithful group the Tennessee Three, and accompanied by his wife June Carter as well as Mr. "Blue Suede Shoes" himself, Carl Perkins, laid it all out on the table, playing a fierce set of music and that refused to play down or pander to the collection of inmates gathered before him. He commiserated with them as people, and for a brief moment, erased the concrete and steel wall that separated them from the rest of society. He made them feel like people again.
Cash played two sets that day; one at 9:40 AM and one at 12:40 PM. After convincing the executives in charge of the country music division to go along with his outside the box idea to record a live album in a prison, he wanted to make sure that he got the best performance possible. In addition to performing classics like "Jackson," "25 Minutes To Go," and of course "Folsom Prison Blues," he also played an original composition called "Greystone Chapel" written by an inmate named Glen Sherley. It was an eclectic performance to say the least. An electric one as well.
For the 50th anniversary of what many consider to be the shining moment of Cash's long, illustrious career, I thought I might run through the 50 different reasons why it remains one of the greatest albums ever made.
1. That the Folsom show wasn't the first time Cash played in prison. He'd actually been playing for inmates for over a decade by 1968, with his first such show taking place at Huntsville, in Texas back in 1957.
2. That Folsom Prison was chosen over San Quentin, where he recorded another exceptional live album a year later, because the Folsom warden picked up the phone first.
3. That he'd tried to record a live album at a prison in Kansas on July 6, 1966, but had to call it off while recovering from the effects of getting caught in a forest fire blaze; the same one that inspired his hit song "Ring Of Fire."
4. Despite the legends, Columbia executives, and the label head Clive Davis, in particular, were pretty into the idea. "I supported it, or it would have never happened," Davis told Cash's biographer Robert Hilburn. "We believed in Johnny Cash. Why else would we have re-signed him to a very lucrative contract just before Folsom? The Greatest Hits album was huge."
5. In spite of how much he hated rehearsing a show, Cash flew everyone in early and held extensive rehearsals in the La Fiesta Room at the El Rancho motel in Sacramento where he was staying ahead of showtime.
6. That then-Governor Ronald Reagan, who was holding a $500 a plate fundraiser at the hotel, stopped by to say hello. Cash's father Ray was present at the time and he used the opportunity to introduce the two men in a probably futile attempt to impress his dad.
7. That Cash had to be warned not to get freaked out if the prisoners didn't respond effusively to the music because only two weeks earlier some prisoners had held a guard at knifepoint and were warned ahead of time not to leave their seats during the show.
8. That before Johnny hit the stage, Carl Perkins warmed the crowd up with a rendition of his hit song "Blue Suede Shoes."
9. That Johnny watched Carl while standing alongside the cafeteria wall to get a feel for the mood of the crowd
10. When he walks onstage and says, "Hello, I'm Johnny Cash."
11. Rather than try to be coy, he opens straight away with "Folsom Prison Blues."
12. The way the audience cheers after he sings, "I'm stuck in Folsom prison / And time keeps draggin' on."
13. The twangy sound of Luther Perkins' — no relation to Carl — guitar and his distinct boom-chicka-boom rhythm.
14. That the audience cheering after the line "But I shot a man in Reno / Just to watch him die" was added in post-production.
15. That this version of the song ultimately went to No. 1 on Billboard's country chart, but was pulled off the radio after the assassination of Robert F. Kennedy a few months later, because of the line mentioned above.
16. How he breaks out in laughter during the second verse of the ballad "Dark As A Dungeon" then admonishes himself. "No laughing during the song please. It's being recorded, I know. Hell.
17. After the song ends, how he tells the crowd again that the show is being recorded and they can't say, "hell or shit or anything like that."
18. The jokey reason Cash loved playing prisons, according to his drummer W.S. "Fluke" Holland, who spoke with NPR. "One thing he liked about playing prisons: If he did something the audience didn't like, they couldn't leave."
19. The longing in his voice as he sings "I Still Miss Someone."
20. The supercharged riff right out of the gate on "Cocaine Blues."
21. The balls it takes to play a song called "Cocaine Blues" in a prison in the 1960s.
22. The reason he killed his beloved in the song: "I shot her down because she made me slow."
23. The way he simulates the Sheriff hacking up a lung when he leads him into the district court.
24. The blatant pandering in the line, "The judge he smiled as he picked up his pen / 99 years in the Folsom pen."
25. How he sings, "I can't forget the day I shot that bad bitch down," just minutes after warning the crowd about swearing.
26. That the band was forced to just roll with it because of an inadequate sound system. "All they had was this house system, and when we got through with the song and went to the next song that John would start to do, we had no idea what it was going to be," Holland told Rolling Stone. "We'd just start playing something. We didn't know if we was doing the right thing or whatever, but everything worked out really good."
26. The balls it takes to play a song like "25 Minutes To Go," about a guy waiting for his time to hang at the gallows while on death row in a prison.
27. How he sings, "And now I'm swingin' and here I go-oh-oh-oh" at the end of the song.
28. How Johnny pronounces the word "harmonica" as "harmoni-kai" during the intro of "Orange Blossom Special."
29. How Johnny calls his setlist an "idiot sheet" during the intro of "Orange Blossom Special."
30. The trio of ballads, "Long Black Veil," "Send A Picture Of Mother," and "The Wall" he performed one into another while sitting on a stool by himself, strumming an acoustic guitar.
31. That Johnny can't sing "Dirty Old Egg-Suckin' Dog" without laughing.
32. The immediate uptick in energy when June Carter arrives to sing "Jackson."
33. The jokey repartee between June and Johnny. "I like the way you talk," he says. "I'm talking with my mouth!" she replies.
34. That Johnny felt okay bringing June, but felt it was a bad idea to bring the rest of the Carter clan. "John wanted June, and we felt that we could look out after her ourselves, along with the prison guards," Johnny's bassist Marshall Grant told Rolling Stone. "One female is easy to look out after where four or five women could have been a problem, and that's the reason the Carters weren't on it."
35. The background ad-libs during "I Got Stripes." The various "Uh-huh's," and "Oh boys."
36. That he covered "Green, Green House Of Home," one of country music's greatest songs about coming home from prison.
37. His introduction to the song "Greystone Chapel." "This next song was written by a man right here in Folsom Prison, and last night was the first time I've ever sung this song. We may be a little rough on it today. We'll definitely do it again on our next show… because… it may be released as a single. I'm not sure. Anyway, this song was written by our friend Glen Sherley."
38. How Sherley got the song to Cash through his minister. "He asked Rev. Gressett [Johnny's friend, and sometimes minister at Folsom] if he could get a song to John, because he didn't have no idea in the world how to do it," Grant remembered. "So he sent John the song before we went over there. And John and us learned 'Greystone Chapel.' Luther only played rhythm because Carl played the whole thing."
39. Sherley's reaction to hearing Cash sing his song. "They sat him on the front row," Grant said. "So we kicked it off and John told the prisoners about this man writing this song and how he got to him through Floyd Gressett. And he said, "We're going to do it, we're going to record it." And Glen just melted in his seat."
40. That Sherley enjoyed a short-lived career in country music, mostly thanks to Johnny after his release from prison in the 1970s. When he died from a self-inflicted gunshot wound in 1978, Cash paid for his funeral.
41. The boisterous response from the inmates through almost the entirety of "Greystone Chapel."
42. The fact that Johnny and the band were so worn out from the energy they put into the first show, that only two tracks from the second performance, "Give My Love To Rose" and "I Got Stripes," made it onto the album.
43. The fact that Johnny didn't even bother to insert some of his biggest songs like "Ring Of Fire" or "I Walk The Line" into either setlist.
44. That an engineer trying to put his own spin on the recordings almost caused the entire project to get scrapped. "The one thing that bothered me was the high ceilings in the cafeteria," producer Bob Johnston told Robert Hilburn. "And sure enough there was this rumble in the tape that could have ruined the record if we didn't get rid of it. We spent three weeks in the studio trying all sorts of things to get rid of that sound." Finally, Johnston noticed the engineer fiddling with the board. "I saw him turn a knob on the speaker and I asked what he was doing. He said, 'Nothing, man, just putting a little Nashville on it.' Well, that was the problem. He was putting an echo on it. I walked over and turned it off and there went the rumble."
45. That Cash, in the same year that Elvis staged his famed '68 comeback special, was the first Sun Artist to cross over into the new rock counterculture because of this record. Rolling Stone founder Jann Wenner penned an essay about this album touting his rock bona fides writing that, "Cash, more than any other contemporary [country] performer, is meaningful in a rock and roll context."
46. That the album ultimately sold three million copies and stayed on the pop charts for a staggering 122 weeks.
47. That as a result of this album's success, Johnny got his own variety show on network television, an idea that he found hilarious. "I've always thought it ironic that it was a prison concert, with me and the convicts getting along just as fellow rebels, outsiders, and miscreants should, that pumped up my marketability to the point where ABC thought I was respectable enough to have a weekly network TV show," he wrote in his autobiography.
48. Johnny's own retrospective judgment of his performances At Folsom Prison: "Once we were into it, that was one good show."
49. That he tried the concept all over again the following year at another California State Prison, San Quentin.
50. That this was one of the last projects he ever worked on with guitarist Luther Perkins, who died during a fire in his home just eight months after playing this gig.