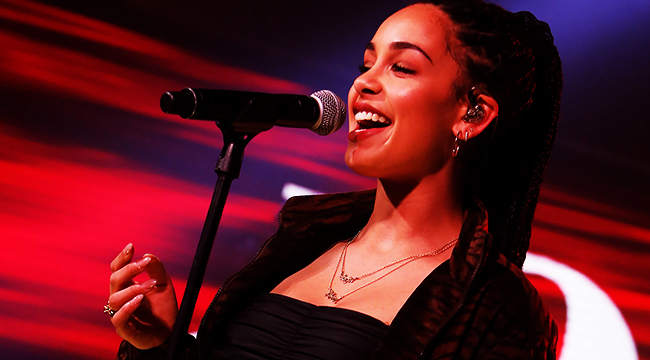 Last night at The Novo Theatre, a star was born. Well actually, that's redundant since Jorja Smith was born 20 years ago and released her first certified banger when she was just 18. But it was hard not to feel like one of the first nights of her US tour was a coronation of sorts for the rising star, who I predict is going to have a huge 2018. She is a culmination of so many things, like the emerging rise of new female stars in R&B, the ongoing crossover between singing and rapping, and a generation of performers who aren't afraid to get started when they're just kids. Smith is at the forefront of a movement that feels like a new breed of pop star, one who is just as comfortable incorporating jazz, soul and funk into her work as she is hip-hop and R&B.
As for that initial track she released as a teenager, "Blue Lights," Smith effortlessly performed it earlier this week for her US television debut on Jimmy Kimmel. The song features a mix of her rapping and singing in such a way that it could only — lovingly — be dubbed post-Drake. And Smith has Drake to thank for the wave of attention that's swept over her recently — after he featured her on his More Life track "Get It Together" last year, suddenly everyone was alerted to her insanely rich, velvety voice and star power.
Of course, a co-sign from Drizzy can be huge for any rising artist, but after watching Smith perform last night, it's more than clear that her rise would've been inevitable, even without a superstar putting her on. Though she's not even old enough to legally drink — in America, at least — Smith took the stage like a seasoned veteran, holding the audience in the palm of her hand from the moment she walked out from behind the curtain. Standing solo at the mic in front of her band, it can sometimes be hard for a young singer to keep the audience's attention or hold their own, but there wasn't a hint of hesitation in her performance. She owned the stage with a natural confidence and the kind of delight that those destined to be performers naturally exude.
While the night included some early favorites from Smith like "On My Mind," and her recently released "Let Me Down," a Stormzy-assisted cut that she performed sans the rising grime rapper towards the end of her show, the setlist was also packed with unreleased tracks from her forthcoming debut album. Those brand new gems, along with a frankly breathtaking cover of Frank Ocean's "Lost" had the keyed-in audience cheering and screaming her name like they've been diehard for decades.


It's easy to see why Smith's following has already grown so strong so early on. Her voice is utter perfection, textured and thick in a way that recalls the greats — Amy Winehouse is an easy and apt comparison — she never misses a single note, nor does there ever even seem to be a possibility she will. Labeling Jorja as an R&B singer doesn't feel like the correct way to describe the breadth of her talent, which "Blue Lights" so clearly illustrates, and one thing I would love to hear is more rapping from her, as her sense of rhythm and phrasing perfectly suits her to the task. Then again, at one point last night Smith was singing rounds of high notes well into her head voice range that were so jaw-dropping it's hard to argue she should ever not be singing to put some bars together.
On a standout track like "Teenage Fantasy," Smith sings of a doomed juvenile romance like it wasn't something that happened in her life only a couple months ago, casually synthesizing a nearly universal experience with the kind of specificity ("you were the topic of my lunchtimes") that only great songwriters can muster. On a song like this, it's clear that Jorja has already figured out how to supersede the more mundane experiences of a young person's life, to take those elements and elevate them into songs that will appeal to teens and adults alike. For the record, Smith has a clear fan in Kylie Jenner's bff Jordyn Woods, who showed up last night to show her support.
After performing at the first run of Coachella last weekend, Smith will return this coming weekend to play on a bill that's obviously stacked with massive talents. But for those who will be out in the desert this weekend, there's not a set I can recommend checking out more. I left The Novo last night feeling like that is the smallest stage I'll ever see Jorja Smith perform on. Her rise is inevitable, and it speaks to everything that is good about music in 2018.