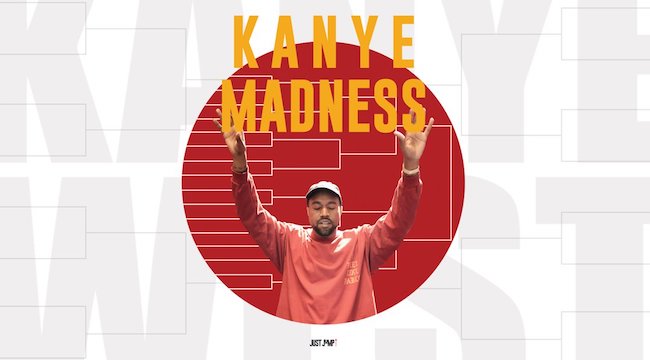 In case you're not a sports fan, it's March Madness, the annual frenzy of college basketball that precedes the NCAA National Championship tournament that caps the season. One of the primary ways that college hoops fans celebrate is by filling out brackets of projected winners and losers for the tournament, determining the national champion in advance and breaking down when their brackets are inevitably busted by a Cinderella team or an unexpected first-round upset.
It's such a popular pastime that now even rap fans are getting in on the action. One rap/sports fan, a Kansas City, Missouri radio host named Carrington Harrison (@cdotharrison), decided that, as the usual bracket busting has become a little too stressful, a fun twist on the diversion would be to create a bracket of Kanye West songs, then allow fans to vote on their favorites from each matchup until one best Kanye West song has been decided by the mob.
While Harrison did not reveal his methodology, the songs are evenly mixed between each of Kanye's albums (and even color-coordinated to match the albums' cover art!) and feature matchups like "Blame Game" vs. "Roses" and "Heard 'Em Say" vs. "I Wonder." The divisions are named after Kanye's three kids and his mother, which is a nice touch.
Harrison is making the game even more fun by posting commentary on each of the duels as they play out, just like watching a real basketball game. He even added a Twitter moment to allow for easier voting. Of course, it wouldn't be Rap Twitter or sports without complaints about songs' seedings and matchups, and the replies are rife with jabs at the placements for songs like "Gone" and "Murder To Excellence."
As another example of the ways sports and rap intersect, it's an enjoyable distraction, but as a moment in Twitter history it's art, plain and simple. Place your votes — and your bets, if that's your thing — at the Twitter moment here.